In some recent consultations with clients, there has been a need for users to be able to showcase their Moodle training successes on their own LinkedIn profile page.
The particular client that prompted me to write this post is an employment agency that provides temporary staff to public sector organisations as and when the need arises. These organisations require proof of training for legislative and insurance purposes to ensure the staff they are sent have the appropriate skills and competencies for which they are being employed.
Examples include Data Protection training for staff in office-based roles or Health and Safety qualifications for those who are employed in a more manual capacity.
Initially, our Moodle discussions centered around Certificates, but it soon became apparent that for them, a better option was to use Badges - the main benefit being that it gave workers on their books the ability to show their achievements on their own LinkedIn public profile page.
Badges
For those of you reading this post who are unfamiliar with this Moodle feature, Badges (introduced in Moodle 2.5) are digital rewards that users can receive in a Moodle site for doing something, whether this be simply completing their profile by writing a little about themselves or by successfully completing a course.
Once a badge has been awarded to a Moodle user, they will be able to view it from within their profile page and by clicking on it, will be able to see details of that badge, for instance a description of the course objectives, the expiry date if there is one set, etc.

Mozilla Backpack
So that others can view their badges, users of the Moodle site need to publish their badges to Mozilla Backpack. This service is free and users just need to get a Backpack account if they have not already got one. Users can add badges to their Backpack by downloading each badge from the Moodle site and then uploading it into Backpack. They can also connect their Moodle account with their Backpack account and push each Badge to their Backpack by clicking the following icon;

Creating a collection
Once an individual's badges are in Backpack, they can then create a "Collection". By adding their badges to this collection, individuals can then add a link to this collection on their LinkedIn profile so that visitors to their profile page can view the badges awarded to that user.
So, to create a Collection, first click on the Collections link to go to the My Collections page. Give the collection a name and drag all the appropriate badges into the collection.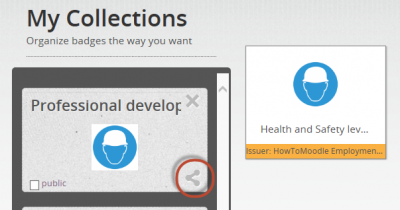 Sharing a collection
To get the link so that the collection can be shared, make it public and click the share icon (highlighted) and then the Twitter icon. This brings up a new window with a Twitter page.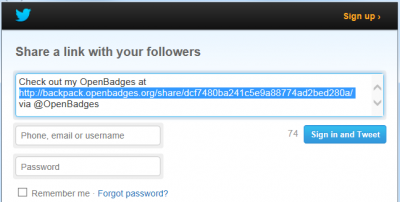 The highlighted URL in the screenshot above is the link to your collection containing all the badges you want to share. Copy this link.
Next, log into LinkedIn, edit you profile and click the "Add a link" text at an appropriate place in your profile. Paste in the URL that should still be on your clipboard which, once saved, should link to Backpack icon that will appear in your profile (see below).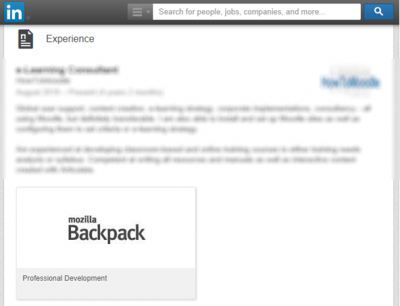 Clicking on the Backpack image will show all the badges in the collection and clicking on each badge will display further information relating to the award.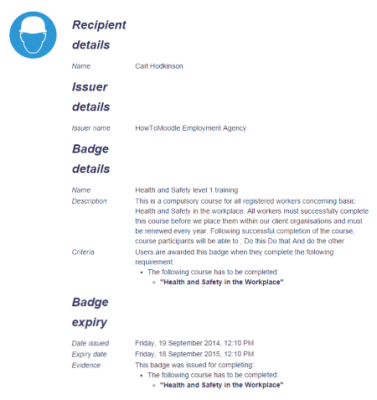 About Hubken:
The Hubken Solution comprises powerful, flexible and tailored Learning Management System (LMS) services for organisations of all sizes. Leveraging the power of Moodleor Totara platforms we provide you with the tools to achieve outstanding eLearning outcomes, supporting you in areas including LMS hosting, installation, user training, content development, reporting and more.