Just how do you maintain employee training in a business environment that is constantly changing? L&D professionals are increasingly being asked to deliver a wide range of outcomes for their organisations. Employee retention, customer satisfaction, partner competency, compliance certifications, and, of course, onboarding for new starters. In order to manage all this complexity, they have been turning to a variety of learning tech stacks.
Chief amongst these has been the LMS, which provides a strong foundation for performance optimisation. But the LMS is just one part of this learning technology ecosystem. Companies are increasingly recognising that the LMS, as a talent suite, is not enough to meet today's learning challenges. While the LMS is great is managing and controlling much of an individual's self-paced online learning, it may be less effective at managing the wider needs of L&D professionals.
An LMS can capture the self-paced and online learning training needs of your business, but it's important to remember that the LMS was designed to deliver content and not manage your company's training programme.
The growing need in the learning tech landscape is for software that drives L&D strategy through a range of efficiencies. An LMS is certainly a good step in the right direction because it joins the gap between user experience and the delivery of training content; however, in today's rapidly changing environment, you need a much more holistic performance management solution that deepens your learning tech stack's impact, leverages the natural ways that people learn and directly aligns training with performance outcome as opposed to a learning activity.
Build

a

Truly

Engaging Learner

Experience

with

an

End-to-End Performance

Management

Platform
Aligning performance management with employee training will play a significant role in their engagement and outcomes. As anyone who administers an LMS programme will know, engagement is at the core of learning management, and what an LMS was designed to support. And while it excels in delivering online learning and managing specific aspects of the e-learning experience, your LMS was never designed to manage training across formats or analyse and report correlations between training activities and business outcomes.
This is why recent innovations in learning tech have led to the rise of the full Talent Experience Platform (TXP) - cloud-based software designed to break down the silos that exist in the HR tech space and be a single system of record for enterprise training.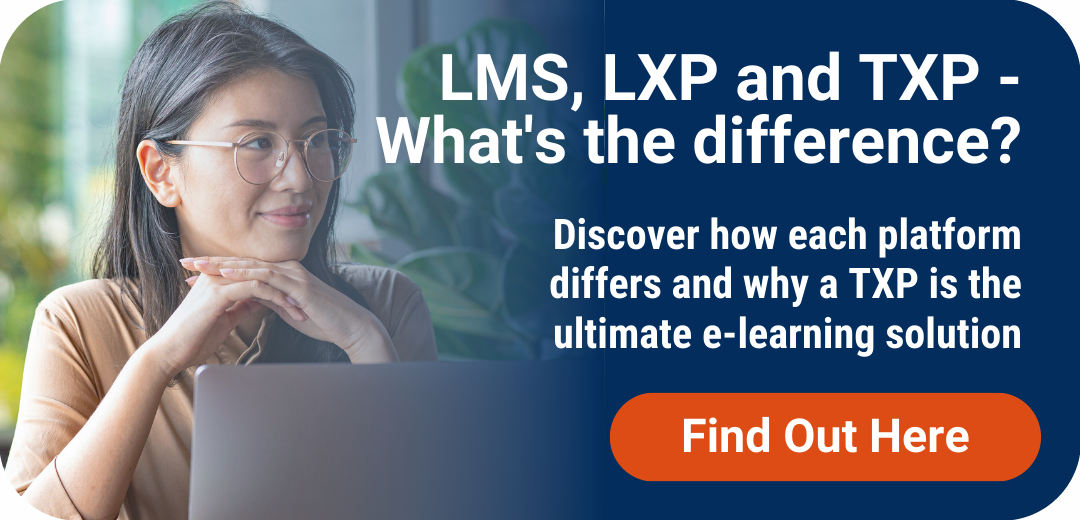 TXPs are where all of your critical HR systems and processes intersect. This deep integration allows your organisation to build customisable reports that connect training to business outcomes, manage complex course and instructor schedules automatically, create training events from course templates, and scale your training and personal development inside your organisation.
It is common practice within an LMS to measure and analyse the effectiveness of individual training initiatives. The metrics that are captured and reported on generally represent the outcome of the activity itself. For example, the LMS reports will report back on completion rates, engagement, progression, etc. But how do we subsequently use this data to see if a specific course has had a demonstrable effect on the business?
If your organisation is engaged in using a collaborative working tool or learning experience platform (LXP), this may show you what kind of content your employees are engaging with and therefore help you find additional content to serve top performers, but it doesn't tell you how your learners are subsequently using this content to become better leaders.
Your performance management system might show you employee competencies and individual goals and objectives, but if this data isn't correlated with your training data and your learner records, how can you be sure that your learners are being fed the right courses and training?
Single-solution training software has limited our reporting mentalities; in order to make a shift to tackle challenges with data first, we need to reframe our mindset and strive for better, more adaptable training reports.
Ideally, all of your L&D systems should be integrated through a single TXP, where data captured in each system would be interrelated in one place. Only then can you use the data to easily pinpoint individual employee challenges and then create the training to subsequently overcome them.
A TXP helps L&D teams achieve a unified context for their training via a single system – a learning software infrastructure that acts as the glue for all your critical learning tech.
Drawing Connections to Maximise the Potential of Training
What is needed as training professionals is to have access to the data that shows the learner has taken that training and implemented it to effect change in their daily life, within their teams, and in the organisation. The story that needs to be told is not that 70% of my employees have taken a specific course. But rather, the story that needs to be told is that 70% of my employees have taken a specific course, and as a result, a positive business outcome has occurred. It's this correlation between training and outcome that ultimately provides a clear demonstration of a positive ROI for your training investment.
What's needed is a learning tech stack and a reporting structure capable of combining data from all sources so your training team can take your activity metrics and connect them to the targets your organisation is trying to achieve.
When the LMS, the collaboration tools and the performance management elements are not integrated (or, indeed, missing), trying to find the data necessary to create this cohesive picture is near impossible, definitely time-consuming, and can be a real source of frustration for the business.
However, there is an alternative, as stated above.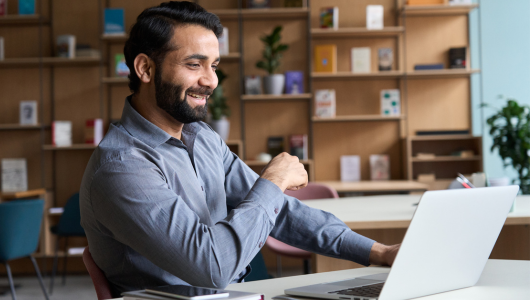 We live in a world of SaaS tools, where the interrelation between software data and the organisation exists. For too long, L&D teams have taken data from their HRIS, LMS, and LXP and tried to create a decision-based connections that are interrelated. All too often, pulling all this information together is typically done using an ineffective, spreadsheet-driven process. No pivot table is ever going to provide the level of insight and intelligence needed to prove that L&D is a valuable part of your business's strategy.
The bottom line is that your LMS is just the beginning. It gives your employees the ability to acquire new skills, master different subject matter and continue with their personal development and potential to contribute even more to your business. But adopting a TXP allows you to maximise your L&D investment, taking an approach that deepens the impact training has on the business and directly aligns it to business objectives and outcomes.
And while it all starts with a great LMS, the real power to make a difference lies with the TXP.
Ready to embrace the future with a powerful TXP?
There's no denying that LMSs will always have a prominent place in the e-learning industry but for organisations looking to deliver the finest employee experience and exalt their L&D strategies, TXPs are undoubtedly the future. Our Totara TXP will allow you to unlock the full potential of your teams by combining Totara Learn, Totara Engage and Totara Perform. Ready to embrace the future? Book a demo with one of our e-learning experts now.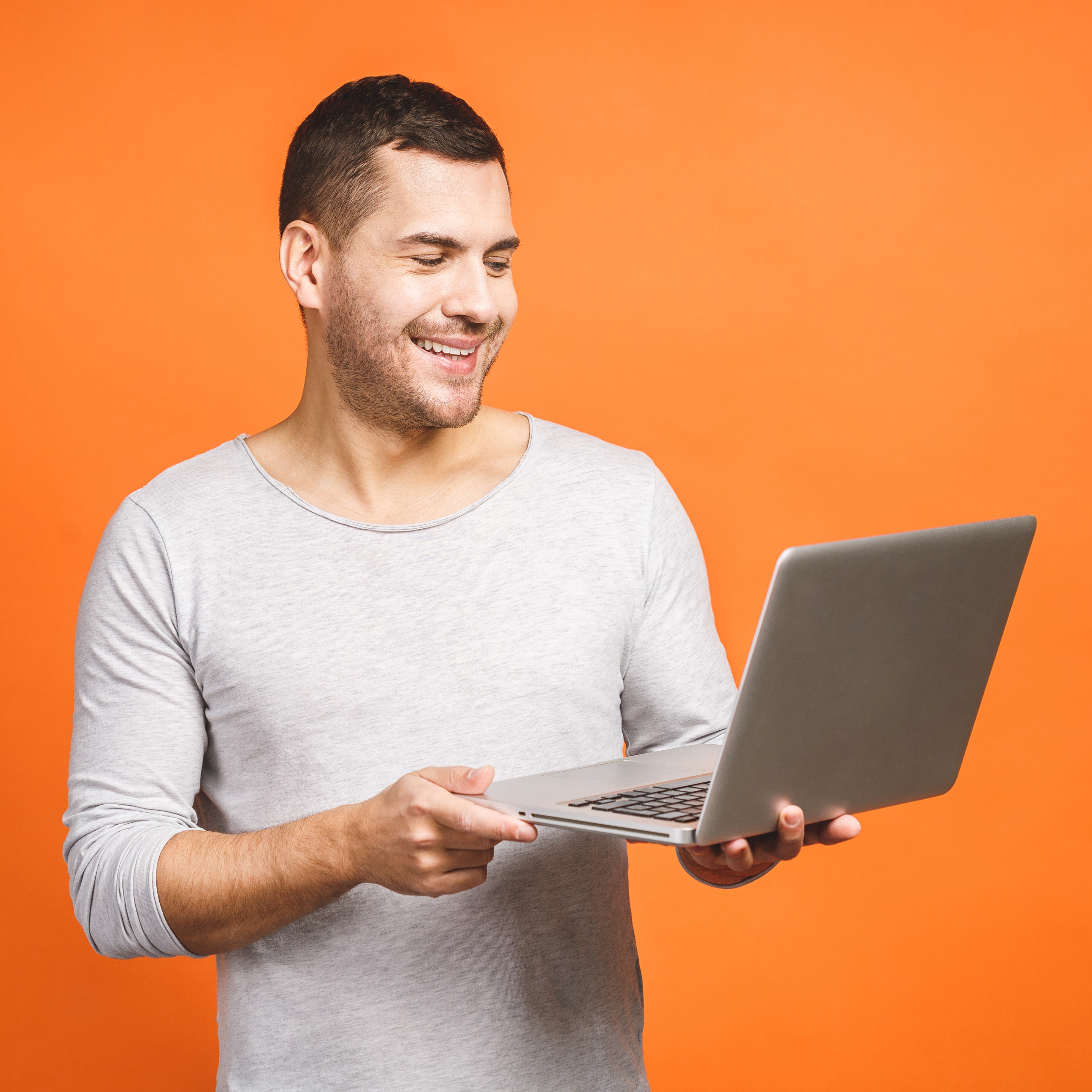 Ready to embrace the future?
Book a demo with one of our e-learning experts and learn first-hand how our LMS, LXP, and TXP solutions can help your organisation flourish.