For delivering role-specific organisational training and improving workplace performance, e-learning platforms are unparalleled. But unbeknownst to many these platforms are equally well equipped to drive performance in a number of other areas - including leadership development.
A recent survey found that only 11% of HR leaders feel that they have a strong base of employees to take over leadership roles – meaning organisations simply can't afford not to invest in developing leadership skills (Apollo Technical, 2022).
Overcome the increasing leadership gap; join us as we explore how e-learning technology can be used to effectively develop leadership skills across your workforce.

Leadership development – are leaders made or born?
Contrary to popular belief, many psychologists believe that leadership skills can be learned. While trait theory suggests that innate qualities are central to what makes good leaders (charisma, aggressiveness, extroversion, and so on), behavioural theory posits that leadership attributes can be learned and practiced. Whichever way of thinking you subscribe to, one thing is certain: leadership skills, innate or not, can be developed.
This presents two important questions for business owners and HR professionals to ask themselves:
Are your existing leaders optimally trained to get the best out of their teams and prevent staff turnover where possible?
Have you assessed and begun to develop leadership potential amongst your workforce?
If the answer to either of these questions is 'no', then a leadership development strategy needs to be implemented. And what better way to achieve this than with powerful e-learning solutions?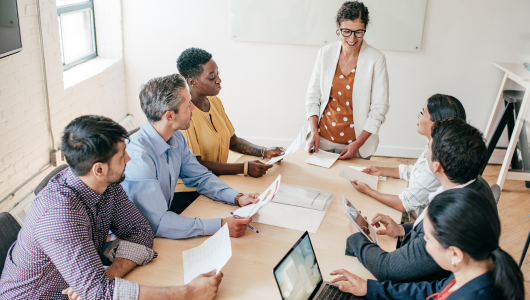 How e-learning platforms can be used to develop leadership skills
While leadership skills are behavioural in nature, they can still be segmented and taught via learning management systems (LMSs) alongside other learning techniques. Leadership consulting firm DDI highlighted five such skills that surveyed business leaders said they want and need to develop – while also noting that the percentage of leaders who said these skills were critical far outweighed the percentage of leaders who had actually received training in those areas (DDI, Global Leadership Forecast 2023). These skills are:
Identifying and developing future talent
Strategic thinking
Managing successful change
Decision making prioritisation
Influencing others
With only 29% of companies training in these particular skills, it's not difficult to see how the leadership gap is continuing to widen in countless corporate organisations. Intervening with LMS e-learning courses focused on these and related leadership skills should be a priority for getting existing leaders up to speed.

Additional ways e-learning platforms can help include:
Surveys
Before curating an e-learning leadership programme, it would be wise to get a sense of how your existing leadership team members feel about their competencies and perceived areas for improvement. With this information, you can fine tune your e-learning content and its delivery to ensure it addresses the skills most urgently required. The survey function of a Totara Learn or Moodle LMS allows you to capture exactly this information with a range of entry options, meaning your survey report can be as statistical or textual as necessary.
Effective and varied learning
Leadership development requires engaging and thought-provoking learning methods to have the desired effect, so a flexible LMS is essential. Our SCORM compliant systems allow for highly customisable and interactive content to be built into e-learning. Scenario-based training modules, for example, lend themselves to leadership development as learners can explore the impact and consequences of different leadership techniques in a risk-free setting. Furthermore, with a blended learning solution online and offline learning courses can be managed from a single platform – enabling greater cohesion between face-to-face leadership training and virtual learning.
360 feedback
Performance management tools provide effective ways of identifying leadership development opportunities, as well as potential leaders with burgeoning leadership skills. Totara Perform tracks all performance management activity and utilises 360 feedback to build complete profiles of employee performance, strengths, and skillsets. Bringing together ratings and observations of multiple colleagues, managers, and seniors, 360 feedback can be used to quickly identify leadership skills that are lacking in individuals or teams, as well as those which rank highly. Based on this information, appropriate steps can be taken to arrange additional training or nominate SMEs (subject matter experts) to share learning with others.

Collaborative learning
It's crucial to harness the knowledge and experience of workplace SMEs as to benefit your wider leadership bench and promote a continuous learning culture. Not only is this highly cost effective as it replaces the need for external consultants and training events, but it also promotes best practice and collaborative learning within your teams. Using the learning forums and functionality of a learning experience platform (LXP) such as Totara Engage, developing leadership skills takes on a new life as teaching is governed and conducted by learners in an informal social environment. Encouraging discourse in this way is also beneficial for more subjective skillsets as learners can recognise that different leadership approaches work better with different personality types and approaches. An LXP also lends itself to soft skill development which is crucial for encouraging effective leadership.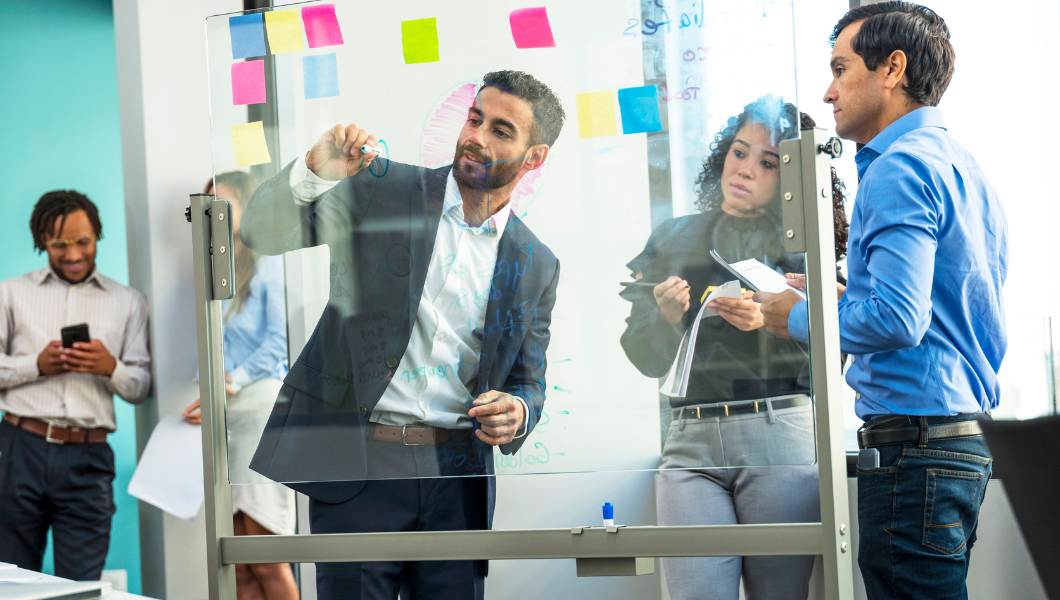 Comprehensive reporting
Whether using an LMS, LXP, performance management, or combined talent experience platform (TXP) solution, the ability to report on your amassed data is critical. With detailed reports, you can monitor the growth of leadership skills and track the subsequent impact on team performance – even calculating the ultimate ROI of your leadership development strategy. Furthermore, bespoke reports can be used to identify which leadership skillsets equate to the best sales figures, revenue growth, reduction in staff-turnover, or any other metric you wish to explore. This in turn provides a solid database with which to organise leaders effectively and identify bourgeoning leaders positively impacting their teams.
Make a positive change in your leadership programme
Don't hesitate to begin your e-learning leadership development journey. With our expertise and platforms you can implement a robust programme to generate better results from more effective leaders. Talk to us today – we'd love to discuss how our tools can help.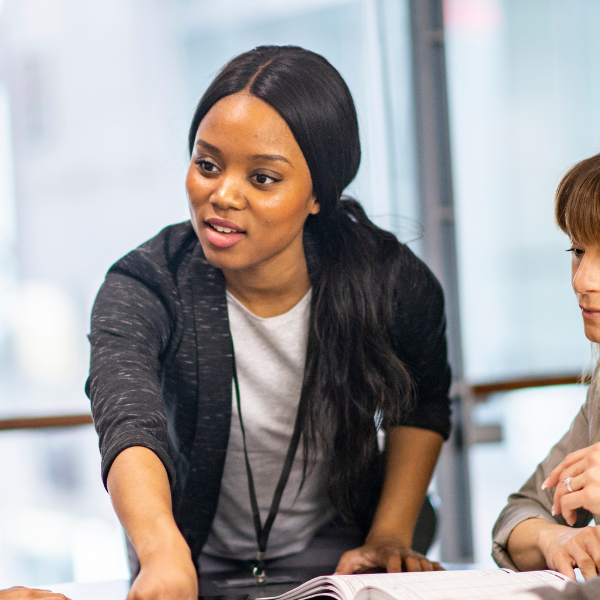 Bring leadership to the forefront
Book a demo and discover how our LMS, LXP, and TXP solutions can transform your leadership development strategy.