There are lots of buzzwords and technical phrases used within the e-learning industry. If you're not familiar with their definitions, understanding your learning management system (LMS) can feel far more complicated than it needs to. Some phrases are easy to wrap your head around, particularly if you're using an LMS already.
However, some may require more research to fully understand. Or you might want to discuss these with your LMS provider. One LMS term in particular that is widely used yet not as widely understood is SCORM.
Understanding what SCORM is and the role it plays within your LMS is hugely important as it should be an essential feature of your e-learning platform.
What is SCORM?
SCORM stands for Shareable Content Object Reference Model and refers to the industry standard for e-learning course compatibility. Using SCORM standardises the way e-learning courses are created so that they can be used on any SCORM-compliant LMS platform.
In order to better understand SCORM, we can liken it to USB
Still struggling to grasp the answer to 'what is SCORM?' Let's compare it with something we use everyday.
USB (Universal Serial Bus) is an industry standard for cables and connectors to communicate between a wide range of devices.
If you were to use a mouse that connected through a connection port into your current laptop, and then bought a new laptop, you would probably expect to be able to use the same mouse. Without USB as the industry standard, your current mouse might not fit the connection port in your new laptop.
Imagine having to buy a new mouse, memory stick, keyboard etc. every time you or an employee changed over to a new laptop - it would be costly, not to mention time-consuming, to find and replace the appropriate tool!
Just like USB, the purpose of SCORM is to create a technical standard. If an LMS course can only be used on one type of LMS, it creates several problems. For example, it makes it much more difficult for a content creator to distribute their courses across various LMSs and to a variety of businesses or organisations. In addition, if a business or organisation is using courses that can only be used on their current LMS, migrating to a new LMS becomes a mammoth task.
However, if a course is SCORM compliant then it can be used on any SCORM compliant LMS - just as a mouse with a USB connector can be used on any laptop with a USB port. So before you choose a learning management system, ensure it's a SCORM LMS to get the most out of your learning content.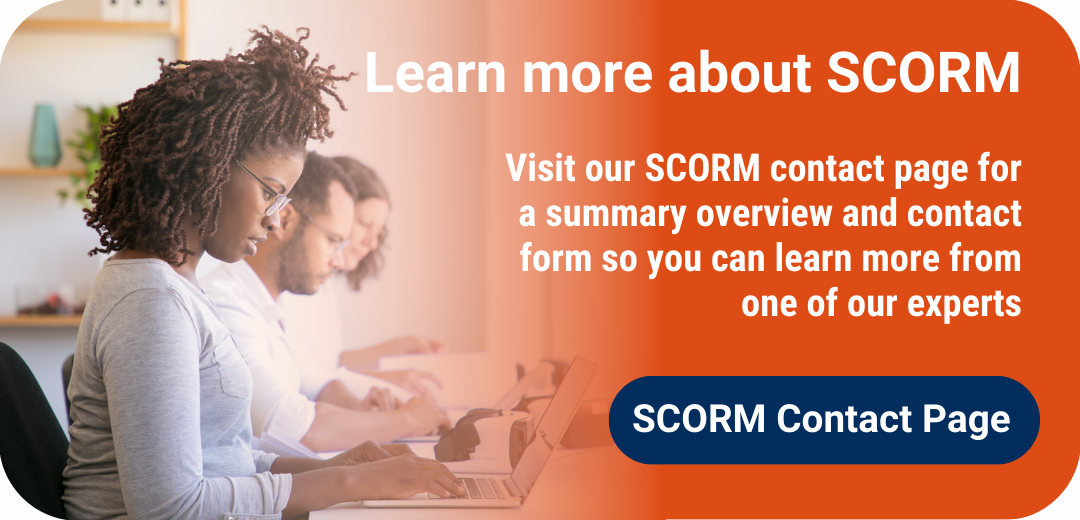 SCORM courses
Using SCORM not only sets the standard for sharing courses, but also the type of content and features that come with using a SCORM compliant course. SCORM is highly customisable, bringing significant additional benefits for a business or organisation looking to personalise its learning programme.
What is a SCORM course? SCORM courses can create a more interactive experience for your learners. For example, a SCORM course might include guided simulation, in which learners follow a storyline and complete learning based on a defined set of steps they need to follow. This form of interaction is proven to be far more engaging than simply learning by reading a document.
With SCORM courses, data is being monitored consistently across all content. This analytics function allows you to examine all sorts of data points including areas such as session length, how long it took for a learner to complete a course, the score they received from an exam, whether they passed/failed etc. This is hugely beneficial for admins, managers, teachers and trainers as all the essential reports and data are readily available. Data collection is also beneficial to the learner with areas such as suspended data, where a SCORM course will bookmark the learner's current position, so that when they come back to the course they can simply resume from where they left off.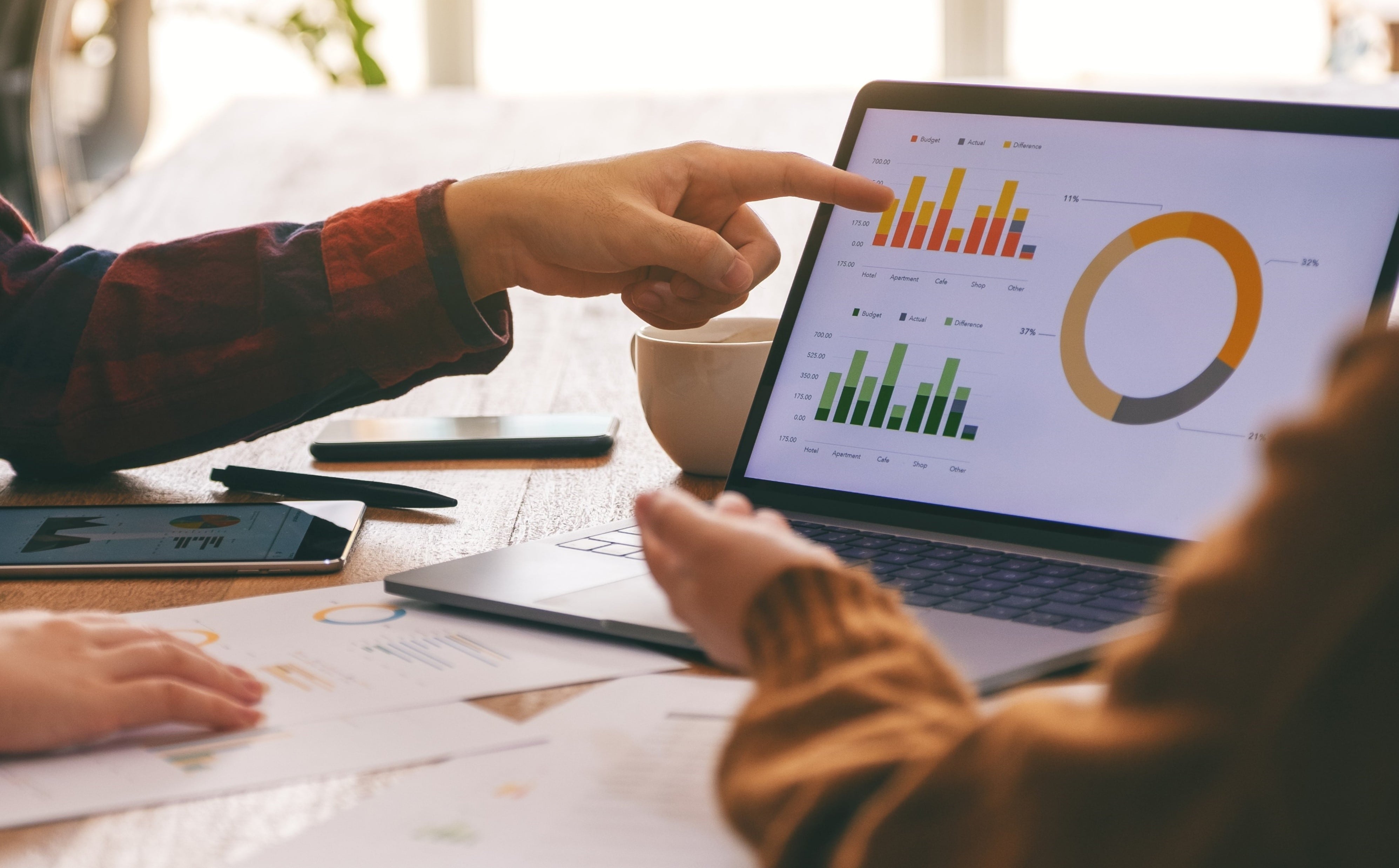 Benefits of SCORM:
Courses can be used across any compliant LMS
What does this mean for a business or organisation? Well, if you're getting started with a new SCORM LMS, you can acquire standard training courses from a 3rd party which, once uploaded onto your platform, can be used straight away. This can drastically reduce costs as you don't need to have custom content created.
If you're looking to produce SCORM content, you'll need a SCORM compliant authoring tool. This is a separate software which comes at an extra cost.
Using SCORM courses not only means you've got transferrable content but it's also reliable, high quality and created to the industry standard with all of the aforementioned interactive and analytical features.
LMS migration made easy
If you're unhappy with your current LMS or LMS provider, migrating from one system (or provider) to another can be challenging if your courses aren't SCORM compliant.
You may find yourself having to manually recreate courses for your new LMS. Using a SCORM LMS means you don't have to worry about compatibility issues with your new system.
Mobile friendly LMS
The modern learner is used to accessing the majority of their information and entertainment using a mobile device. If your learning programme is mobile friendly, this can have a transformative effect on the success of your learning and development strategy.
An LMS course becomes mobile friendly if the SCORM content is designed and exported appropriately, ensuring course accessibility across a range of different devices. Giving your learners the option to access learning anywhere whilst on the go is crucial in today's e-learning environment, resulting in better training completion rates and better returns on training investments. Learners can even access training without access to the internet as you can enable SCORM activities to be downloadable, with their offline activities automatically being recorded when back online.
A SCORM LMS such as Totara Learn offers the Totara Mobile app, which includes a custom-built offline player for SCORM activities.
Gamification
As SCORM activities offer a wide range of interactive options, you can easily incorporate a gamification strategy into your learning and development programme.
80% of workers believe that game-based learning is more engaging so be sure to use the interactive features that come with SCORM created content and build game-based content that learners enjoy.
You can even create leader boards to encourage healthy competition and issue rewards such as badges that need to be earned based on scores or completion rates.
Ready to use SCORM?
Hopefully by now, you'll have a better understanding of what SCORM is and why it's such an integral part of e-learning. Whether your next step is to create your own SCORM content, acquire some for your current LMS or find a new SCORM compliant LMS, we hope you can use the points discussed in this blog to inform you as you go forward.
If you've got some more questions on SCORM or its many benefits, or perhaps some general LMS or e-learning questions, get in touch with one of our experts today!
As a Totara Platinum Alliance Partner and Moodle expert, we design and deliver high quality e-learning solutions for leading UK businesses and organisations, building lasting relationships so that they can realise the full potential of their learning and development projects.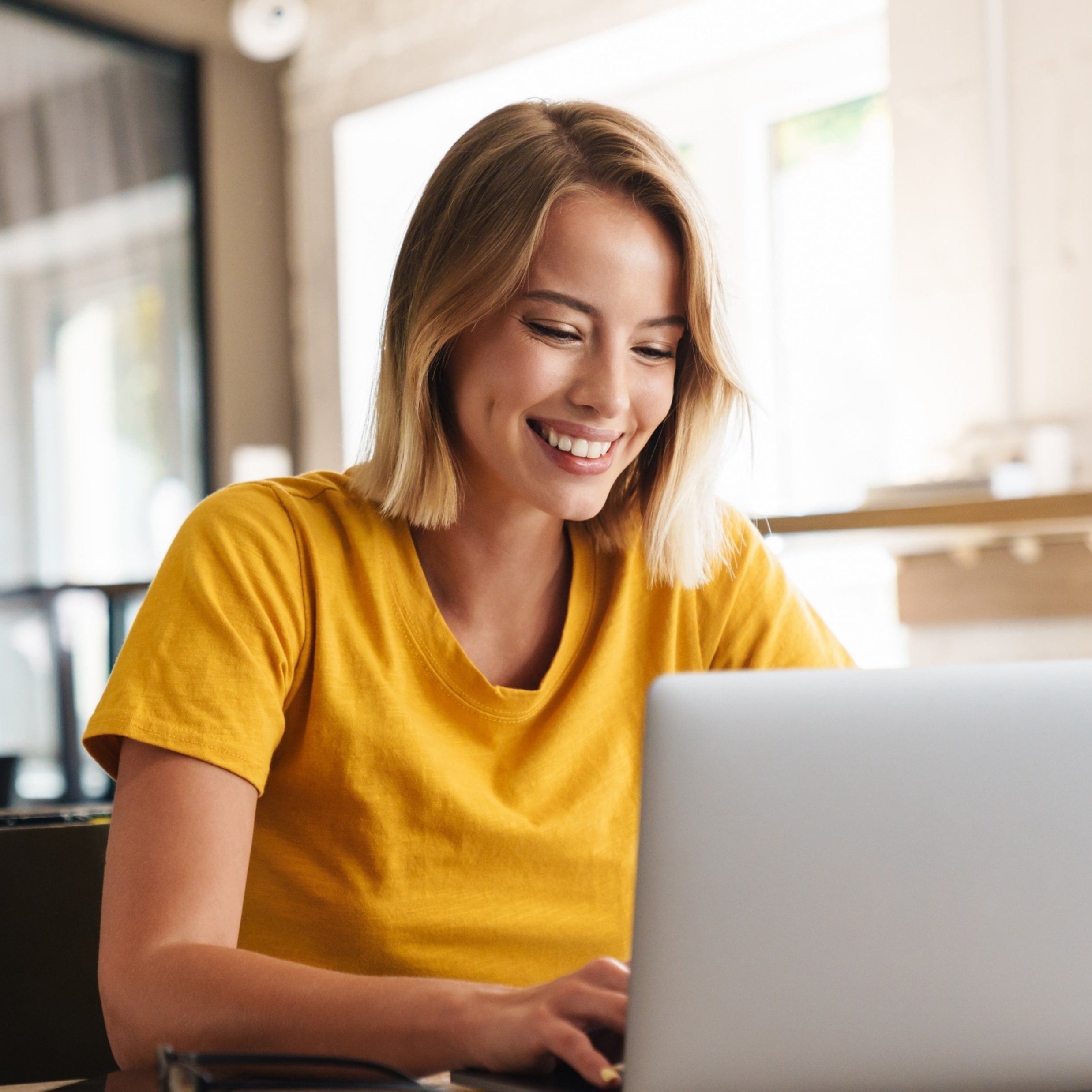 Explore HubkenCore – our unique SaaS LMS offering
Ready to see how our new LMS bundled solution is revolutionising how you purchase an e-learning solution?