This post has been updated to provide a relevant guide for Moodle 2.7 through 3.8

If you are looking for an LMS, or currently using one, you likely made this decision in an effort to improve the efficiency of your training, and to ultimately streamline your training.

And if you want to achieve those time savings, you need to organise more than content. You need to organise your learners.
Training isn't universal in any organisation. Whether it's by hierarchy, department, or length of service, the ability to sort users and distribute content is a vital tool within any LMS.

No matter the prerequisite, you can simply and efficiently manage groups of users in Moodle using Cohorts.
What is a Moodle cohort?
Cohorts are site-wide (or category-wide) collections of users that can be easily enrolled in a course, or a series of courses in a single action on Moodle.

There are 3 stages to enrolling groups of users on a course:

1. Creating a cohort
2. Adding users to the cohort
3. Setting up the course enrolment

Note - as the Cohort sync enrolment method is disabled by default, it must first be enabled by the site administrator.
How to create a cohort in Moodle:
As an administrator or manager go into Site administration > Users > Accounts > Cohorts

Click the Add new cohort tab


Fill in the Add new cohort form with the necessary information.

Context – choose from between System (site-wide) or a particular category limiting the cohort enrolment to courses within that category.
Cohort ID – a unique reference that can be used to add users to an existing cohort via a CSV upload.
How to add users into a cohort in Moodle:
From within the Cohorts page (see step 1 above), click the Assign users icon (icon with 3 heads) in the Edit column for the cohort you wish to add users to.


Select the users in the right pane (you may need to search for them if there are many users in the site) and click the Add button. This will move users from the right pane (labelled "Potential users") to the left ("Current users").

How to enrol a cohort into a course in Moodle:
From within the Course administration, go to Users > Enrolment methods and select Cohort sync from the Add method dropdown. Immediately, you are directed to configure the cohort sync – from the Cohort dropdown select the cohort you wish to enrol in your course.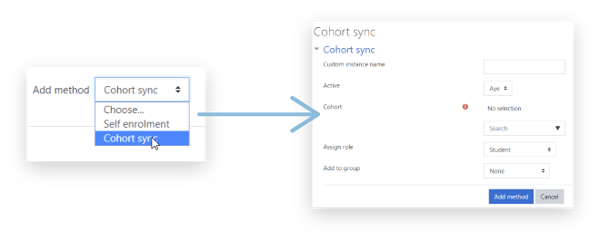 All members of the selected cohort will now be enrolled in the course, where they will remain for as long as they are members of that cohort.
While this is an effective way of enrolling students into a course, what if the site's course access policy requires that users be able to choose their own courses but only if those courses are appropriate to their role or other limitation, e.g. language or role?
To allow any user to enrol themselves in a course, the enrolment method should be set to Self enrolment (Student). If you then edit the enrolment method there is a setting called "Only cohort members" which allows the teacher to restrict self-enrolment to members of a particular cohort.

Need more Moodle support?
Hubken offers training courses for Moodle Administrators and Course Creators, along with bespoke training for organisations with more advanced needs.
Who are Hubken?
The Hubken Solution comprises powerful, flexible and tailored Learning Management System (LMS) services for organisations of all sizes. Leveraging the power of Moodle or Totara platforms we provide you with the tools to achieve outstanding eLearning outcomes, supporting you in areas including LMS hosting, installation, user training, content development, reporting and more.