Totara is renowned for its collaborative learning technology and innovative cloud-based systems. Unlike Moodle, which is a dedicated learning management system (LMS) platform, Totara actually offers three L&D solutions – Totara Learn, Totara Engage, and Totara Perform – which combine to form a unified talent experience platform for your people, bringing together all the critically important employee experience management tools and processes you need to thrive in today's new world of work: learning, employee engagement, collaboration, and high performance.
Offering leading learning management, learning experience, and performance management tools, Totara is the software of choice for organisations in multiple sectors around the globe. But understanding which Totara program(s) is best for achieving your organisational objectives, as well as the different features each tool provides, is crucial to ensure you get the best ROI from your chosen Totara system.
Looking to integrate Totara into your organisation and want to better understand the associated costs? Look no further – learn all about Totara pricing and get the best value from a Totara LMS with Hubken.
What do the different Totara tools offer?
To appreciate how Totara pricing works, we need to look at how the three Totara tools perform different functions within an organisation's L&D strategy. As the Totara brand is perhaps best known for its learning management roots, we'll first look at Totara Learn.
Smart e-learning with Totara Learn
Totara Learn is the LMS component of the Totara Talent Experience Platform (TXP) and prioritises the delivery of formal e-learning courses to users. But what makes Totara Learn different from its competitors is its versatility, range of customisation options, and advanced administrative functionality.
As an open-source platform, Totara LMS pricing presents an immediate cost saving benefit. Totara Learn allows users learn on the go with the Totara Mobile app, meaning your e-learning platform can be used on any digital device from any location, 24 hours a day and complete training at a time most convenient for them.
This level of accessibility and flexibility will see an immediate ROI – with more users engaged and putting their training to use, organisational objectives can be reached more efficiently. This is especially true for compulsory compliance training, which through Totara Learn can be standardised by role, department, or location, and completed according to designated deadlines. Totara offers a range of tools for compliance training, management and reporting. Assign the right learning programs to the right people, automate recertification reminders and generate comprehensive reports on completions and non-compliance.
This level of flexibility and automation is an important consideration when weighing up Totara pricing, because the cost savings in delivering virtual e-learning training, automated monitoring and tracking, and reporting compliance across your organisation can be significant.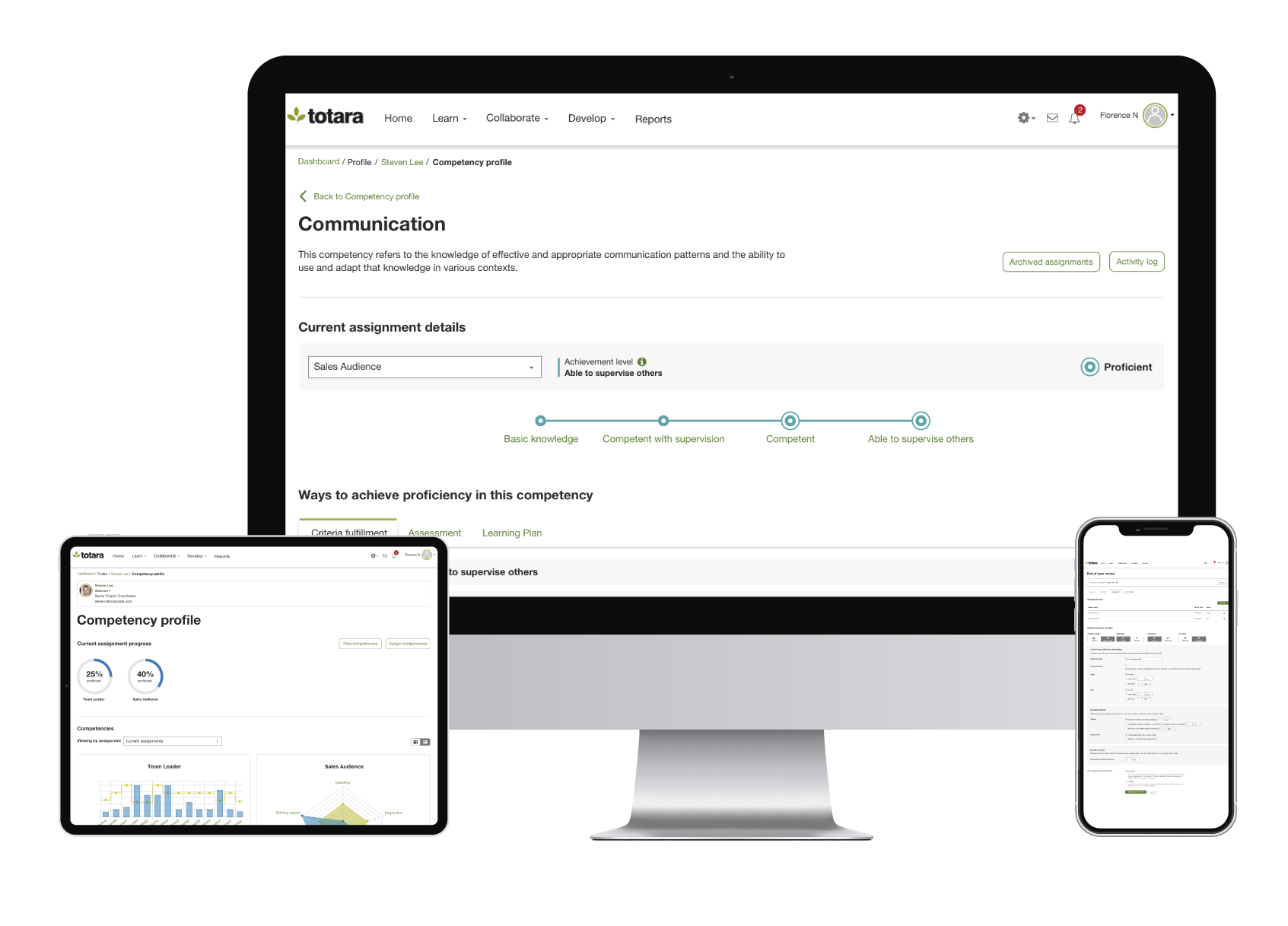 Totara Learn is similarly flexible when it comes to tailoring learning for users. Administrators can curate learning pathways tailored to individual roles and attributes, drawing on an endless supply of e-learning materials. Using the extensive reporting functionality the Totara LMS affords, organisations can also identify skill gaps and work proactively to address areas for learning. This skill deficit overview can also play a vital role in directing recruitment in a more effective, cost-efficient way.
As a SCORM compliant LMS, Totara Learn is compatible with all interactive SCORM courses. Whether purchased for a previous LMS, created internally, or sourced from elsewhere, Totara Learn enables SCORM content to be repurposed – further saving on costs.
For continuing professional development (CPD), induction training, and compliance training, Totara Learn is an ideal solution. While the tool functions as a standalone LMS, many organisations use Totara Engage as a complimentary system for enhanced engagement and social learning.
Knowledge sharing with Totara Engage
Whereas Totara Learn provides a more formal LMS e-learning function, Totara Engage is a learning experience platform (LXP) with knowledge sharing and collaboration at its heart. When considering Totara pricing, you'll need to determine which approach suits your organisation's needs best – or if, in fact, your organisation would benefit from having both tools within its L&D arsenal.
Totara Engage revolves around its collaborative workspace system, in which users come together to create, share, and review learning content together. Each collaborative workspace can be set to users based on their roles and departments – enabling administrators to create knowledge networks that will encourage skill sharing internally.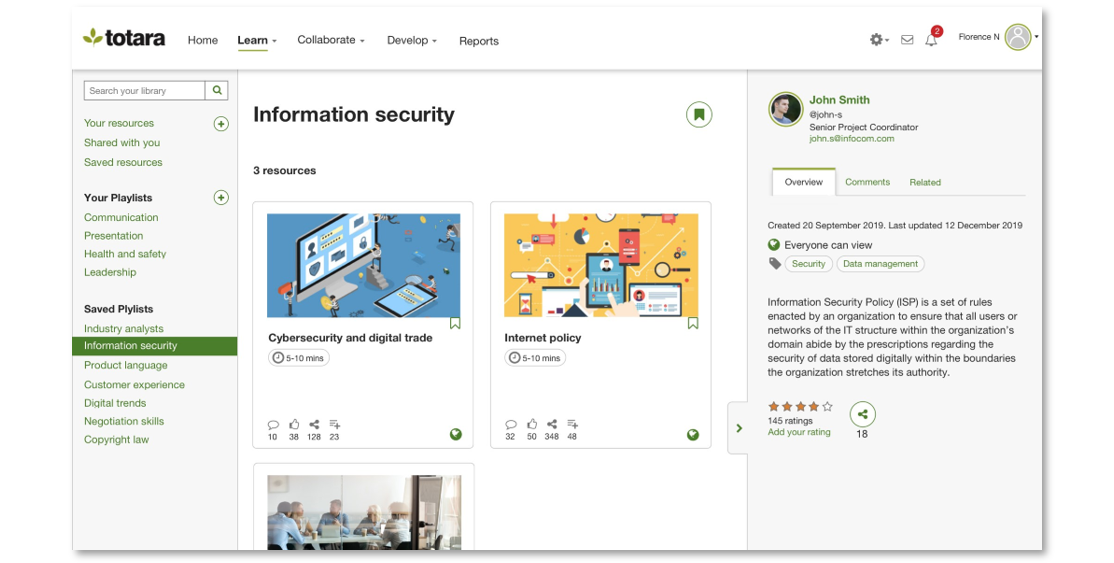 This highly sociable learning model encourages learning in the flow of work, with questions, comments, and ratings options configured into all communications to prompt interaction from users. This is perfectly demonstrated by the Totara Engage custom playlist creation tool, which allows curators to bring together LMS materials, videos, blogs, presentations and other content in one place. When shared with others, these playlists can be rated and reviewed by other users – promoting constant evaluation and evolution of content to most effectively engage learners.
In addition to empowering employees to create and share user-generated content, the platform's recommendation technology continues to recommend relevant content within user's dashboards, making learning a continuous and organic learner-centric journey. Another important benefit to account for when looking at Totara pricing options, Totara Engage capitalises on the strengths and skills of existing users to facilitate learning and training. If a budget doesn't extend to designated training staff or course acquirement, Totara Engage can be used to identify internal subject matter experts (SMEs) and ensure the right knowledge is shared where it has the most impact – at an excellent price.
For empowering employees to direct their own learning and encouraging an engaging social learning culture, Totara Engage can have a transformative impact on an organisation's L&D strategy.
Performance management with Totara Perform
Totara's dedicated performance management system, Totara Perform, can be seamlessly combined with other Totara tools, or on its own, to organise, analyse, and encourage performance growth across an organisation.
Eliminating the need for disparate employee records and paper-trails, Totara Perform brings progression records into a single, easy-to-use system. Conversant with most Human Capital Management (HCM) software, the system can integrate data pertaining to payroll, recruitment and talent management. This provides a single intuitive digital space to review all progression metrics and details in one place. The time saved in administrative record-keeping as a result is substantial, and an important cost offsetting element regarding Totara pricing.
Totara Perform delivers a good ROI through its ability to stimulate organisation-wide performance growth when used to its full potential. With dynamic goal setting amongst its many performance management features, Totara Perform introduces a fluid, continuous approach to establishing clear routes to progression for employees and teams. Employee dashboards highlight goal progress and due dates, and automatically issue reminders – integrating performance goals with day-to-day operations.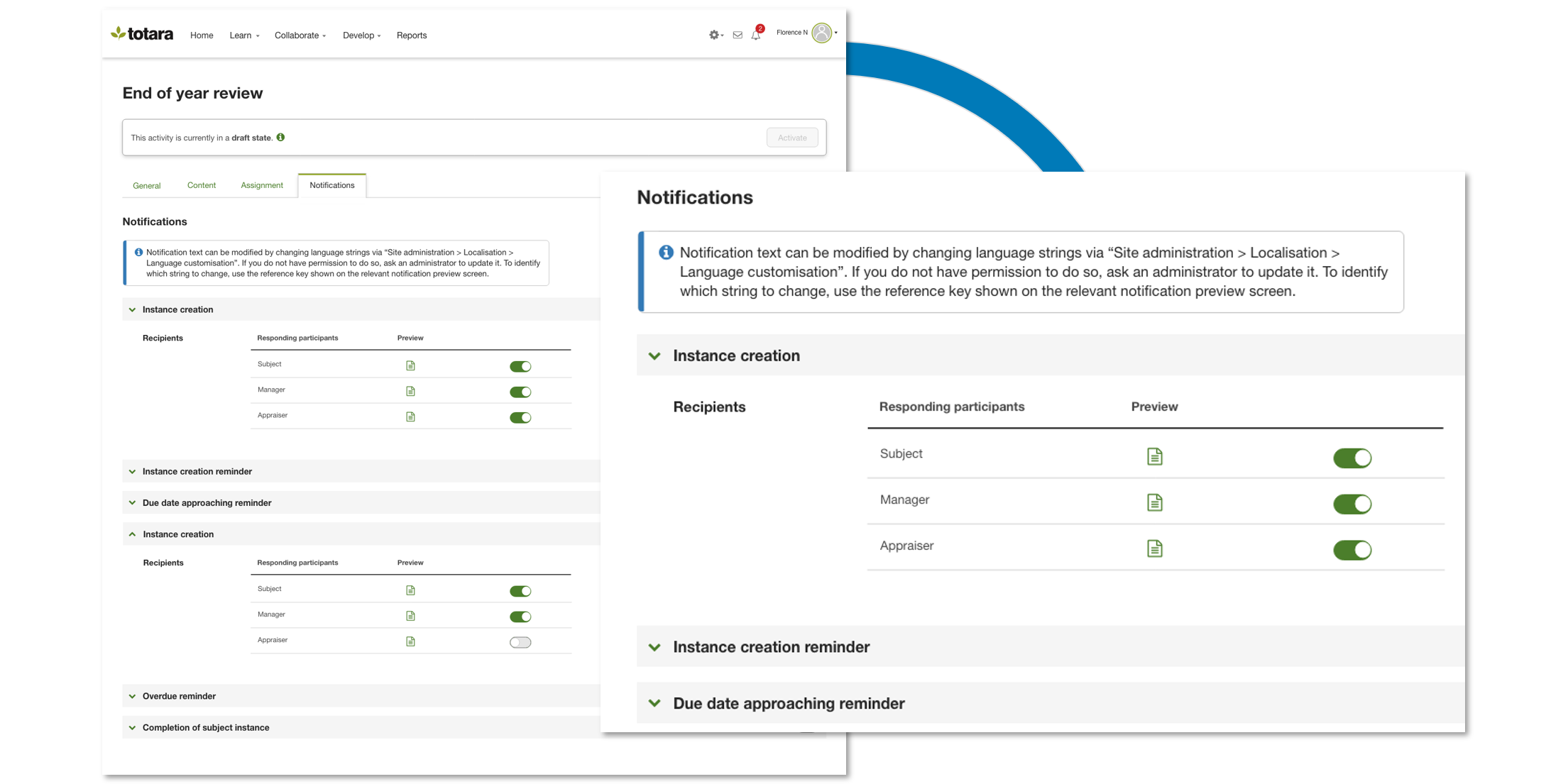 For additional insights into employee performance, Totara Perform features 360-degree feedback surveys. Bringing together self-evaluation and peer assessments, 360-degree feedback produces a complete overview of an employee's performance. This data can be combined with other progression metrics to generate detailed graphical overviews of employee performance and identify areas for improvement. With periodic surveys, progression is assessed on a granular level, and employees are motivated to continually demonstrate improvement throughout the workday cycle and in all workspace interactions.
Stimulating better performance amongst employees and optimising the entire performance management process, Totara Perform is a perfect companion to the Totara Learn and Totara Engage systems.
Totara pricing: getting the best value
While all Totara tools provide excellent value, finding the right balance to suit your budget and needs requires some thought. At Hubken, we pride ourselves on being completely open and transparent when it comes to our L&D solution prices. Our Totara pricing page breaks down the different functions of each Totara platform, separately and combined, for clarity. While prices differ according to product and number of users, the level of expertise we deliver remains constant. With secure hosting, unlimited support, and expert implementation and deployment, whichever Totara tool you choose, you'll always get the very best support with Hubken.
When you've explored our pricing page and are ready to move to the next step, be sure to book a demo with one of our friendly advisors. We'll talk you through how our solutions will help you achieve your organisational goals and introduce you to the many incredible features Totara tools provide.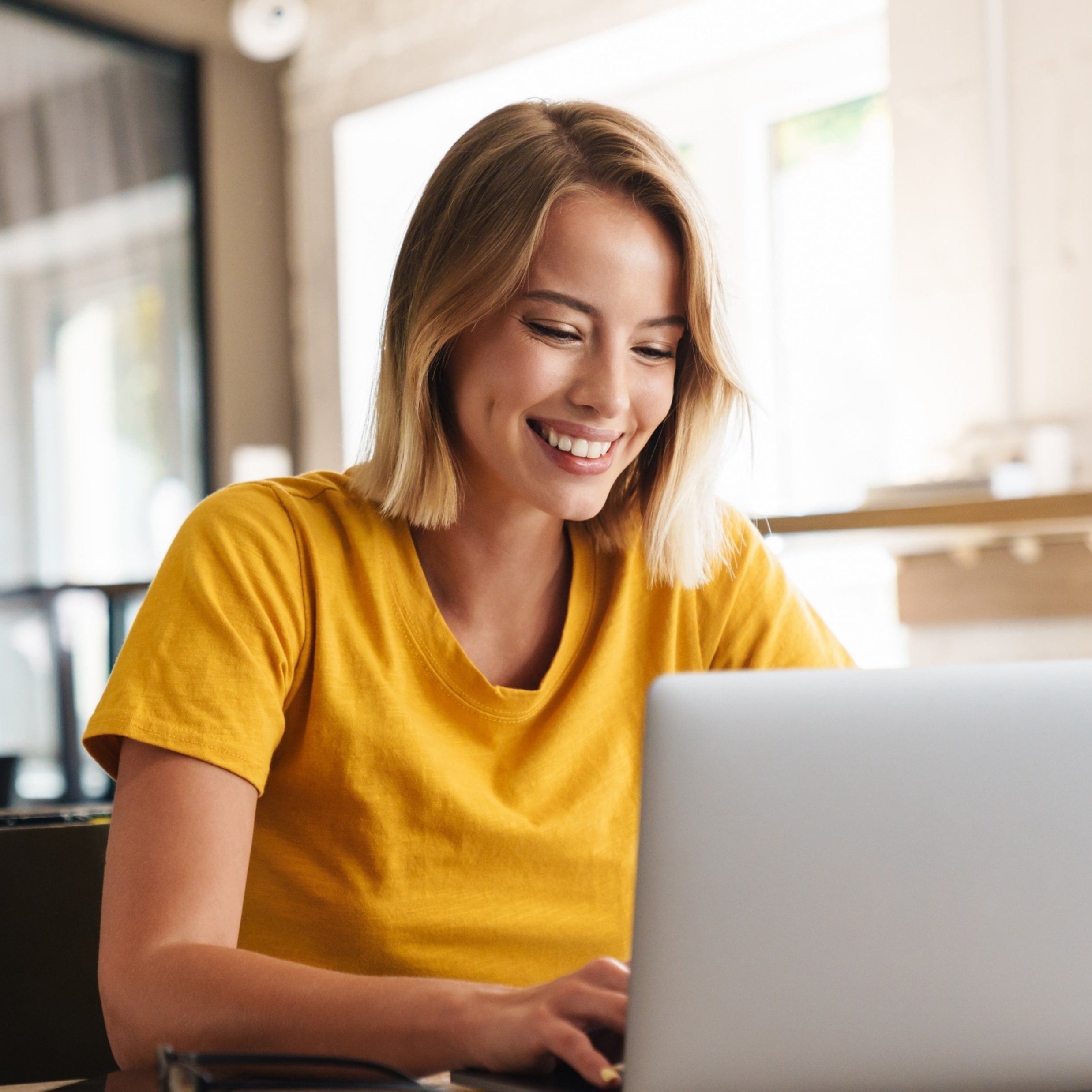 Explore HubkenCore – our unique SaaS LMS offering
Ready to see how our new LMS bundled solution is revolutionising how you purchase an e-learning solution?