Over our many years of successfully delivering e-learning solutions, Learning Management Systems (LMSs) have historically been the platforms of choice to deliver training and learning online.
In recent times however Learning Experience Platforms (LXPs) have emerged as a new and highly effective tool to complement the services offered by LMSs and help further the development of employees and learners.
This ultimate guide to Learning Experience Platforms will help you understand firstly: what is an LXP, and also how an LXP could benefit your organisation.
What is an LXP?
Put simply, Learning Experience Platforms, or LXPs, are a variation of Learning Management Systems (LMSs) considered to be more employee-centric whereas LMSs have historically been organisation-centric.
With an experience platform you can still develop, curate, administer and measure your traditional e-learning and online training materials, delivering the right content at the right times to the right people.
What sets LXPs apart from LMSs however is their focus, which is much more on social, collaborative, user-driven learning that's all about developing your organisation's teams and individuals.
LXPs give the users the power to forge their own e-learning and online training paths, curating playlists of the most engaging content and sharing it with their colleagues.

What does an LXP do?
An experience platform encourages user-directed learning for your employees, something that an LMS cannot offer as effectively. With an LXP, goal-based learning and curiosity learning are king and the platform achieves this is a few key ways.
Bringing learners together to collaborate


The social learning experience is facilitated by an LXP. Users can share all forms of content with one another and decide who they share their playlists of content with. Collaborative spaces are available too for teams working on projects together.

Adding a personal element to learning


People learn in different ways, so allowing them to access the right kind of content for them is key. LXPs take this one step further, not just allowing access to different forms of learning materials, but actively suggesting the most engaging content to users directly.

Recognising achievement and providing feedback


Recognition is a simple way to increase engagement amongst your employees. Users who curate and share their learning playlists can get likes and comments, as well as feedback from surveys, meaning the most engaging content will rise to the top.

Encourage learning in the flow of work


The beauty of an LXP is that it requires no specific time commitments for your users to learn. Your employees can access the content they need as part of their natural day-to-day, especially once they've built up a library of organisation-specific learning materials.
What are the key features of an LXP?



Learning Experience Platforms can function as stand-alone systems or alongside an LMS to provide a thorough learning experience for your employees.
Either way, experience platforms offer a number of features that make them a unique tool when it comes to training and developing your staff. Here are some of the key features:

Library of user-generated content
By putting the power to create and curate e-learning content and online training materials in the hands of your employees, an LXP presents a great opportunity to build up a bank of engaging, organisation-specific content.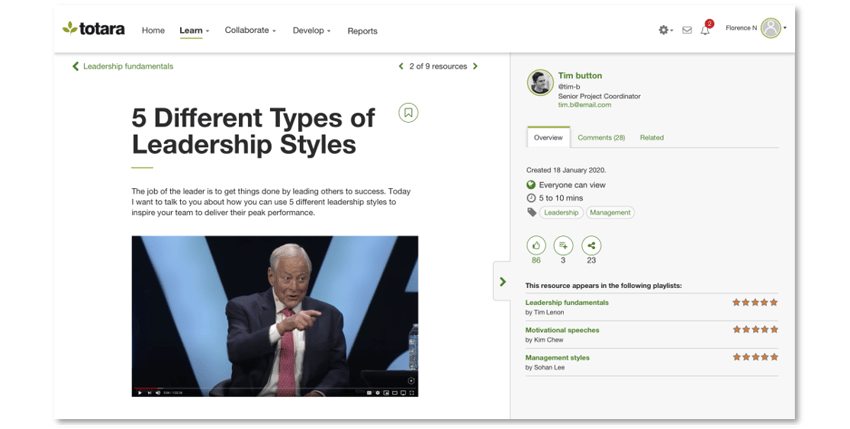 LXPs will be able to host a library of this user-generated content, collaboratively created by and accessible to your employees. This means knowledge and skills can be shared across your organisation, rather than remaining in the heads of a few specialist individuals.

Playlists of learning content
In addition to a user-generated content library that gathers all materials curated across your organisation, a Learning Experience Platform will also offer individual employees the option to build their own playlists of learning content that they find helpful.
Users can pull content into these playlists from the wider content library, from materials shared to them by their managers or peers, or they can even upload and build their own learning materials directly on the LXP. This freedom ensures they see only the most engaging and relevant content.
This is a feature we think is so useful that we actually house our Hubken client video library playlists in our recommended LXP, Totara Engage.
Content recommendation
Another huge benefit of LXPs is that even those employees who are more reserved when it comes to putting themselves out there and sharing, generating and curating content will be able to access engaging, relevant content thanks to the content recommendation engines built into all good LXPs.
The machine-learning algorithm recommends content and learning materials to individuals based on their interaction with previous materials.
This content comes from the user-generated library, so your top content-generating employees will help drive engaging content across your organisation indirectly through the recommendations engine.

Collaborative areas
Learning Experience Platforms are designed to make learning social and collaborative, so they naturally have spaces where users can not only communicate with one another but also work together on specific projects.
A good LXP will offer collaborative workspaces that can be established not just for the whole organisation, but also for specific teams, as well as those working collaboratively on projects or even social event planning groups.
These collaborative spaces are perfect for moment-of-need learning and problem solving, as well as being a good platform for individuals with specialist knowledge to share their expertise.

Enjoying this blog?

Sign up to make sure you don't miss any future content!
Integration options
In the modern world of digital technology, integration between systems is vital, and LXPs are designed to work alongside other platforms to boost functionality and user-experience.
A common and popular integration for some experience platforms is with video and communication platforms such as Microsoft Teams.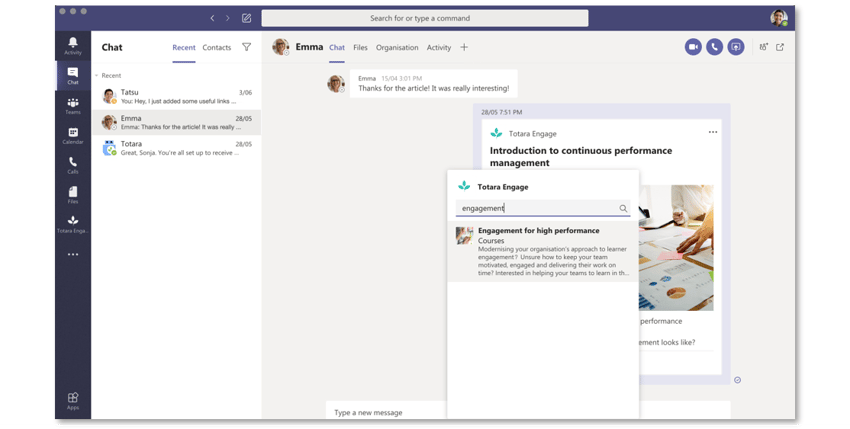 Take our recommended LXP, Totara Engage, as an example. It integrates seamlessly with Teams, pushing content directly from the LXP so employees don't actually have to visit the LXP site itself to interact with learning content.
The notifications from the LXP also come through Teams, so they never miss any content or learning materials recommended to them. This is just one example of how LXPs can enhance, and be enhanced by, other systems.

Intuitive dashboard interfaces
Learning Experience Platforms are easy to use and easy to navigate, which is important for a platform that encourages engagement.
Experience platforms like Totara Engage have clean, modern interfaces and dashboards that display recommended content based on previous interactions, analysis of learning progress for employees and managers alike and a schedule of upcoming events and courses.
Our recommendation is that your LXP sits as part of a suite of tools including an LMS, to ensure the learning experience is all in one system and the learning journey is as immersive as possible.
Analytics tools
LXPs automatically collect, collate and store data and statistics on the performance of your e-learning content itself, as well as how your users are engaging with that content.
The data the system collects is displayed in specific dashboards for users and administrators and reports can be generated on all aspects of the learning happening within the LXP to share with relevant stakeholders.
For administrators, the analytics can be a useful way of seeing who the star performers are when it comes to creating and sharing the most engaging content, as well as looking at learning trends across the platform.
LXPs vs LMSs
In truth, LMSs and LXPs are quite different and serve different purposes when it comes to training and developing your staff.
Whereas LMSs are more organisation-led and focused, LXPs are employee-led and focused. The traditional LMS, put simply, is an online catalogue of e-learning courses with progress tracking and reporting built in, used to deliver necessary training to the right people at the right time.
An LXP meanwhile is more than a repository for e-learning content. It extends to enhance learning experiences for users, engaging them in skill development beyond just that which is required to carry out their job effectively and encouraging self-paced learning.

Will LXPs replace LMSs?
With the possibilities offered by an LXP laid out in front of you it might be tempting to toss LMSs aside, but the reality is they offer different things and complement each other to provide the ultimate learning experience.
The engagement levels a learning experience platform can generate are unrivalled and for development of your people there's nothing better. However, sometimes a more formal approach is required, especially for things like compliance training in fields such as health and safety, and that's where the LMS is key.

Our recommended LXP - Totara Engage
At Hubken we recommend Totara Engage as our LXP of choice.
It's a powerful and flexible experience platform that offers all the features and benefits mentioned above and more, allowing you to revolutionise the way you train your people.
With Hubken you can also combine Totara Engage with Totara Learn, a feature rich LMS, and Totara Perform, a modern and dynamic performance management system, to create the Totara Talent Experience Platform – the ultimate suite of tools for organisations looking to be at the forefront of training and development, all in one system.
If you'd like to discuss how a Learning Experience Platform can benefit your organisation, get in touch. We'd love to chat!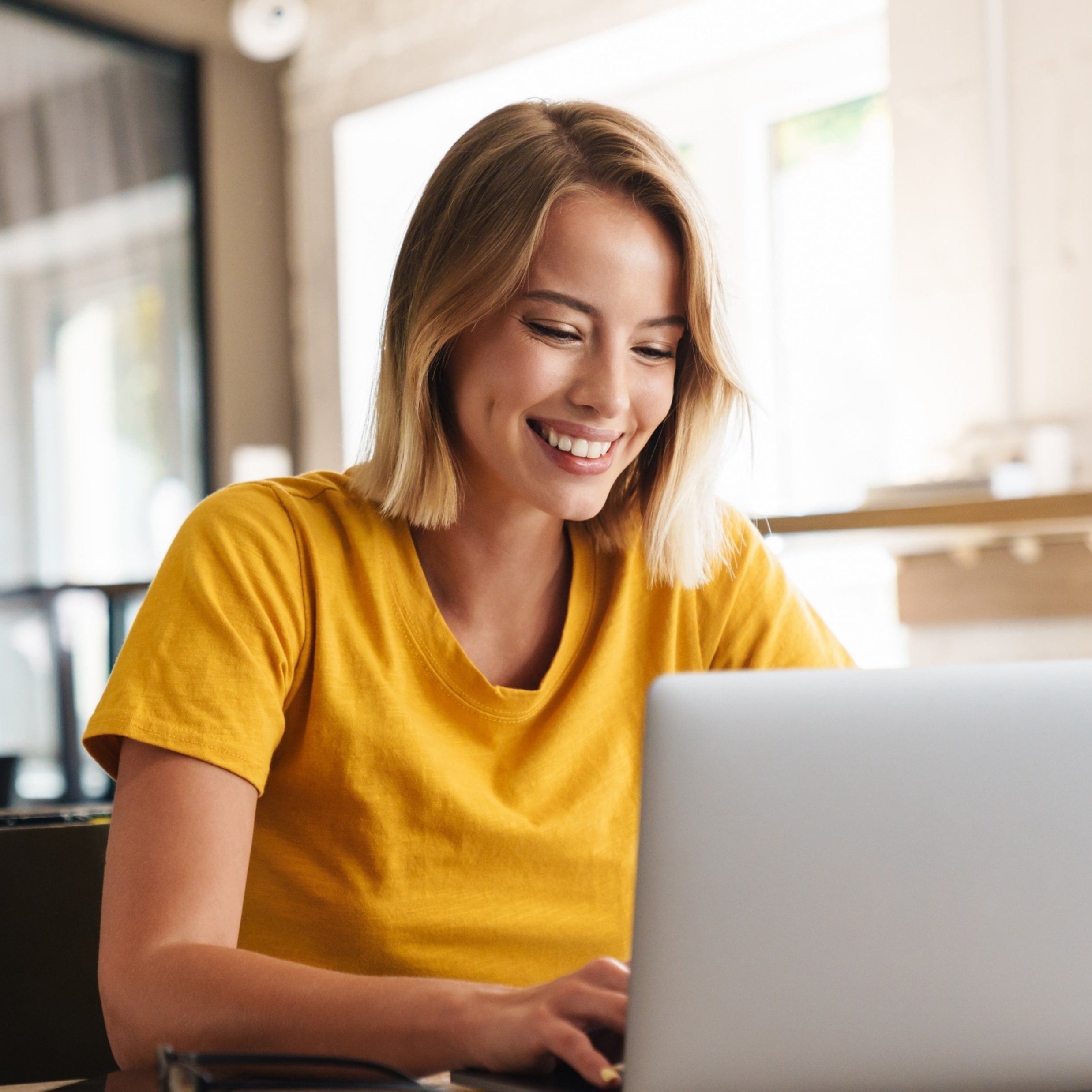 Explore HubkenCore – our unique SaaS LMS offering
Ready to see how our new LMS bundled solution is revolutionising how you purchase an e-learning solution?