Moodle Training
Training for beginners, improvers and experts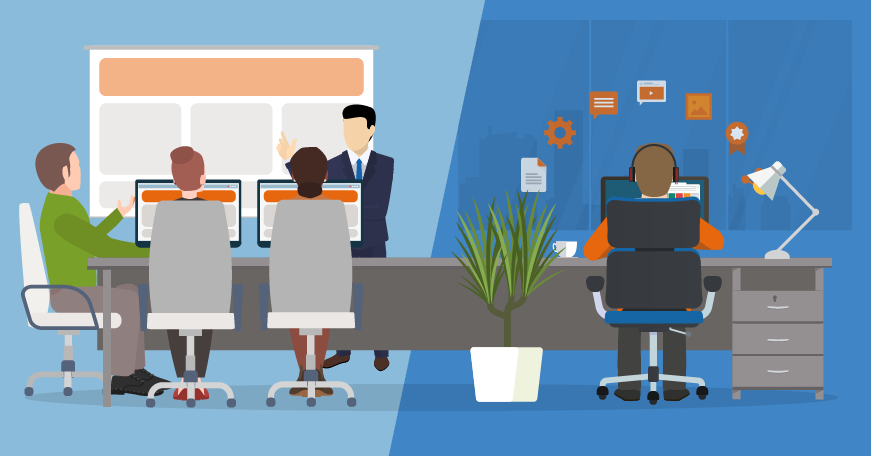 Moodle training is all about return on investment.
Moodle is powerful, flexible and easy to use – but there's a lot of it. Our experts upskill teams to realise the potential of your Moodle LMS.
Research shows that Moodle LMS projects succeed where there is a deep understanding of the system capabilities to build momentum in the early stages of implementation and sustain it as the site matures. Moodle training is a key part of the path to success.
Moodle who? To Moodle hero
Let us help you find your Moodle super powers!
Save time and money
Get to the essentials fast with our proven training.
Learn from the experts
We have a wealth of experience to share with your team.
Ensure future success
Get your team on board and give them the tools to grow.
Moodle Course Creator
The fast track to confidence and competence with essential course functionality for trainers, teachers, course designers and support teams.
You'll be able to make informed decisions about core functionality that supports the best instructional design principles. From course settings and orientation, to essential insights for deploying and signposting content, delivering assessments, communication and collaboration.
Moodle Course Creator enables you to monitor learner activity and progress in your courses, create conditional learning pathways and reward success with digital badges.
Explore what you'll learn in 2 days
Course Settings and Resources
Course Page:

Course set-up and layout options
Resources:

Add and configure the Label, Book, File and Folder resources
SCORM Activity:

Add and configure the SCORM activity in your course**
Collaboration
Choice Activity:

Add and configure polls to stimulate thinking or collect a class vote on a single question
Forum Activity:

Provide an area for discussion for your students and a place to share ideas
Glossary Activity:

Create and populate a course glossary with keywords related to your course topics.
Assessment
Quiz Activity:

Add and configure the Quiz (using a range of popular question types)
Assignment Activity:

Enable submissions from students and manage feedback and grades
Course Management
Feedback Activity:

Add evaluations to your course
Reporting:

Monitor learner activity logs, and access course-based reports
Completion Tracking:

Track and report on the progress of your students across activities and the course as a whole
Badges*: Reward learners and allow them to share progress and achievement with others
Groups*: Manage user participation and segmentation within courses
Conditional Access:

Define criteria within resources and activities to restrict access to specific course content
*Badges and Groups - In-house only.
**SCORM covers system options and does not extend to creating content in external authoring tools.
Open Online Training
2-day duration
Live training in our online meeting room
Headset and all training resources included
Join other Moodlers online
Book Now
In-house Training
2-day duration
Live training in our online meeting room
Training resources included
Exclusive to your team
Moodle Administrator
Moodle Administrator training provides the insights required for you to be informed and efficient in your day-to-day administration of the LMS. You'll gain the competence and confidence to manage the Moodle site and support colleagues.
You'll get hands-on with the configuration options that every administrator needs to know to set up the LMS so that it meets your organisation's needs.
We explore the options for effective and first set up as well as transferring key knowledge and skills that enable you maintain and develop your LMS with confidence.
Explore what you'll learn in 1 day
Authentication
Create and manage user accounts with manual and email authentication.
Enrolments
Add users to courses using different enrolment methods.
Site organisation
Consider and manage the category structure of your site.
Roles
Manage permissions in existing Moodle roles or create and assign new roles to meet your own user requirements.
Backup/ Restore
Re-use and archive activities and courses
Language
Support users with different languages and modify the interface terminology.
Appearance
Identify and modify settings that impact on the "look and feel" of the site.
Default Settings
Customise the system defaults to fit with your requirements to improve usability and to encourage consistency across courses.
Tours*
Create visual guides to introduce new users to the site interface.
Configure a Site from Scratch*
We'll distribute scenarios so that each participant will have the opportunity to configure a new site from scratch, exploring the various configuration options covered during the training.
*Tours and Configure a site from scratch - In-house only.
Open Online Training
1-day duration
Live training in our online meeting room
Headset and all training resources included
Join other Moodlers online
Book Now
In-house Training
1-day duration
We come to your venue
Live training our online meeting room
Exclusive to your team
Moodle Course Creator: In-house Training
Moodle Administrator: In-house Training
Frequently Asked Questions
What's the structure of the training?
Open Online Training
Start: 9:30 GMT (arrive from 9:15)
Morning (3hr) and afternoon (2hr) sessions.
Planned finish: 16:30 GMT
In-house Training
Start: 9:00 GMT
Planned finish: 17:00 GMT
Breaks: Morning/afternoon breaks 15mins, 1hr lunch
What do I need for Open Online Training?
All participants require:
Laptop or desktop computer with sound enabled (tablet or other mobile devices are not suitable).
Internet connection. Wireless is OK, wired is ideal.
Modern web browser – latest version of Chrome, Firefox ideal.
Suitable location i.e. no excessive background noise, desk/table for computer and handouts.
What do I need for In-house Training?
Same as online training, plus:
Training/meeting room.
Modern projector and screen or large TV (our trainer must be able to connect).
Internet connection for our trainer – Wi-Fi or wired
How many participants can attend?
We limit participant numbers for a superior learning experience.
In-house Training: 6 participants
Open Online Training: Small groups
What knowledge and skills do I need to participate?
You need to be familiar and able to use typical web application features e.g. browser controls, drop-downs, fields buttons.
Moodle Course Creator: No Moodle experience.
Moodle Administrator: Participants require an understanding of Moodle at the level covered in our Course Creator training.
An understanding of your organisation's current and future objectives for the LMS.
Ask about our bespoke training
Our team love to hear about new projects