This week we've reviewed the Re-engagement plugin (mod_reengagement) for Moodle - a Moodle plugin that allows you to send automatic reminder emails to your learners - and more!
What is the Re-engagement plugin for Moodle and how can I use it?
The mod_reengagement plugin is a great activity Moodle plugin that allows you to send out automatic emails to your learners at a specified period of time after an event starts. The plugin can be used in several ways.
You may wish to remind your students to return to their course and complete activities if they have not been done, or you may want to selectively release timed content from within a course to your learners. If your student has already completed the activity, the email will not be sent to them.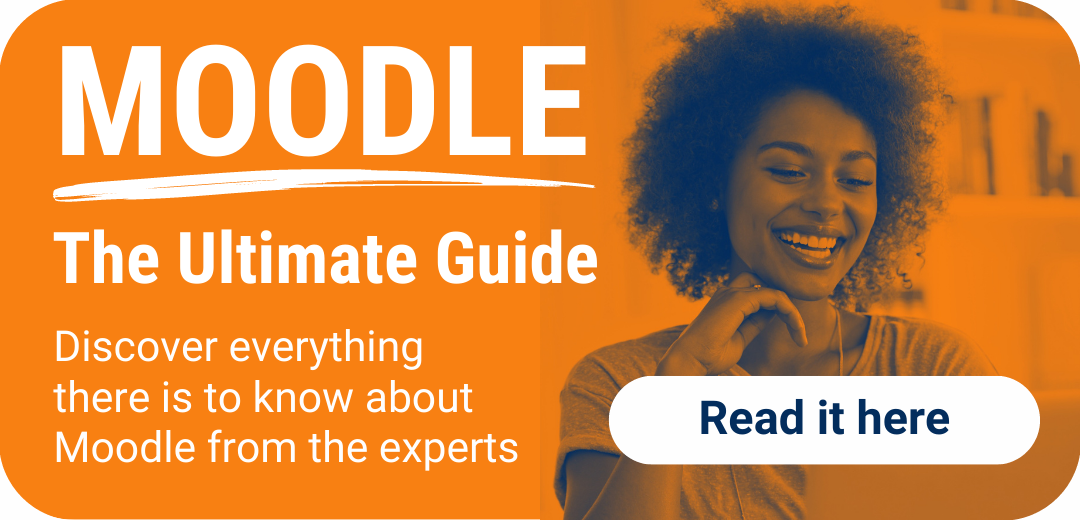 How to use the Re-engagement plugin
In Course Management:
Insert the activity within the course topic you wish to use it and edit its settings.
Once the activity is assigned to a course, the course creator can access a number of options by editing its Settings. As with any other activity plugin, multiple instances can be included within a course which can be moved up or down the topic list using the 'Move' functionality.
The Re-engagement instance within the course topic is automatically hidden from the student/user's view.

Configuring the activity instance is much like any other activity plugin for Moodle. Additional controls within the plugin allow the course creator/site administrator to set triggers based on completion or non-completion of activities within a course. Emails can be configured so that they are sent to the learner, as well as separate emails to 3rd parties if required.
The emails can be reminders that content needs to be completed, or upon completion of content they can contain additional instructions for further study or discussion topics, for example.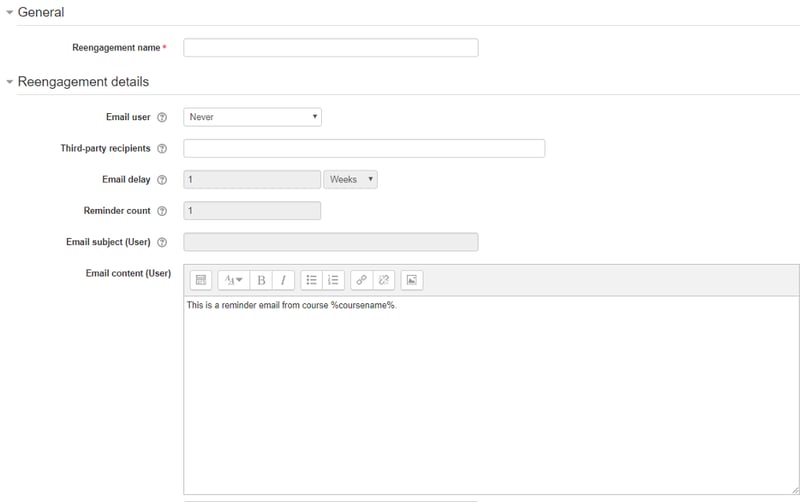 Access can be restricted to the content, so if the activity is set to email learners a reminder if they do not complete a task by a specific date/time, any learner who has completed this activity within the specified limit will not receive an email.
Place holders can be used within the body of the text, ensuring that emails are more personalised for the recipient where needed.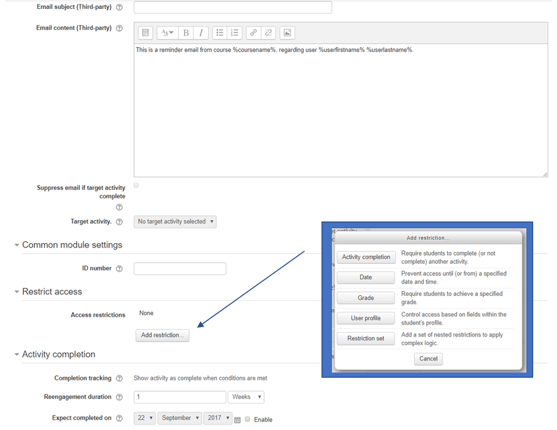 What's my learner's experience like?
For a busy learner, receiving reminder notifications that activities need to be completed, or timely additional information notifications for moving to the next course activity, could prove to be very useful.
Helping learners ensure that they do not miss a deadline or pointing them in the right direction for further study at a time they may need it is a very useful feature.
A content creator could find many other possible uses for such a plugin, adding further interaction with their learners when and where needed. Care should be taken to ensure that learners are not bombarded by a stream of emails, so the timing, spread and quantity of emails needs to be considered when using this activity within a course.
How do I install the Re-engagement plugin?
The plugin is available at the Moodle plugin repository.
The Re-engagement plugin is currently available for Moodle 2.9 to Moodle 3.3. Simply download the zip file which should then be unzipped, and its contents uploaded to your Moodle installation - e.g., /mod folder.
Once the files are moved into the correct directory you can login to your Moodle site as an administrator and complete the installation process by navigating to Site administration > Notifications and click on the "Update Database" button at the bottom of the page.
Important Advice: You should always take a full backup of your site before installing any plugin.
How do I configure the Re-engagement plugin?
The activity module requires no initial configuration following its installation. The plugin simply needs to be included within a course as many times as needed and each instance can then be configured at that point.
If you decide to use this Moodle plugin, it does rely on your sites ability to be able to email learners, so you may need to ensure that your site is configured for use with email and that the emails it will generate will not get blocked. This may require a discussion with your IT Administrator or Internet Service Provider.
Is there any documentation for the Re-engagement plugin?
You can find further documentation for the plugin at: https://docs.moodle.org/31/en/Reengagement_activity and https://docs.moodle.org/33/en/Reengagement_activity
The plugin also has an active discussion which is useful for finding tips and tricks.
Our verdict on the Re-engagement plugin
Pros:
Easy to install
Familiar interface, easy to get to grips with
Supported for Moodle versions 2.9 to 3.3
Offers the ability to remind learners that course content may need completing or that they should return to the site/course for other reasons
Cons:
Could be time consuming to setup each instance. It could possibly do with a default configuration option enabling the use of automatically set basic options
There is a risk that emails may be caught in a learner's spam filter, meaning that they might miss an important notification
Overuse of email reminders could reduce their effectiveness or annoy learners
About Hubken
The Hubken Solution comprises powerful, flexible and tailored Learning Management System (LMS) services for organisations of all sizes. Leveraging the power of Moodle or Totara platforms we provide you with the tools to achieve outstanding eLearning outcomes, supporting you in areas including LMS hosting, installation, user training, content development, reporting and more.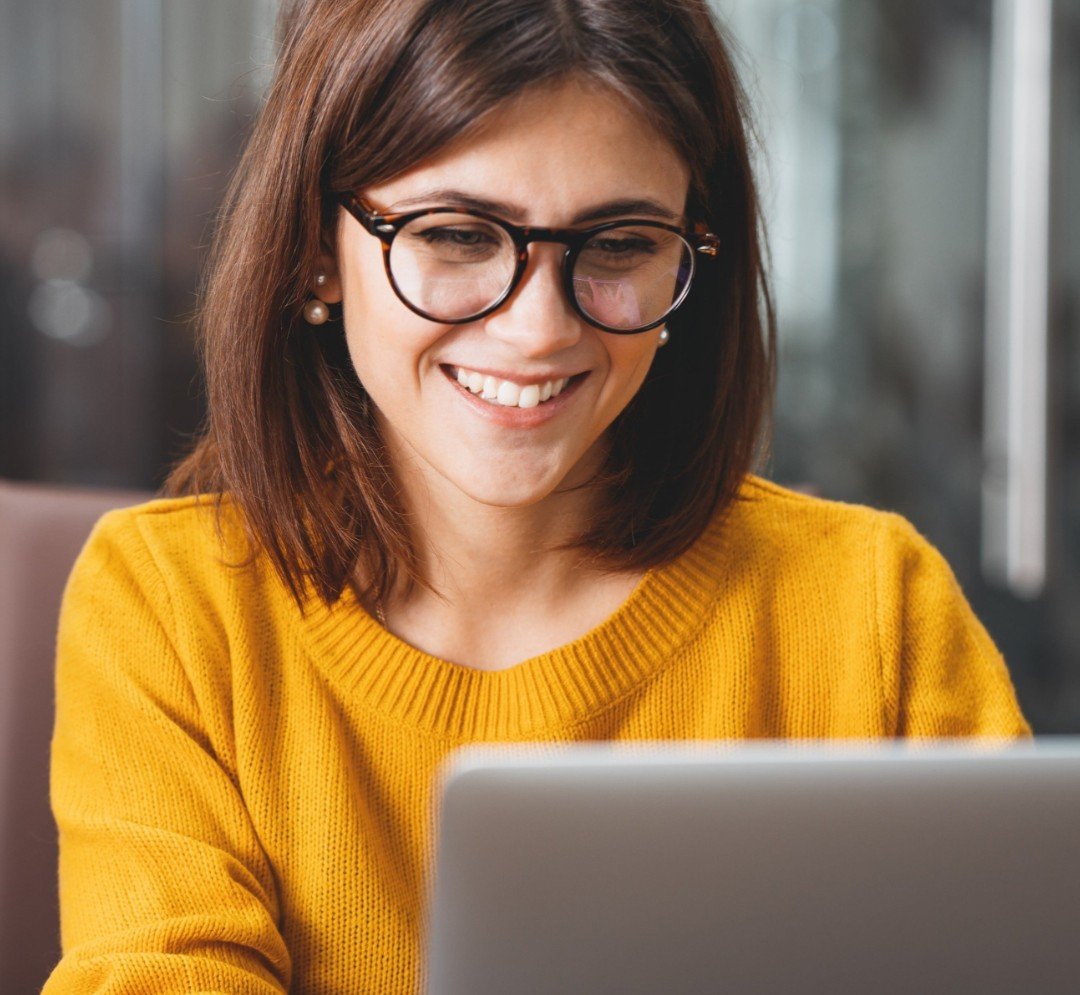 Book a Moodle Demo with Hubken
Ready to see how our Moodle LMS bundled solution can enhance your L&D programme?