One of the most powerful advantages of using an e-learning platform is the ability to deliver a diverse, engaging, and dynamic range of content. Traditional teaching methods and offline L&D content often take a one-sided approach, with a teacher or trainer using a lecture-based structure which often results in low engagement from an uninvolved audience of learners. New technologies and modern e-learning platforms allow educators and L&D professionals to move away from this teacher-centric approach and open up the learning experience to include new and exciting ways of teaching, such as interactive e-learning. In this blog, we'll explore what interactive e-learning content is, how effective it is and how to implement it.
What is interactive e-learning?
To put it simply, interactive e-learning is all about learner participation. While traditional methods such as one-way presentations or passive learning from textbooks and text-heavy educational materials require little to no input from learners, interactive e-learning encourages learners to play an active role in the learning process.
Using e-learning technology, interactive lessons come in a diverse range of formats and will require varying levels of participation from learners, and completion will require them to apply different skills. Rather than simply listening or reading, learners may have to apply their critical thinking skills and communication skills and rely on their time management skills.
Interactive e-learning content such as quizzes can be created in platforms such as the Totara Learn LMS or Moodle LMS. But, for organisations looking to get the most out of effective interactive e-learning content, authoring plugins such as H5P allow you to easily create a diverse range of rich, HTML5 interactive content.
Did you know? We have integrated H5P with our Moodle LMS and Totara Learn solutions - find out more about our LMS options here.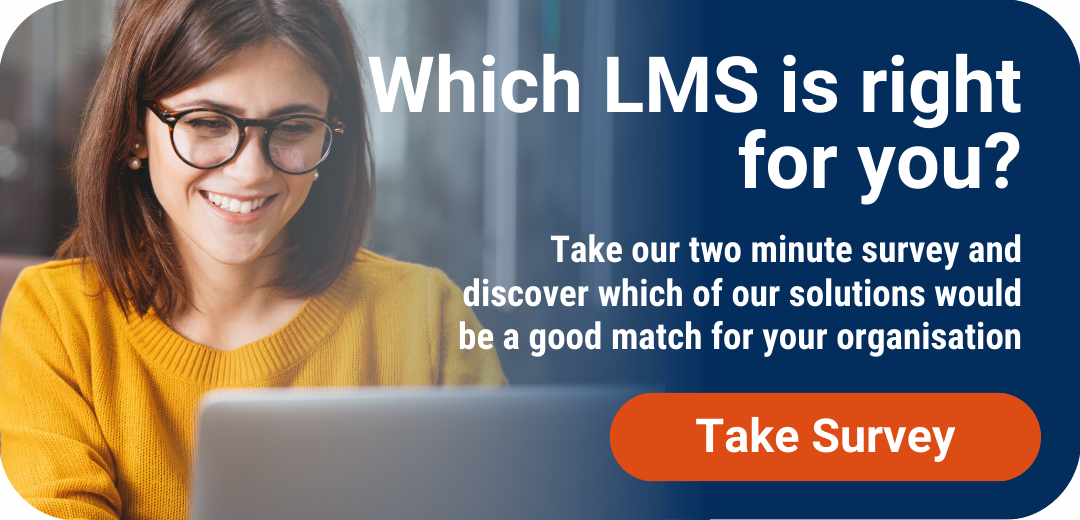 How effective is interactive e-learning content?
Research by Carnegie Mellon University's Human-Computer Interaction Institute found that engaging students through interactive activities, discussions, feedback and AI-enhanced technologies resulted in improved academic performance compared with traditional lectures, lessons or readings.
Interactive e-learning content can see higher levels of engagement as it requires students to participate, rather than learn passively. As a result, they are more likely to retain the information they learnt during the interactive learning process – making the overall learning experience far more impactful and effective.
Additionally, gamified interactive e-learning content can improve organisational effectiveness as 72% of employees said that gamification motivates them to work harder. When e-learning content is enhanced with interactive elements, learners are more likely to enjoy engaging with it and return to the e-learning platform.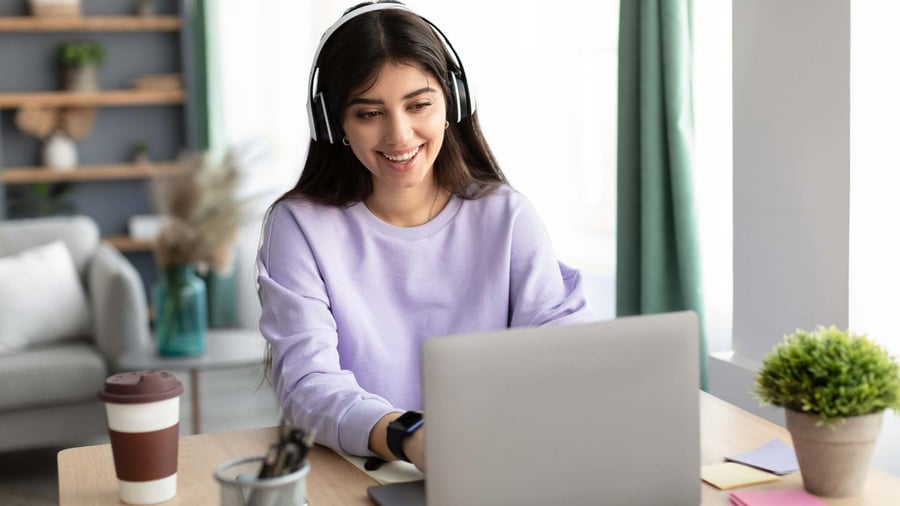 How can you include interactive e-learning content in your L&D initiatives?
To maximise the potential of your chosen e-learning platform, you need to deliver effective, impactful and engaging learning materials with interactive e-learning content. Whether this content is produced using your LMSs existing functionality, obtained from a third-party content developer or created using a powerful plugin such as H5P – there is a wide range of content types to choose from. Let's explore some of these below.
Interactive videos
Videos are a great way to convey information to learners in an engaging and dynamic format. While videos can be impactful on their own, the most effective way to engage learners is to include interactive elements within videos.
HTML5-based interactive videos allow L&D teams to overlay interactive elements such as multiple-choice questions, pop-up text, links, fill-in-the-blank questions and much more. Videos can be designed with adaptive behaviour so that the way that learners interact with these activities will determine what they see next, for example, if they answer incorrectly, they will be taken to the part of the video with the correct answer.
Find out more about how to create interactive videos with H5P here.
Branching scenarios
For organisations wishing to test and develop their learners' analytical and critical thinking skills, branching scenarios are an effective way to do so. This content type uses the adaptive learning approach as it presents learners with dilemmas or situations in which they must make choices and their choices will determine the content they see next.
Branching scenarios often include real-life situations and are designed to test learners on the choices they would make but in a risk-free, virtual environment. For example, learners completing health and safety training may be asked how they would react to a hazardous situation, they could be presented with three choices and if they answer incorrectly, they will be presented with the consequences of their actions.
Quizzes and flashcards
Assessments are a reliable and quantifiable way to measure knowledge retention and learner progress. But traditional assessments such as simple tick-box knowledge tests can be intimidating or monotonous for learners. Using interactive e-learning content tools, organisations can effectively measure learner progress with fun, engaging and diverse assessment types.
Examples such as flashcards with H5P will test learners with a quick and visual 'quiz like' format. Flashcards are made up of a set of cards containing a picture on one side and the corresponding text on the other, the learner is tested on what that corresponding word on the back should be.
Other possible assessment types include informal quizzes such as arithmetic quizzes, multiple choice quizzes, fill-in-the-blanks or drag-and-drop assessments. Including a variety of assessment types in an L&D course will ensure learners remain engaged and motivated to work their way through the content.
Gamified content
Gamification has become hugely popular in recent years as a powerful way to enhance the learning experience by incorporating game-like elements and mechanics into L&D courses. Gamified lessons require some interactivity and create a fun and immersive learning experience whilst boosting knowledge retention and learner satisfaction.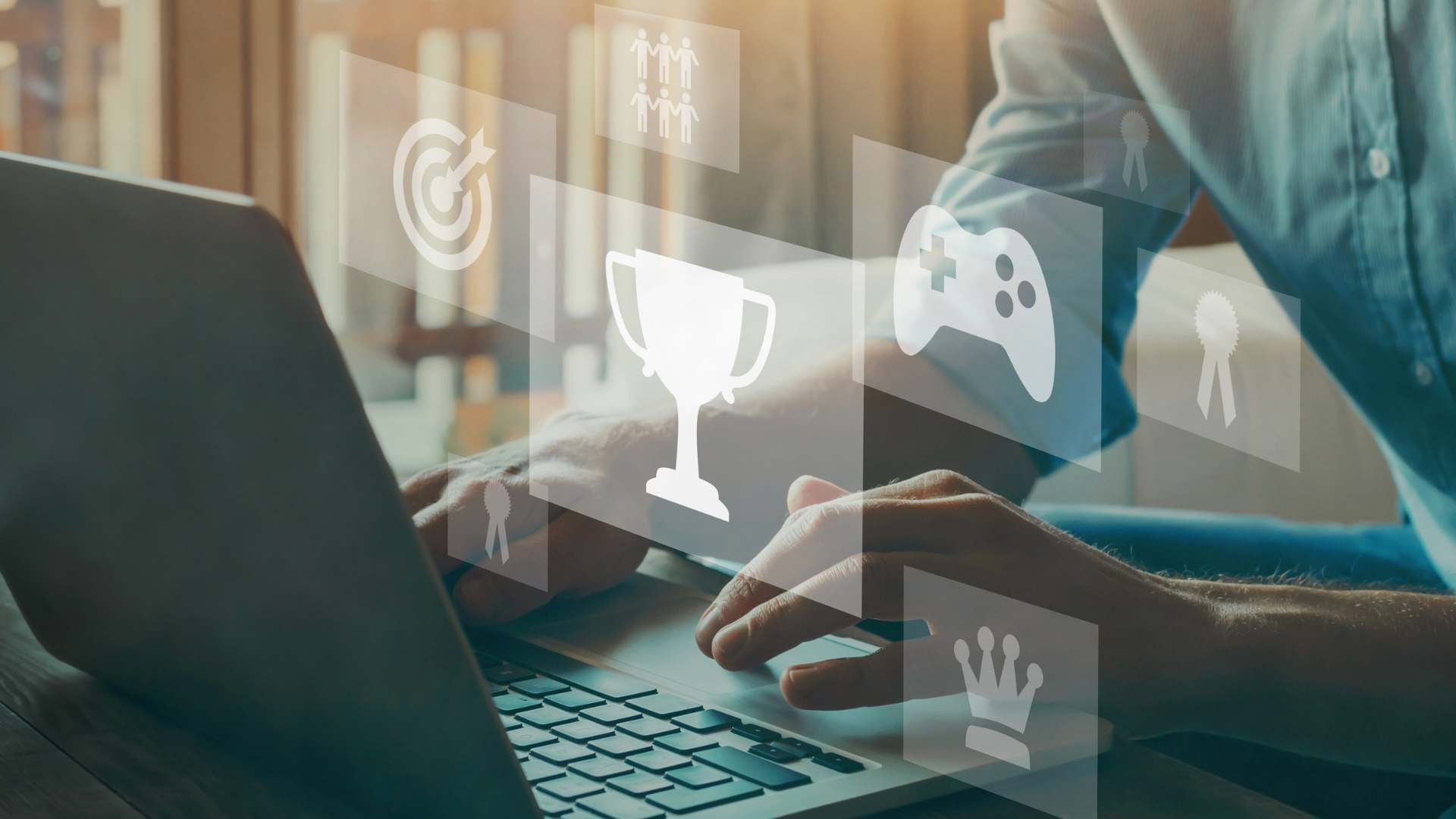 Popular examples of interactive e-learning gamified lessons include memory games, finding the hidden words, image pairing and crosswords. While interactive gamification style teaching is effective on its own, it can be further enhanced with motivational elements such as badges and leaderboards – find out more about gamification with a Hubken solution here.
Image hotspots
Another effective way to relay information with interactive e-learning content is through image hotspots. This content type is made of images with 'hotspots' which when clicked will reveal additional information through text, images, or videos. Image hotspots are a great way to add some interactivity to flat images, along with allowing learners to discover information at their own pace, in a visual and engaging format. With H5P image hotspots, creators can add as many hotspots as necessary and adjust the placement and colour of each hotspot.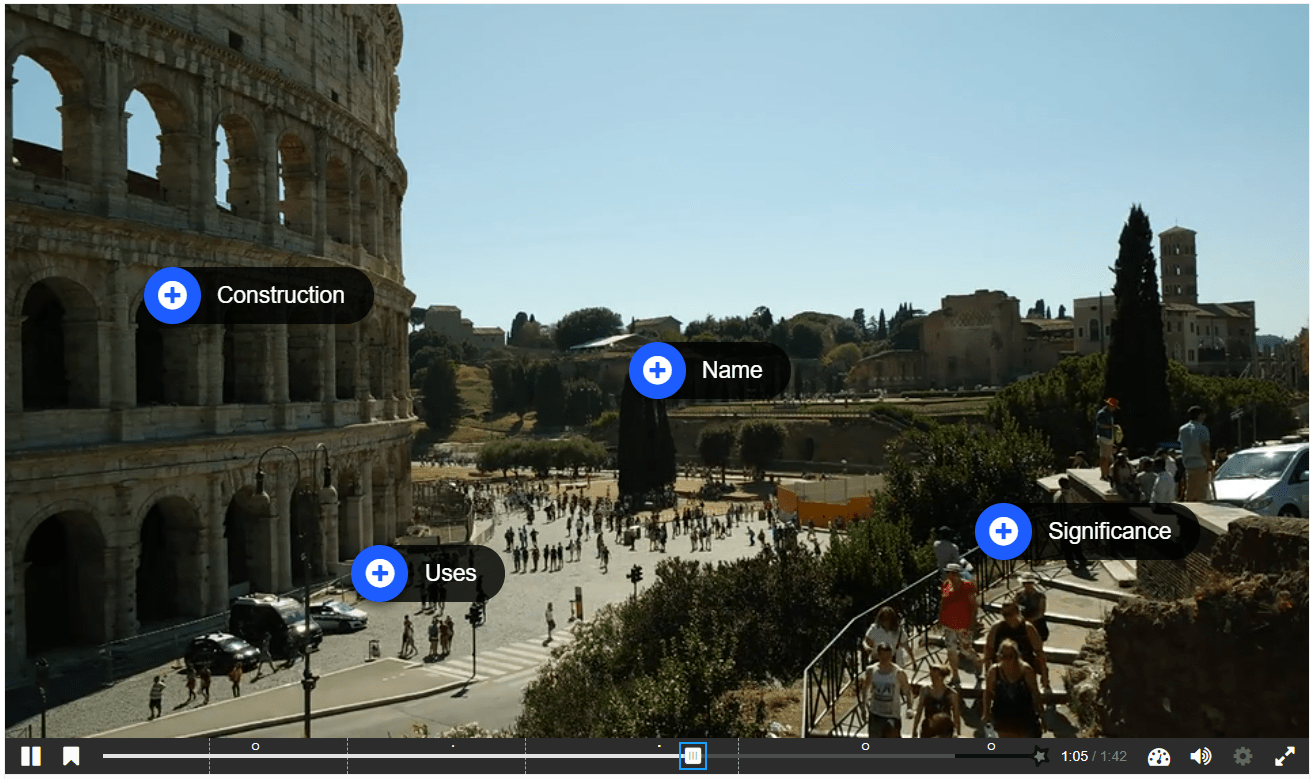 Incorporating interactive e-learning content into your L&D programmes
With the right e-learning platform, you can provide your learners with an impressive library of diverse interactive content, resulting in a more effective L&D initiative. In order to do this, you need to find an LMS or e-learning platform that offers the functionality or plugin capabilities to deliver a diverse range of content types. If you'd like to find out more about what our powerful e-learning solutions are capable of, get in touch with one of our e-learning experts today or book a demo to see first-hand how you can deliver the best content for your learners with a Hubken platform.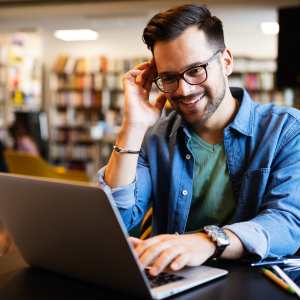 Book your free LMS demo today
See first-hand how our e-learning platforms will deliver exceptional results for your organisation with a wide range of powerful functionality, features and content types.