'Online learning', a term once exclusively associated with educational institutes, is today far more mainstream in its application. Like 'streaming' or 'face timing', 'online learning' is firmly grounded in the lexicon of the internet age – but defining online learning isn't as straightforward as it appears. A deeper analysis is needed to determine why online learning is such an effective tool and why it should be at the heart of your L&D strategy. Join us as we delve into all things online learning in this, the ultimate guide.
What is online learning?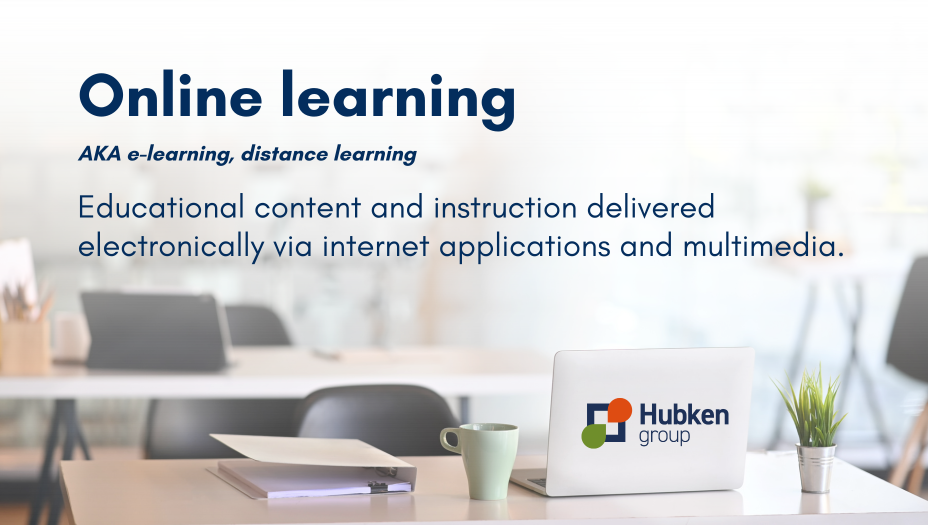 Also known as e-learning and distance learning, online learning refers to educational content and instruction delivered electronically via internet applications and multimedia.
While distance education has existed for over one hundred years – initially relying on postage courses and radio broadcasting – it was only when online learning was first introduced in the 1980s that the true potential of remote learning was realised. Forty years later, the advancement of internet technology and e-learning applications means online learning is more accessible, and more cost effective, than ever before.
How does online learning work?
Unlike in-person or classroom learning, online learning is delivered remotely and doesn't require a teacher or trainer. Instead, all learning instructions and topic materials are conveyed electronically to the user via a learning interface - either a standalone digital platform or browser-based system hosted on the cloud. And it is this interface which determines the effectiveness of the online learning taking place.
Simply put, only a powerful, and properly configured, learning system can deliver the sort of transformative results online learning is renowned for:
Learners retain 25%-60% more knowledge through online courses (Corporate eLearning Exploring a New Frontier, WR Hambrecht)
Online learning uses up to 85% less energy consumption than traditional learning (Open University)
81% of college students in the US say that online learning is helping them improve their grades (Statista)
79% of teachers agree that technology makes learning more interesting for students (Statista)
Online learning in the corporate space takes 40% to 60% less time than traditional learning (eLearning Industry)

What are the pros and cons of online learning?
Online learning, while transformative, isn't without its compromises. Removing the traditional learning and training space in favour of a virtual one requires adjustment and, as with anything new, won't be to everyone's taste – at least in the beginning. Let's explore the pros and cons to be mindful of when adopting an online learning strategy:
Pro

– Flexibility

The flexibility online learning provides to both users and administrators led to an explosion in popularity during the COVID pandemic. Designed with remote delivery in mind, online learning provides an unparalleled level of flexibility – with access available anywhere, anytime thanks to cloud-based technology and additional features such as single sign-on (SSO) and mobile compatibility. With automatically saved progress and a 'drop in, drop out' fluidity, online learning enables users to complete learning on their schedule – forgoing the need for time consuming and rigid in-person training sessions.

Of course, the beauty of online learning is that it can be delivered to users anywhere in the world. Free from time zone constraints, endlessly scalable, and with access to hundreds of module languages, consistent training can be shared with hundreds of thousands of users regardless of location with the right learning management system (LMS).
The ability to complete learning from anywhere at anytime is one of the key benefits online learning offers
Con

– Absence of face-to-face learning

The obvious downside to online learning is that it lacks the in-person guidance and expertise that comes with traditional teaching or training. For this reason, there may still be a need for specialist in-person training events for certain organisations and courses even after they've switched to a fully online learning strategy. However, there are learning platform tools designed to accommodate continued face-to-face learning.

Totara Learn, for example, has an integrated Seminar function which enables administrators to link, schedule, and track in-person training within the platform - effectively recording face-to-face training alongside online learning progress. The amalgamation of online and in-person training is termed blended learning – considered by many to be the optimum combination of learning styles. But additional online learning tools go a step further to ensure the social aspect of in-person learning isn't lost in the digital age.

Learning experience platforms (LXPs) such as Totara Engage unify social and user led learning to great effect, creating a space where informal conversations and recommended content playlists can be shared with ease. These platforms also allow for mentorship roles in which specific users can be made SMEs (subject matter experts) to guide others and share relevant knowledge, tips, and role-specific experience. So, while online learning can't completely replicate the benefits of in-person learning, with the right e-learning platform, it can go some way towards 'filling the gap'.

Pro

– Engagement and accuracy

Regardless of any necessary compromises, the proven effectiveness of online learning is central to its enduring popularity. In addition to increased retention rates amongst learners, as cited above, online learning is also shown to increase engagement by up to 18% (eLearning Industry). Not only are users more likely to access 'anytime, anywhere' online learning content, but they are also more likely to consistently engage with the materials provided. This is in large part due to content variation, effective UI, and structured reporting and rewards.

Training delivered via an LMS comprises multiple course types depending on topic, purpose, and audience. With a SCORM-compliant LMS, courses can feature a high level of interactivity, with moving visual and audio elements to better engage learners. Gamification elements go a long way towards engaging learners and breaking up topics to be more digestible – particularly with interim assessments, quizzes, and quickfire microlearning rounds designed to increase knowledge retention while keeping engagement levels as high as possible.

Continuous and comprehensive reporting also plays a crucial role in engaging online learners. With automatically (and instantly) recorded course completion and assessment results, LMS learners, managers, and administrators always have full visibility of learning progress. Furthermore, tailored reports assigned to user dashboards display areas for improvement, approaching course deadlines, and learner successes which can be viewed at a glance to quickly identify recommended next steps when logging in to an online platform. Administrators can use the extensive data collected from online learning platforms to track user engagement and make changes to course modules as necessary. Tie into this learner rewards in the form of sharable course certificates and progress badges, and learners have all the motivation and competitive drive they need to stay engaged and make strides in their development with online learning.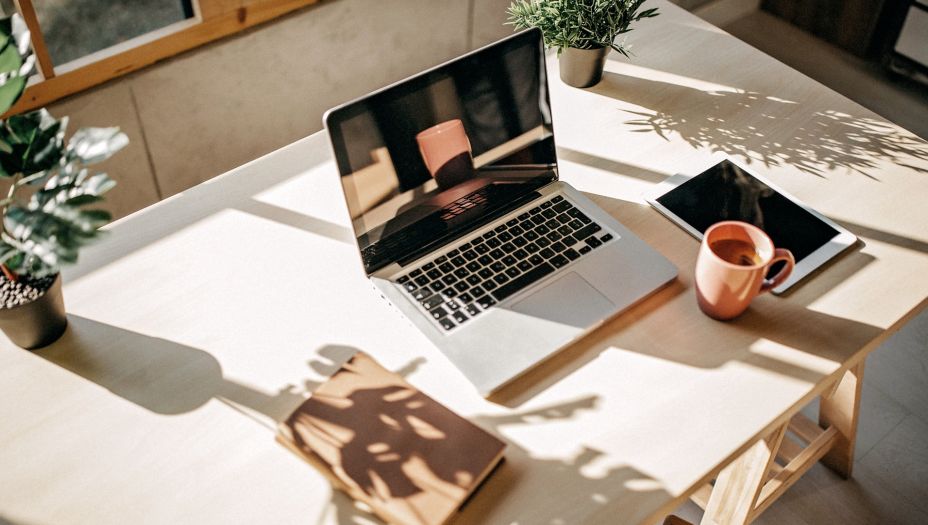 Automated reporting and increased engagement are just some of the ways online learning enhances the training experience
Con

– Reliance on technology

A charismatic teacher or training leader can deliver captivating classes with nothing but a room and an audience. Online learning, however, relies on multiple instances of functioning tech to reach its users. Power cuts, loss of internet, device malfunctions, data hacking – all these factors pose considerable risks to the success of an online learning strategy and must be considered before making the switch.

For these reasons, choosing the right LMS provider is of crucial importance when moving to an online learning programme. Site security, server stability, and available support are determined by your provider's offering and can make the difference between a reliable online learning platform and one that's not fit for use.

See our Certifications page for information on our 100% secure and reliable cloud offering

Similarly, Wi-Fi drops or lack of internet for users can be overcome with online platforms that offer 'offline' modes or mobile apps – meaning learning can be continued on assigned devices with no internet connection and will then automatically update to the cloud when a connection is restored.
Pro

– Cost effectiveness and environmental impact

While face-to-face training may not always rely on technology, it is almost always far more costly to implement. Hiring external experts, transporting learners to venues, delivering training to multiple offices in different locations, hiring venue spaces, taking time out of employees' working hours – the cost of in-person training far eclipses that of online learning.

A cloud-based SaaS LMS offers excellent value for online learning – costing a fraction of the price a full software build and license would require. What's more, the ROI of a powerful online learning platform is considerable. A survey of 2,500 companies found that "those with comprehensive training programs have a 218% higher revenue per employee and a 24% higher profit margin" (eLearning Industry).

Determine the true ROI of your e-learning platform – download our free eBook here

It's also important to note the reduced environmental impact of online learning. With no reliance on travel for training (for both staff and event leaders), venue use, or additional physical and technological resources, carbon emissions are dramatically reduced. This is especially true if your SaaS LMS provider is carbon conscious (for example, our technology infrastructure utilises Europe's most advanced data centre – ensuring our servers are maintained with 100% renewable energy).

What's possible with online learning?
Much can be achieved with online learning. Across a range of different use cases and industry sectors, we've helped clients grow in the following areas:
But that's just a snapshot of what is possible with online learning. Visit our dedicated pages for more information on the many sectors and use cases that can be supported with online learning. You'll quickly discover that whatever your learning and development need, online learning provides an intuitive, time saving, and cost cutting solution.
Unlock the power of online learning with Hubken
We've been delivering transformative online learning solutions since 2004 – so why not talk to us about your needs for free, friendly, honest advice?
Contact us today and discover why so many organisations choose, and stay with, Hubken Group.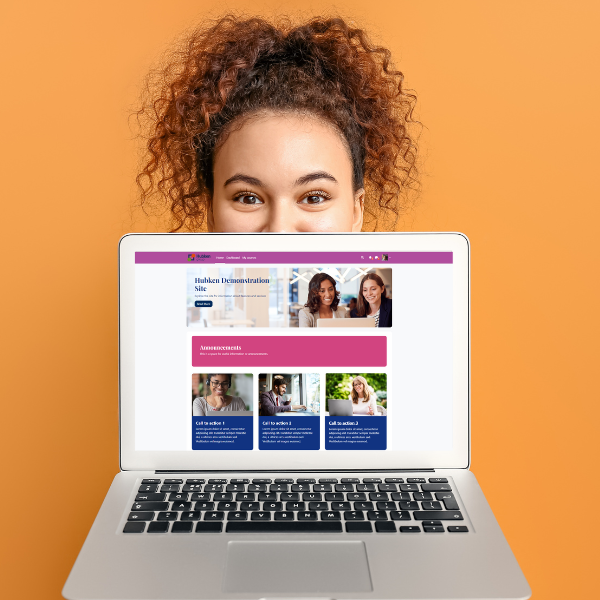 Book a free demo to explore our online learning solutions
Book a demo with one of our e-learning experts and learn first-hand how a Hubken LMS can deliver the transformative online learning results your organisation needs to see