We recently caught up with our talented e-learning content developer, Ben Reeves, to learn more about bespoke learning content and how it can benefit L&D programmes.
Ben, who has developed, designed, and produced e-learning courses for over 20 years, works with Hubken clients to generate specific learning and training modules on a wide range of topics. Unlike content that can be created 'in-platform', Ben produces interactive SCORM format courses that deliver the highest levels of engagement amongst users.
Some Hubken clients Ben has produced content for include The Royal College of Podiatry, The Institute of Development Studies, Amplity Health, and East Guides West.
We asked Ben:
What are the hallmarks of effective, bespoke e-learning content?

"Effective content is focused, concise, and targeted. The more work that goes into identifying who the learners are, along with outcome expectations, the better the results. In my view, and particularly with adult learners, material that relates to personal experiences, stories or situational scenarios are especially effective. There should also be a range of interactive elements to keep the learner engaged at each stage of the learning.
"With all these elements in place, bespoke content can elevate learning from a mundane process to a more special and memorable one, in turn providing measurable improvements in engagement and outcomes."
How long does bespoke content take to develop, and how long does it last?
"Each bespoke e-learning course is unique, so development timescales vary. Smaller, individual modules can take around a month to develop, whereas larger course programmes can take multiple years to complete. It all depends on the scope and scale of the organisation's objectives.
"Bespoke e-learning content can be much longer-lived than off-the-shelf alternatives, sometimes lasting for many years, even if initially it's only expected to be of limited use. That's because the targeted nature of bespoke content creation facilitates exact desired knowledge transfer and can allow for higher rates of retention amongst learners, which organisations quickly see the added value of.
"For example, I produced a course for the Institute of Development Studies, Social Protection which was only initially intended to be in use for 12 months maximum, but was so popular that it's now in its third year of use."
"The course has been spectacularly successful! We originally hoped for around about 100 students but have ended up with around 2,500."
- Institute of Development Studies
Why should an organisation consider acquiring bespoke e-learning content?
"In situations where off-the-shelf content doesn't really meet the client's needs, it's better to produce exactly what is required rather than bending existing content to fit. Businesses can fall into the trap of relying on existing content exclusively, believing that it's more cost-effective than bespoke. This means that they don't realise the full potential of their LMS platform until they see the results delivered by course content that reflects their brand and learning goals exactly."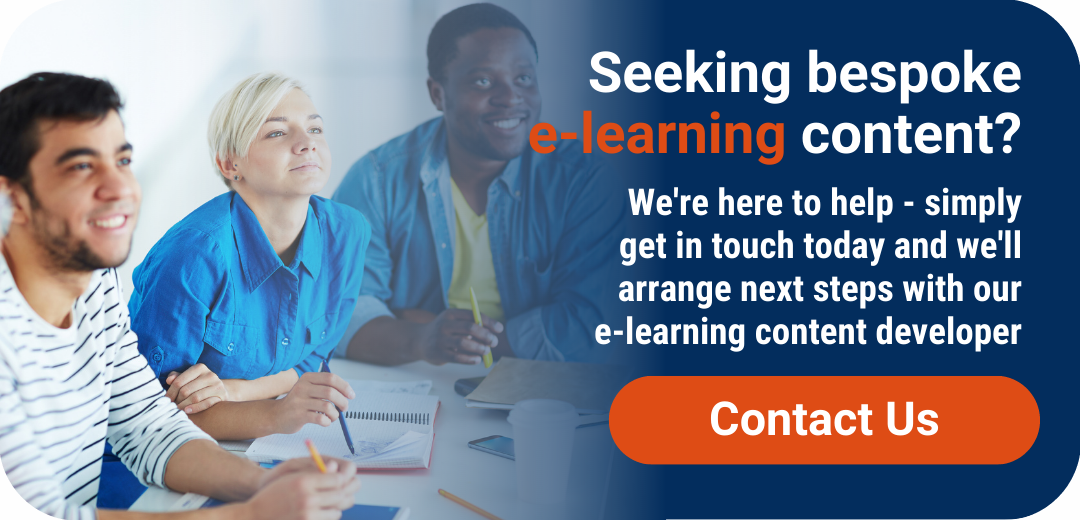 Could you outline the typical cost and development process of creating bespoke content?
"As with timeframes, content creation costings are very variable. Pricing is based on the amount of content, level of complexity, interactivity, and media required, but a good starting point would be £4,500 for a 20–30-minute module. It's worth noting that although this cost reflects the approximate instructional design and development time required, additional time is spent studying the supplied content, liaising with subject matter experts (SMEs), and consulting with stakeholders.
"My process follows the industry standard ADDIE model – with the analysis phase crucial to fully understanding the desired learning outcomes."
Step 1: Analysis
Step 2: Design
Step 3: Development
Step 4: Implementation
Step 5: Evaluation
What are the advantages/disadvantages of choosing to develop bespoke e-learning content?
"The disadvantages of choosing bespoke content are: the perceived cost, time investment, and the requirement for an SME to provide the content. For these reasons, organisations may shy away from building an entirely bespoke e-learning course library.
"However, when its warranted, bespoke e-learning can deliver exactly what learners need in a way that properly reflects the organisation. From the look and feel of the visuals and the writing style, to highly interactive gamification with branching outcomes, variable difficulty and more – when done properly, bespoke content will pay for itself through higher quality and targeted output and better outcomes."
If an SME is responsible for the initial content, why isn't subject expertise enough to deliver effective bespoke content?
"While subject matter knowledge is crucial for any e-learning course, developing custom e-learning content requires a range of blended skills, including Instructional Design, multimedia and graphic design, copy editing, good communication skills, and a deep understanding of the learning process.
"With any project, I bring to the table my many years of experience – quickly getting to the heart of what an organisation is trying to convey and what the desired outcomes are. Pulling all of the content and assets together and shaping it into a polished course requires a skillset which often individual SMEs don't possess."
What advice would you give to anyone considering acquiring bespoke e-learning content?
"Sometimes clients like the idea of creating a powerful e-learning course but maybe haven't thought sufficiently about the specifics of what needs to be produced, or why. Similarly, some clients don't have a target budget in mind which can slow down the scoping process.
"I recommend that anyone considering acquiring bespoke e-learning content follows the below steps to ensure they have all they need to begin the process:
Agree clear course/project topics and learning outcomes
Determine the audience being catered for and what device/s they will use to access the learning
Set a budget and obtain any necessary sign-off
Collate all learning content into a document, such as a PowerPoint file
"With this information in place, work can begin more quickly. Collation into PowerPoint is a useful way of laying out what you want learners to review at each stage of the course. It also provides an indication of length and running time and the level of interactivity required. Knowing what you really want to convey helps distil reams of text into powerful, engaging content – delivered in the most effective way."
For more information about how Ben can help you generate bespoke e-learning content for your organisation, get in touch via our contact page. To learn more about e-learning content, read our guide to using H5P, or our summary of effective mobile learning design.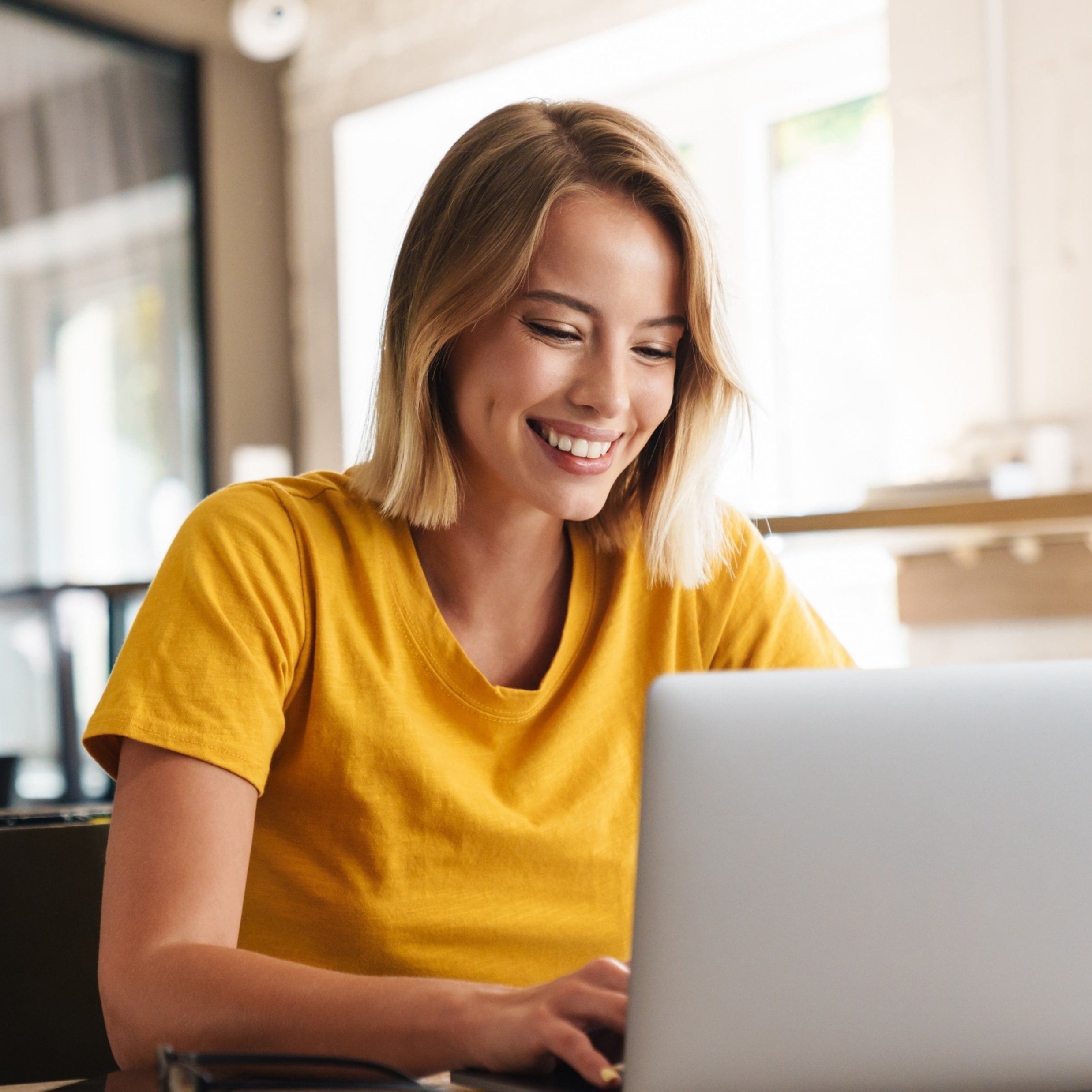 Ready to empower your L&D initiatives with an LMS?
Download our FREE guide to building the perfect LMS as we walk you through every step, including plenty of real-life examples.