Many businesses and organisations choose to adopt powerful e-learning platforms such as a Learning Management System (LMS) to help them create and deliver an effective learning and development strategy. As a workforce grows, job roles expand and the company develops, businesses quickly find that their L&D function requires further support from additional e-learning software. One of the most effective ways to elevate an L&D programme is to implement an innovative TXP; keep reading to find out how.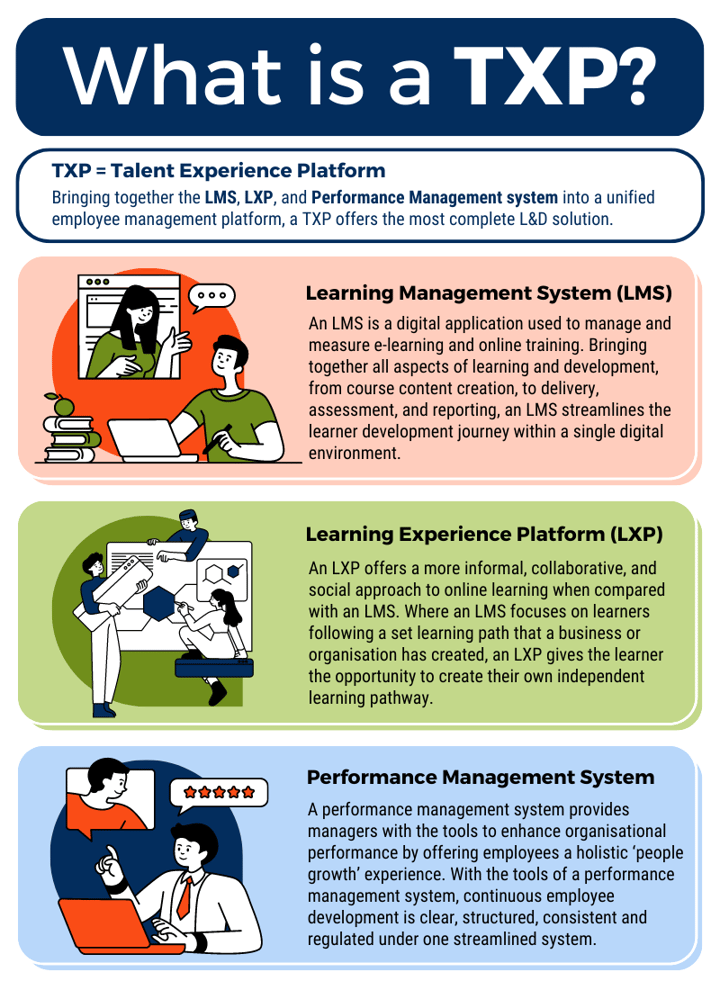 How does a TXP take your L&D to the next level?
Whether an organisation has outgrown its current e-learning platform or doesn't currently use e-learning software, a talent experience platform can serve as a solution to many L&D problems while also elevating existing initiatives. Let's explore some of the ways a TXP is capable of doing so.
Unlock the full potential of your workforce
A significant contributor to employee churn is allowing internal employee talent to go unrecognised or allowing potential talent to be wasted through lack of development opportunities. When an L&D manager is relying on manual processes it can be difficult to recognise the full potential of a workforce, especially in larger companies. A TXP such as the Totara Talent Experience Platform makes it easier for L&D teams to have full visibility of a workforce and seek out those who would benefit from training opportunities.
Analytics features and reporting tools allow administrators to gather insights from across the entire TXP offering seamlessly. L&D teams can look at areas such as employee performance reports from the performance management function, course assessments and progression from LMS learning, or contributions made in discussion boards in the LXP function. With this data, employees who are demonstrating talent or interests in opportunities outside of their current role can be easily identified, enabling L&D managers to find and nurture potential talent.
Additionally, a TXP makes it easier for learners to unlock their own potential and create opportunities for themselves. Learners can enrol themselves in upskilling programmes or work with managers to set new development goals using performance management tools. For employees who feel like they are lacking in development opportunities, the open forums feature in the LXP provides them with a platform to suggest new L&D programmes and ideas.
Providing informal and formal learning
An LMS is the most popular e-learning platform for delivering L&D programmes as it allows a business to facilitate structured, thorough, and engaging digital learning. This type of learning is typically considered formal and allows admins to control the quality and type of content being distributed. Although this type of learning is perfect for compliance training or structured induction training, it's beneficial for employers and employees to incorporate informal learning too.
When a business is solely relying on an LMS, creating effective informal learning opportunities isn't as straightforward as it would be when using the full capabilities of a TXP. Using the LXP functionality within a TXP, L&D managers can create opportunities for social, collaborative and user-driven informal learning. Employees can create their own content or work on projects together along with trainers/managers – allowing employees to learn from each other and their managers in an informal setting.
Talent management and long-term development
Employees are more likely to stay loyal to a company that is willing to invest in their long-term career development. These development opportunities are particularly effective if they are tailored to suit the requirements of each individual employee – which is no mean feat when delivered manually. With the help of a TXP, managers can create a tailor-made personal development plan (PDP) without having to put in hours of manual admin.
Using assessments in an LMS, skills gaps can be easily identified; using this information managers can create customised templates and competency frameworks. Progress can be seamlessly monitored with analytics features or through performance management tools to set and record regular progress meetings. Find out more about creating a personal development plan with a TXP here.
Reduce staff turnover
If an employee feels that they are not well equipped to perform their role, they are more likely to leave their position to join another company that promises the level of support they need. A business or organisation will need to implement measures to retain talent; this starts from the first few weeks of a new starter's employment with an efficient induction programme. Using the LMS function, employees can work their way through an onboarding process that is relevant and specific to their role. With the performance management functionality HR departments can monitor how new starters are progressing.
Improve workplace culture
Working for a company with a strong, positive and supportive workplace culture is a non-negotiable requirement for many employees today. Although the people who make up a workforce will have a huge part to play in this, there are many ways a business can improve workplace culture with the help of a TXP.
A great starting point is to educate staff on the desired workplace culture and what is expected of them to achieve it. L&D or HR leaders may choose to deliver seminar style lessons (recorded or live) via the seminar functionality in the LMS or enrol staff in courses around workplace culture or wellbeing.
Whether working remotely or in an office, it's essential that employees feel like they have a voice to share any concerns or suggestions on how to improve workplace culture. With the LXP function in a TXP, admins can create open forums, discussion boards and polls where employees can have their say openly or anonymously.
For any serious concerns regarding workplace culture, performance management tools in a TXP provide a platform for formal feedback sessions with an employee and a manager to discuss issues and create a record of what has been discussed.
Ready to improve your L&D function with a TXP?
A talent experience platform really is an all-in-one system that provides everything you need to elevate your learning and development programme. Having read just some of the ways you can use a TXP to improve your L&D function in this article, perhaps you'd like to find out more about this powerful e-learning solution.
Our Totara Talent Experience Platform offers the full suite of Totara products, bringing together Totara Learn LMS, Totara Engage LXP and Totara Perform. For more information on our TXP offering read our ultimate guide here or if you'd like to find out what this platform can do for your organisation, book a TXP demo here.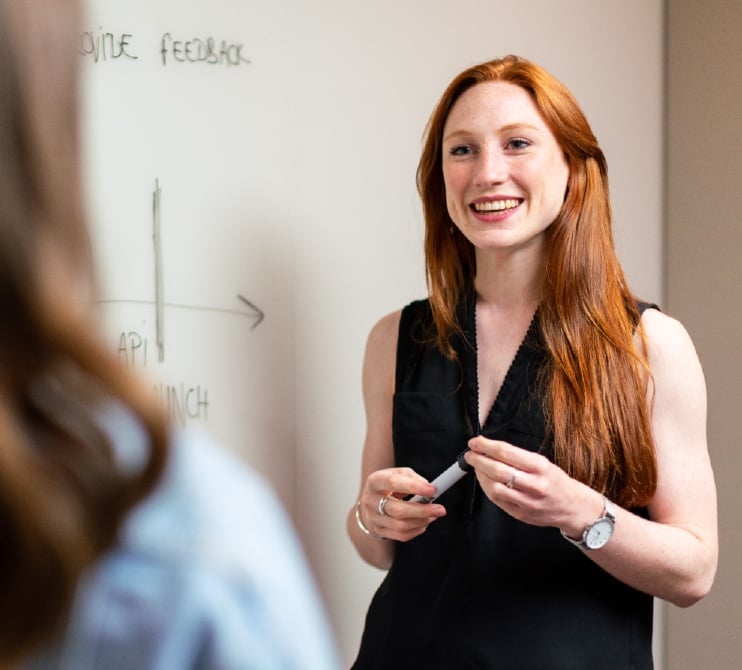 Book your free TXP demo today
Book a demo with one of our TXP experts to find out what it means to have the full suite of Totara products at your fingertips and how our Totara TXP can elevate your L&D.