Moodle have launched their highly anticipated 3.2 major version release. This latest version of world's most popular LMS platform includes several new features and major improvements:

Boost
A brand new core theme which boast better navigation within and between courses, and more space on screen for course content, giving you a clear, consistent way to configure key pages such as courses and activities; and a unified experience with the Moodle mobile app.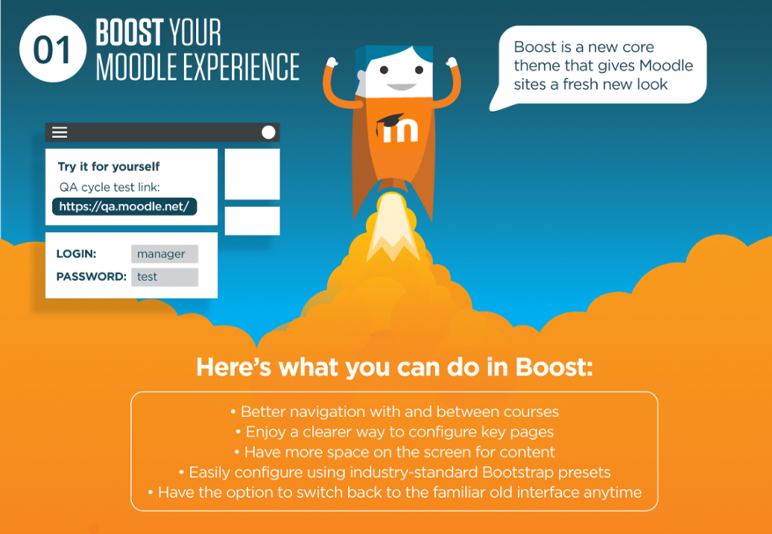 Messaging and notifications
Moodle 3.2 has new messaging and notifications functions that are user-friendly and easy to use. Now you have the ability to easily configure how you want Moodle to notify you about important events on the web site – via email or direct mobile notifications. Moodle's new messaging functionality also means you can find and contact other users easily on any device.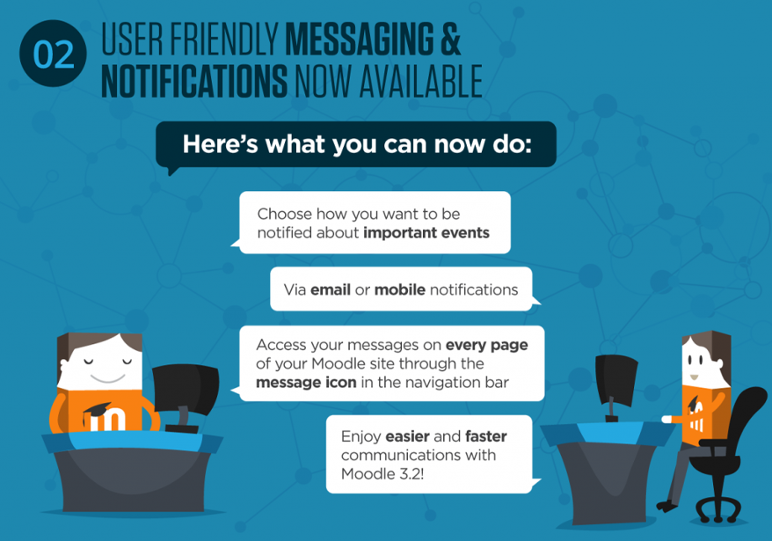 User tours
You can now welcome your users to your Moodle site with your own custom tours of the interface; allowing you to Create and share walkthroughs with teachers and students with the user tours feature in Moodle 3.2 and highlight key aspects of your Moodle site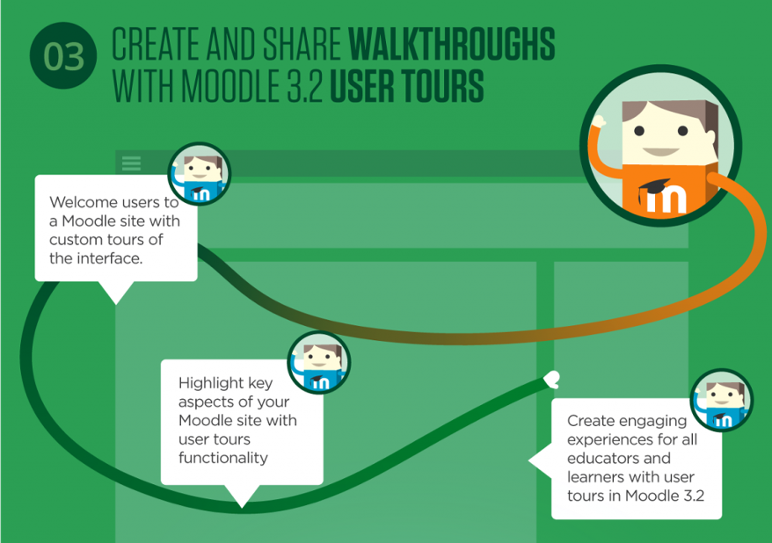 New media player plugins
Moodle 3.2 brings a range of new media options with its new default player Video.js – which now provides industry-leading accessibility and usability for video and audio in your content. There is also full support for captions and subtitles for any video in any part of the site, and with pluggable support you can now also add new video players easily to anywhere in your site.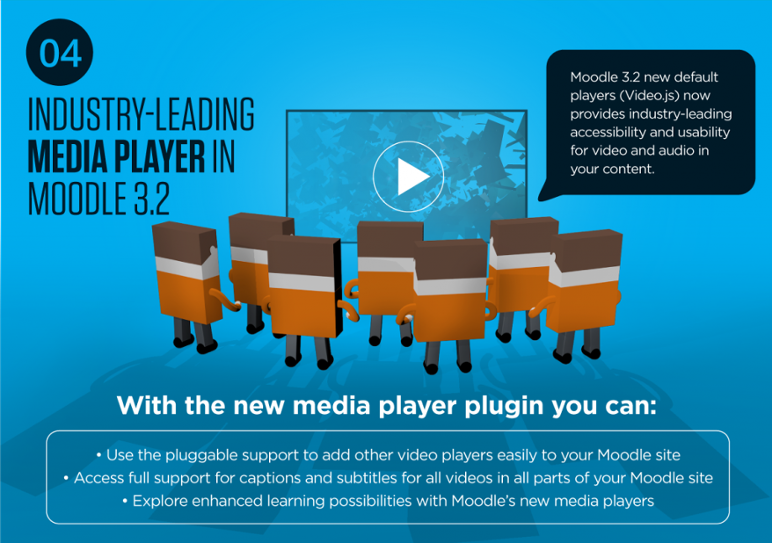 New responsive/accessible graphs on all reports
Users can now generate interactive and responsive charts with a brand new graph library in Moodle 3.2, allowing them to understand what's happening in their course by viewing graph information in a summarised list format. For developers: Chart.js has been chosen for the next generation graph API backend because of its clean-cut aesthetics and responsive scaling to screen size.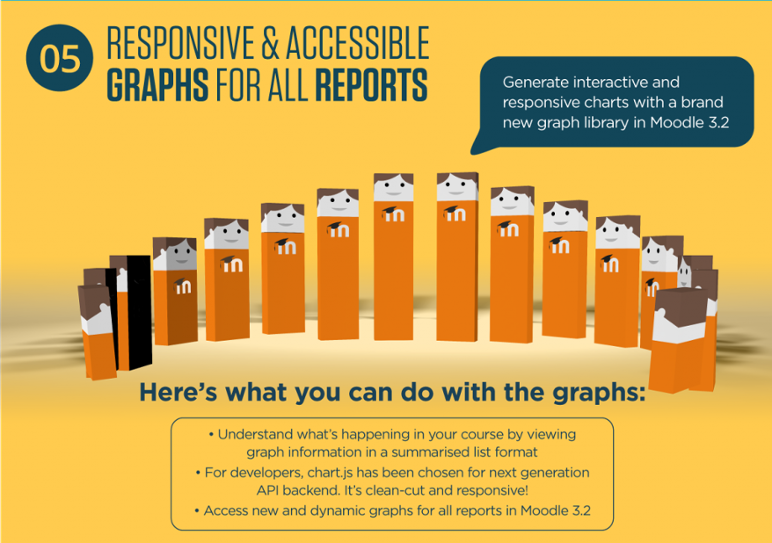 LTI 2 compliance
Moodle 3.2 is now compliant with LTI 2, so It's now easier than ever to seamlessly access shared content. Cartridges have also been implemented so that people interested in accessing your LTI tools will now know more about the content you've shared and also get handy information such as a title, icon and description. There is also the exciting new addition of Content Item – a powerful tool that allows users to configure and customise LTI tools to their specific needs so they can get the most out of the tools they're accessing.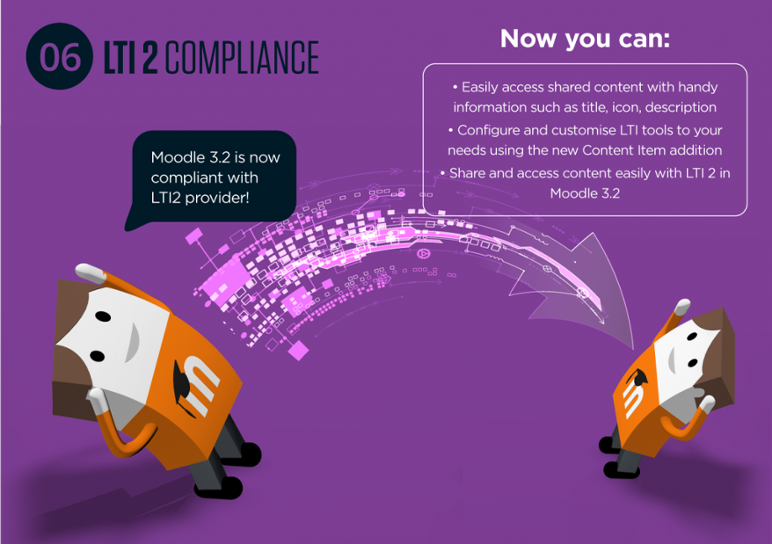 Rubrics calculations improvements
You asked and they've listened – welcome to improved rubric marking improvements in Moodle 3.2. Arbitrary scoring is now possible with the rubric marking function in Moodle 3.2, and competency frameworks can now be easily shared between Moodle sites and also the repository on moodle.net.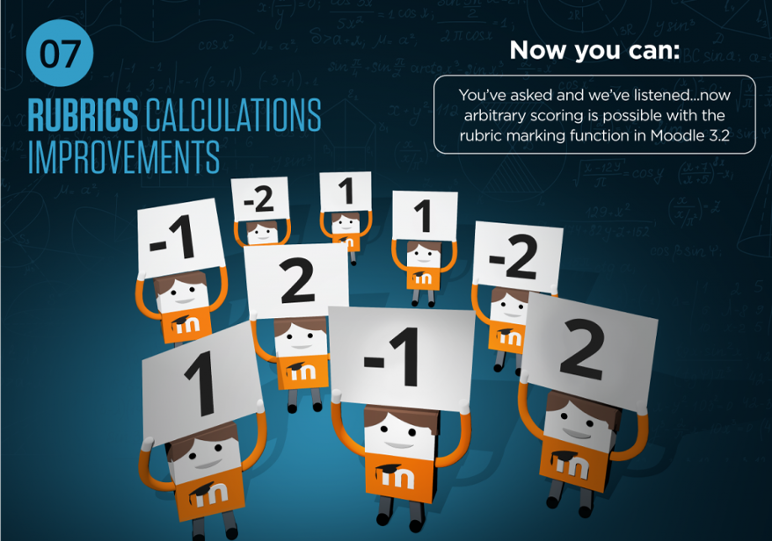 Find out everything you need to know about Moodle with Hubken:
Moodle comes out with major version upgrade every year, read more about the latest version here: