Struggling with any aspect of your Moodle site? Our training can help!
We're frequently asked if Moodle can offer "multi-tenancy", that's the ability to have different groups of users on the same site that are separated from each other and managed as independent entities.
Moodle does not support "multi-tenancy" and there are no plans to implement it either by HQ, and solutions doing the rounds require hacks to core code and tie you into a specific vendor.
Despite the above when we dig deeper into this requirement, it's often founded on the desire to provide a different experience for specified sets of users. This might be to present a different look and feel but the principal recurring need is to provide differentiated navigation or content on the front page of the site to:
Present content and styling that is relevant to the logged in user

Focus the navigation so that only relevant navigation options are displayed to a user

Generally simplify the experience for users.
Potential scenarios where this differentiated experience might be desirable include
School – Year groups

College – Further Education and Higher Education students

Business – Different divisions

Charity – Employees and volunteers

Various – Internal users / external users

Various – Differentiation by language

Various – Different options for site administrators
Our Multi-T theme addition provides each set of users with a differentiated experience thus giving a multi-tenancy effect.
How does it work?
When a user logs into Moodle, the multi tenancy theme detects a value in the user's profile and displays the navigation, content and styling options relevant to the group the user belongs to. Defining the value is an easy task for the site administrator when creating the account.
In Moodle the administrator configures the multi tenancy experience i.e. custom menu, image slider, quick links, logo etc. for each group of users in the Theme Settings page under Site administration using standard Moodle functionality – no coding required! If multi-language versions are required the language strings are changed in Settings > Site administration > Language> Language customisation as normal.
That's it. Simple.
What elements can be customised?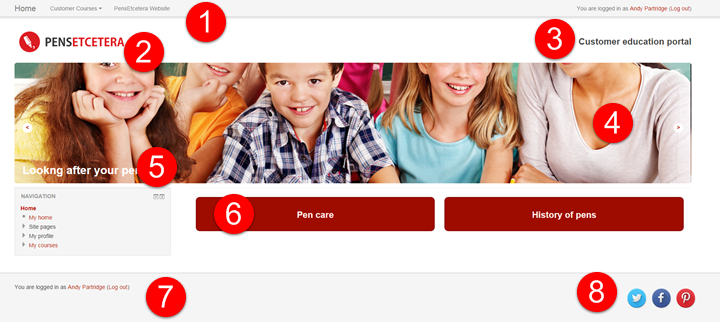 Custom menu – Specific options for the group that the logged user belongs to.

Logo image

Strapline

Slider image and target URL

Slider text

Quick link buttons

Footer text

Footer icon
Colours etc. and languages - not shown in the example above. Of course each group of users can have a completely different look and feel when they login if you want to push this concept for maximum effect.
Doesn't Moodle do this with user branding?
Moodle has the standard capability to enable user themes, but it's not easy for admins to enable them on a bulk basis - it's not possible at all without custom development - and the user can simply go to their profile and change the theme to something else. This option also doesn't rely on trying to associate the look and feel and navigation with unrelated structures such as cohorts and trying to come up with a workable interface.
So is this a Moodle multi tenancy breakthrough?
Strictly speaking the answer to that question has to be "No" – it's just not possible to have complete separation of different groups of users on a single site.
But if differentiated look and feel, front page content and user group focused navigation are your goals it might just be close enough.
About Hubken
The Hubken Solution comprises powerful, flexible and tailored Learning Management System (LMS) services for organisations of all sizes. Leveraging the power of Moodle or Totara platforms we provide you with the tools to achieve outstanding eLearning outcomes, supporting you in areas including LMS hosting, installation, user training, content development, reporting and more.