At Hubken, we are exceptionally well versed in all things Totara. As a Totara Platinum Alliance Partner, we have an expert understanding of all that Totara's leading Talent Experience Platform has to offer. We've helped organisations from multiple sectors integrate Totara into their L&D strategy, so if you're wondering 'What is Totara?' and what are the benefits of Totara that could enhance your e-learning strategy, you've come to the right place.
Table of Contents
What is Totara?
A simple definition of what Totara is: a digital Talent Experience Platform comprising three parts – Totara Learn, Totara Engage, and Totara Perform. Respectively, these are LMS (Learning Management System), LXP (Learning Experience Platform), and Performance Management System tools designed to virtualise and optimise an organisation's learning and performance management programmes.
Combined, they form a unified talent experience platform for your organisation, bringing together all employee experience management tools and processes needed in today's new world of work – e-learning and employee engagement, employee collaboration, and high-performance management.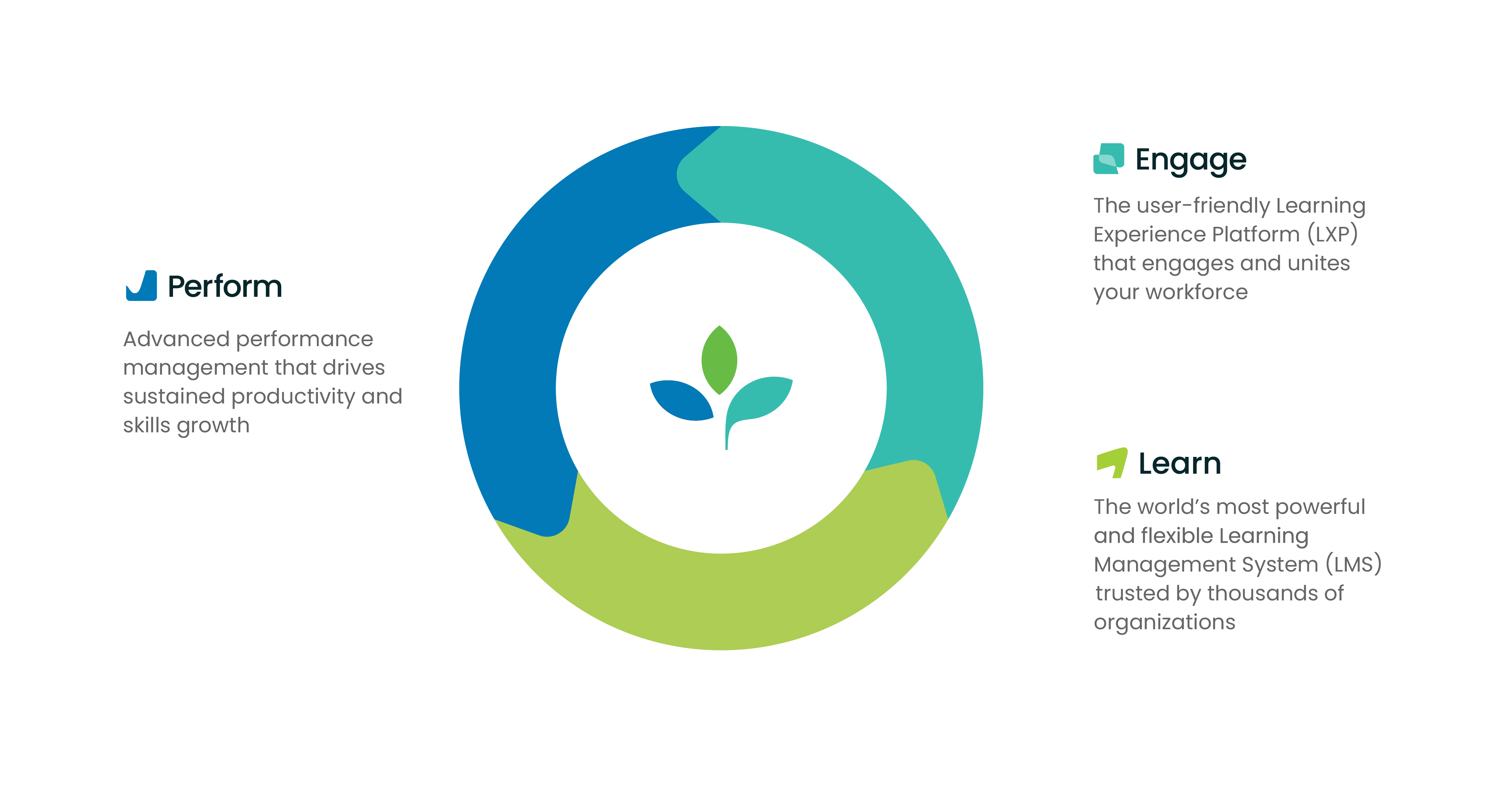 The beauty of Totara's software lies in its flexibility. Totara enables you to create engaging learning experiences, deliver complete on-branding learning environments, improve teamwork, or manage compliance training. Whatever your learning needs are, Totara is able to meet them.
With Totara's features, organisations can seamlessly deliver customised training and track performance with pinpoint accuracy. Simply put, Totara delivers an 'all-in-one' e-learning environment which prioritises learner engagement and progression – and the results speak for themselves. That's why organisations and learners worldwide – from major finance and retail companies to national health and government bodies – invest in a Totara system for their L&D needs.
What is Totara used for?
The breadth of functionality it provides means Totara can be used for a myriad of purposes. By taking a closer look at each Totara platform, we can get a clear view of the many processes Totara is used for in an organisational setting.

Totara Learn
The essential Totara LMS, Totara Learn is a transformational enterprise Learning Management System where e-learning comes into its own. Whether for compliance training, employee induction and onboarding, or CPD, Totara Learn has all aspects of organisation learning covered.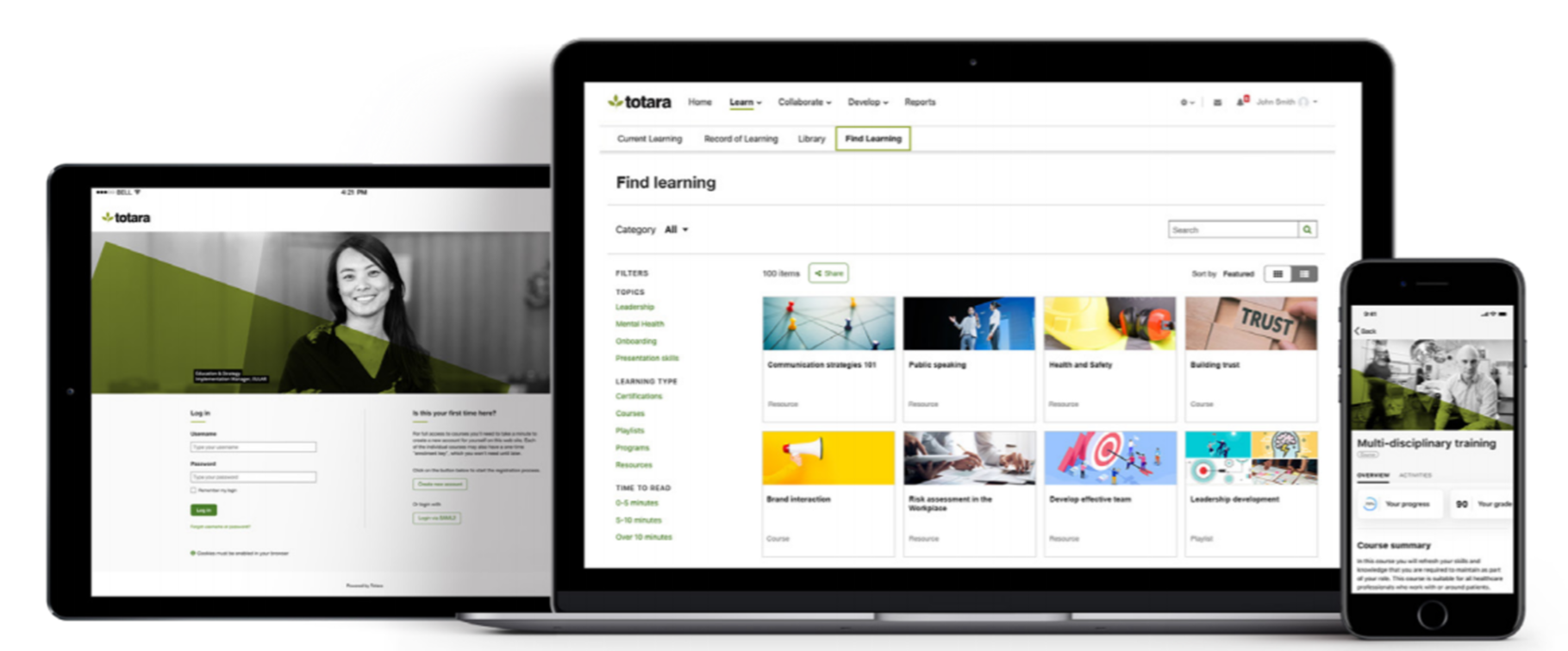 Facilitating online and blended learning
While Totara Learn exists in the cloud, it encourages learning across digital platforms as well as in-person. Face-to-face learning sessions or virtual classes can be scheduled and managed through Totara Learn, just as e-learning courses can be picked up anytime, anywhere. Consequently, organisations can upskill their people in a way that's tailored to them.
Creating courses and learning plans
A Totara Learn system administrator can easily manage organisation-wide course content in one place. Providing full administrative control over departmental learning plans and employee development plans, Totara Learn enables course creators to curate dynamic learning content filled with diverse and engaging activities. These courses and learning plans can be arranged according to your organisation's unique organisational structure (positions and hierarchies), which makes it possible to efficiently push out learning to tailored groups and individual employees.
Totara Learn is also SCORM compliant, meaning organisations can integrate their own SCORM content, as well as SCORM courses obtained from other 3rd party content suppliers. This form of multimedia learning content is not only endlessly customisable; it also serves to better engage learners through varied course types and interactive involvement.
Assessing learners and measuring progress
Regular learning assessments scheduled through Totara Learn serve two primary functions: to ensure employees are making progress in line with organisational objectives and to identify where skill gaps exist. Whether through formal assignment submissions and tests, or creative quizzes and multiple-choice challenges, Totara Learn provides a range of methods for measuring, monitoring and tracking learning as frequently as is required.
Totara Learn also enables all assessment and learning completion metrics to easily be seen on a user's personalised dashboard, including a personalised list of a user's current learning items, course completion progress bars, due dates and an expandable view of a user's progression through adaptive, multi-course programs and certifications.
Reporting on employee development
Every component of an organisation's learning programme can be analysed using the Totara Learn reporting function. Using the custom report builder, administrators can quickly and easily create new reports from scratch or modify pre-set report templates to meet their specific reporting requirements. In addition to tracking learner performance, reports can be generated to assess course and activity completion to show which learners have completed the various activities and resources within the course, as well as the course itself.
Furthermore, activity and course participation reports indicate how learners are interacting with the course material and provides important information around user navigation and activity – all of which can be used to hone future learning plans for maximum effectiveness.
Totara Engage
Building on the strengths of the Totara LMS, Totara Engage is a distinct LXP with engagement and collaboration at its core. Encouraging team collaboration, personalised learning and social engagement, Totara Engage is the perfect addition to the more formal e-learning facilitated by Totara Learn.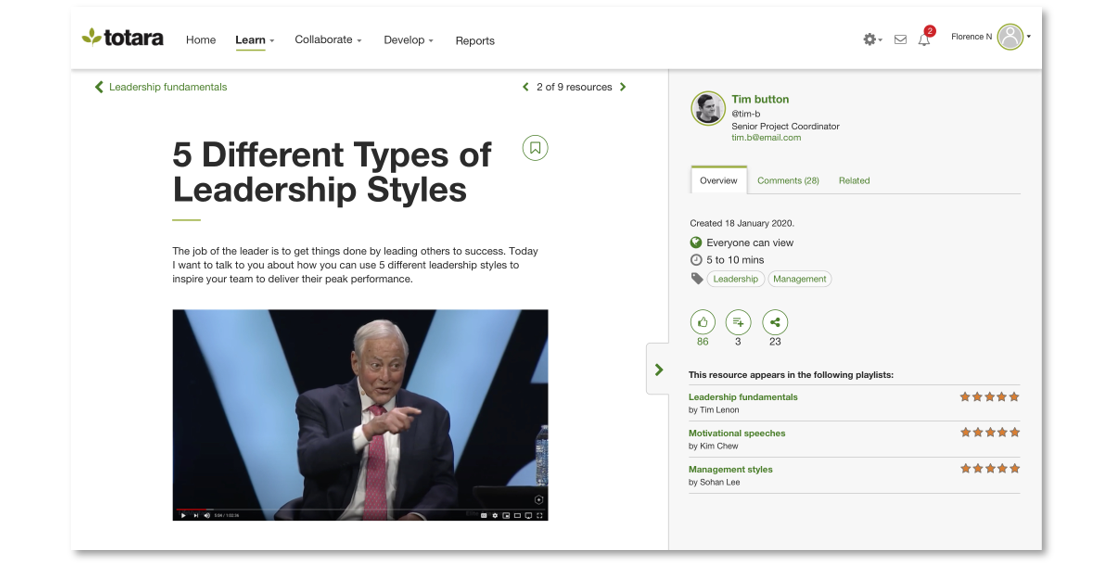 Collaborative, social learning
The Totara Engage model places an emphasis on empowering employees to learn collaboratively in a social virtual environment, bringing together a range of features primed for user engagement. The introduction of collaborative workspaces promotes the sharing of information, knowledge, and best practice in a supportive setting.
These spaces can be configured on organisational, departmental, and team levels to maximise internal knowledge networks and encourage learning in the flow of work. What's more, Totara Engage LXP enables Microsoft Teams integration, meaning content and notifications shared in Totara Engage will seamlessly appear in Teams groups and chats.
With an ever-growing library of live content, collaborative learning and problem-solving using Totara Engage simply becomes part of the day-to-day.
Creating personalised content journeys
Collaborative workspaces enable users to make e-learning personal – for individuals, their teams, and their departments. Totara Engage features a custom playlist creation tool, allowing curators to compile the most relevant and engaging user generated content in one place and share with others.
In addition to traditional LMS course materials, blogs, webinars, videos, online articles, and presentations can be added to Totara Engage playlists. But it doesn't stop there. Totara Engage uses a powerful recommendation engine to individualise each learner's dashboard and bring together recommended content suited to them. In essence, daily users of Totara Engage have a virtually unlimited supply of personalised learning materials at their fingertips.
Sharing feedback and recognising achievement
Totara Engage is designed to facilitate peer-to-peer interactions – not least when it comes to sharing feedback and recognising the achievements of others. Ratings, customisable surveys, and comment boxes enable users to review, share, and improve content shared by others. This social approach means content creation doesn't end at its initial development – it continues to grow and evolve through the contributions of all who access it.
Engagement reporting
Just like Totara Learn, Totara Engage capitalises on its many data streams to bring comprehensive reporting to its users. By breaking down user engagement and interaction, administrators can track progress and identify emerging thought leaders within their organisation. This is an invaluable tool for recognising influential educators and tapping into their potential through more formal learning programme delivery with Totara Learn.
Naturally, this tool also provides insights on less engaged users or those struggling in certain areas – meaning appropriate intervention can be delivered to set learning back on track.
Totara Perform
While all Totara platforms contribute to performance management outcomes, Totara Perform is a dedicated Performance Management System providing agile and precise tools to deliver organisational performance growth.

Keeping track of employee progression
Having a complete Performance Management System in one place makes tracking progression infinitely more straightforward. Totara Perform provides evidence areas in which outcomes from offline meetings can be logged and external accreditation certificates uploaded. This ensures no evidence is lost when it comes to demonstrating proof of competency in each employee's progression journey and can also help to indicate skill gaps where evidence is absent.
Setting goals to enhance workforce productivity
Dynamic goal setting is a key feature of Totara Perform. Forgoing infrequent manager check-ins for a more fluid and continual goal-setting practice means employees have clear reminders about where they need to improve in order to progress. Agreed goals are displayed via employee dashboards, with due dates and automated reminder functionality is built-in to ensure nothing is missed.
The same system can be used to effectively manage employee competency skills as part of compliance training frameworks. With Totara Perform, managers can establish competency progression criteria, assign frameworks, and identify areas for further training by tracking employee performance against designated objectives.
Generating 360-degree feedback
As performance management evolves, so too do the methods of analysing and promoting an employee's progression. 360-degree feedback is where feedback about an employee is gathered from multiple sources, including managers, peers, and peripheral staff, to produce an in-depth performance analysis.
Totara Perform not only eliminates the logistical challenges of obtaining this information, but it also compiles it into graphical overviews that clearly identify an employee's strengths and areas for improvement. These surveys and feedback forms can also be issued periodically to build up an extensive employee/team/department performance report and track progression at a granular level.
Streamlining HR processes
As is typical with Totara platforms, Totara Perform is highly adaptable when it comes to software integrations. The Performance Management System works with Human Capital Management (HCM) tools, meaning an organisation's payroll, recruitment, and talent management data can be integrated with ease, and all employee performance related metrics can be seen in one place.
What are the benefits of Totara?

Totara is a leader in the e-learning market with good reason. In addition to its incredible range of features and functions, Totara delivers an unparalleled e-learning experience with simplicity at its core. There are many benefits of Totara, including:
Open Core architecture
One of the key benefits of Totara is its open core architecture. Totara's flexible open source base product is filled with the sophisticated tell-tale features and benefits that only a Totara enterprise LMS platform provides. This not only means that Totara is incredibly fluid when it comes to customisation and integration, but it also means that it is cost effective. Totara pricing is based on a simple and affordable subscription plan based on total number of users, and with Hubken provides a fully hosted and supported SaaS solution, meaning you get all the expert and technical support you need.
Fully online and accessible
As a cloud based LMS solution, a Totara LMS eliminates the need to invest in proprietary technology. Being on the cloud also ensures that Totara technology is accessible to any user at any time and in any location on any device. With a mobile app and single-sign on capability, Totara brings multi-device e-learning to users around the world. Moreover, with Hubken, all upgrades are automatically included in the service that we provide.
UX optimised
Central to Totara's popularity is its easy-to-use design. With UX optimised dashboards and an intuitive interface, Totara is easily picked up by new users and administrators alike.
From accessing user progress and generating reports, to building courses and content with drag and drop functionality, using Totara is brilliantly straightforward. Even the more technical aspects of Totara customisation can be easily learned with the wealth of instructional courses and guides available.
Multi-tenancy capability
Totara's multi-tenancy option means organisations can further extend and customise their use of the platform. With multi-tenancy Totara Learn can be segmented with bespoke branding and permissions assigned to different users or departments. This feature is particularly useful for multi-brand or multi-office organisations. It can even be used to incorporate external companies and subcontractors.
A key benefit of any Totara solution is its value and ROI potential. Learn more about the cost saving benefits of Totara by heading to our Totara pricing blog.

Who uses Totara?
As a fully scalable, fully customisable Talent Experience Platform embracing LMS, LXP, and Performance Management System technologies, it's no surprise that every year more and more organisations around the world use Totara to meet their L&D requirements.
Regardless of size or sector, all companies can benefit from the virtual solutions Totara technology provides. Sectors that utilise Totara's platforms include:
Information Technology
Healthcare
Government Administration
Non-profit Organisation
Retail
Financial Services
Education
Professional Training
For more insights into the sectors we work with, visit our sectors page and discover how our years of experience make Hubken your best choice LMS provider.
Good examples of Totara
As a Totara Platinum Alliance Partner, Hubken helps organisations achieve transformative L&D outcomes every day. Our case studies page outlines multiple instances of how we implemented Totara effectively to save organisations money, achieve high volume employee engagement, reduce new-starter time-to-competency and much more.
When Totara is used to its full potential, the results are undeniable:
Increased levels of employee engagement
With empowered employees taking more time to invest in their own progression, skill gaps can be filled quickly, and staff turnover reduced.
Increased levels of workforce productivity
By encouraging collaborative learning amongst peers and periodically measuring learner comprehension, appropriately trained employees can more effectively apply their learning in the workplace and deliver better results.
An improved workplace culture
Introducing more meaningful interactions between managers and employees, setting clear, tangible goals with regularly reviewed targets, and making peer-to-peer knowledge sharing the norm, Totara can elevate workplace environments and help improve staff satisfaction levels.
Consolidated processes
A streamlined tool spanning the entire L&D journey, the Totara Talent Experience Platform can save countless hours in administrative tasks by unifying learning and performance in one easy-to-use, entirely digital platform.
View our good examples of Totara blog for specific case studies of how organisations have worked with Hubken to make their most of their Totara Learn LMS.
The HubkenCore Package
Choosing a Totara LMS, LXP, or performance management solution with Hubken has distinct benefits unique to our service. In addition to secure and reliable cloud hosting and unlimited technical support, HubkenCore clients receive:
Implementation and training: We'll not only manage the implementation process, but we'll also make sure you have the tools and knowledge to continue optimising your Totara platform to suit your organisational requirements.

Integrating your systems and data: CRM, HCM, membership portals - if you have existing software, platforms, or data you need to integrate with your Totara platform, we can help you.

Instant e-learning content: Totara's versatility means there are plenty of off-the-shelf online courses available to purchase and use immediately. Create your own content? Then with our Totara ecommerce integration, you could even make money by selling your courses in the marketplace.

Now that you know exactly what Totara is, it's time to get in touch and discover how Hubken can help you build your ideal e-learning environment with a Totara solution. To see how a Totara LMS could help your organisation succeed in today's fast-changing environment, book a free demo with a friendly Hubken expert today.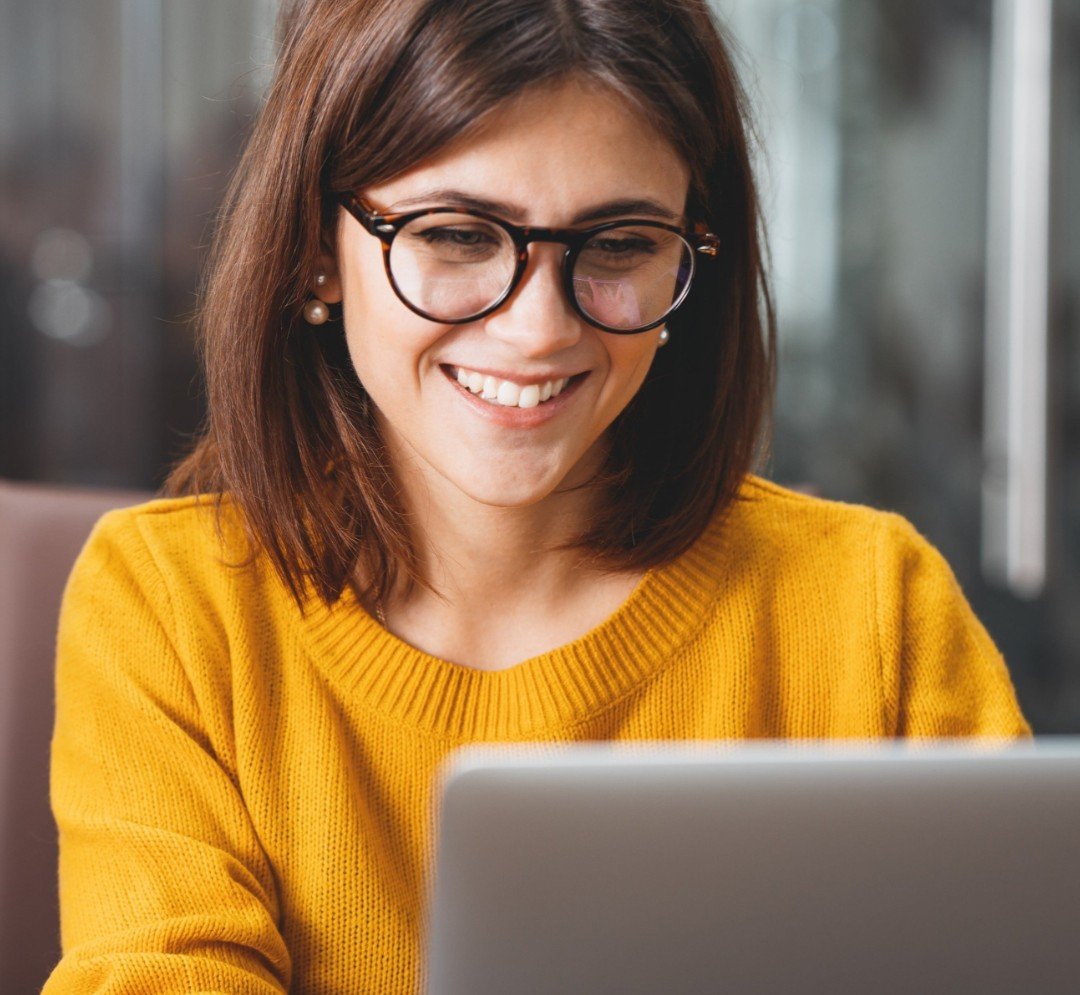 Explore our HubkenCore Totara solution
Ready to see how our new Totara bundled solution is revolutionising how you purchase an e-learning solution? Discover the benefits.