Moodle Cloud is a cost-effective way to start delivering simple e-learning content to users online. However, it should be viewed as an entry level option and that naturally comes with its own drawbacks.
This Moodle Cloud review will examine exactly what it is and who it's for, before explaining an alternative approach that deals with the commonly experienced limitations.
What is Moodle Cloud?
Moodle is an open-source Learning Management System (LMS) – a platform for distributing e-learning content to users, whether that's training staff, teaching students or any of the other myriad manifestations of online learning.
That brings us to Moodle Cloud which is a free or low-cost hosting service for a simple but fully functional Moodle site that allows you, after the quick and easy setup process, to begin your e-learning distribution journey.


Who is Moodle Cloud for?
As it's premised on simplicity and immediacy, Moodle Cloud is targeted at organisations who are looking to get to grips with what a Moodle site can offer. It's a basic 'out-of-the box' solution.
If you have 1,000 or fewer users and just want to quickly and easily offer simple e-learning content to your learners, Moodle Cloud should get you up and running.
What are the main features of Moodle Cloud?
Moodle state the three key features to be that Moodle Cloud is:
Fast and easy to use – You can be set-up with a site quickly and Moodle will then take care of updates and maintenance, leaving you to focus on what matters. The sites are scalable from anywhere between 50 to 1,000 users depending on your plan.


Equipped with powerful education tools - with Moodle Cloud you'll have access to some of the popular features and tools from the main Moodle LMS to help you create content and courses that engage users, as well as effective ways to assess them.


Customisable and trackable – you can apply some basic branding to your site in the form of colours and logos an produce some very basic reporting such has how many learners are registered and how many pieces of content you've uploaded.

Here's how Moodle Cloud compares to Hubken's Moodle LMS solution: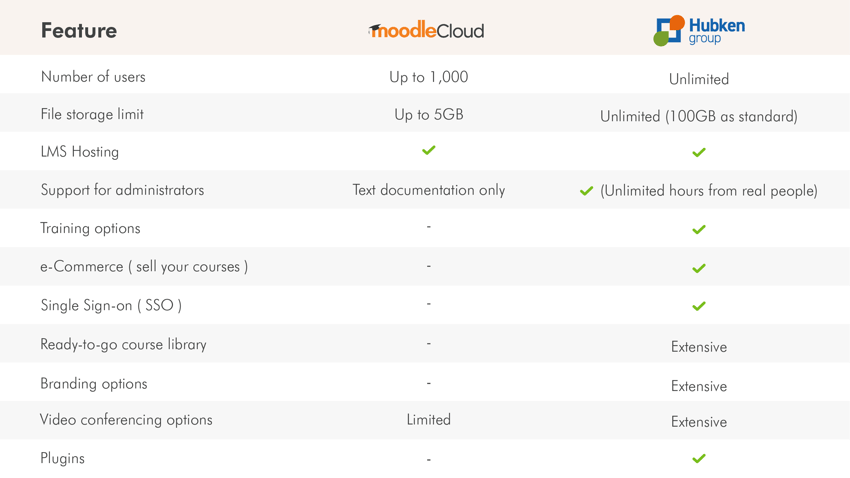 Moodle Cloud limitations
Moodle Cloud is designed for those dripping a toe into the world of e-learning and exploring the basic functionality of an LMS. However, as soon as your needs become more complex or your number of users grows you could quickly find you've outgrown Moodle Cloud.
There are some areas that Moodle Cloud can become quite restrictive in:

Support

One of the perks of Moodle Cloud its simplicity. As with having to learn how to use any new software however, there can be bumps in the road.
Whether it's a random technical issue or just full comprehension of all the features the site can offer, you'll likely have questions you want answering somewhere along the way.
Moodle does offer some documentation and guides to help with some common questions but sometimes the generic answers aren't enough. We've all been through the ordeal of Googling something like 'why won't my laptop turn on' and reading guides filled with stock images of people screaming into their screens.
What Moodle Cloud lacks is a support network of real people who can answer your questions quickly and solve your problems easily. That's something Hubken can offer with unlimited support through live online training options and the ability to answer questions in real-time.

User numbers
One of the most noticeable limitations of Moodle Cloud is the cap on the number of users. You can not go above 1000 and there are lots of narrow price bandings below that meaning you may have to go through the process of changing plans several times as your user numbers grow.
With a Hubken Moodle Solution there's no need for clunky changes of plan at all. You simply let us know as your user numbers grow and we'll allocate you to a cost-effective user band smoothly.
Reassuringly you can go far above the 1000 limit with many Hubken clients having tens of thousands of users on their Moodle sites.

Storage
Along a similar line to user caps, Moodle Cloud is quite strict with its storage space. Even the top end plan only offers 5GB of storage. That may sound like a lot but with video content taking such a prominence when it comes to engagement, this can quickly run out.
You can combat this by hosting files externally on sites like Dropbox and YouTube, but storage remains a valuable commodity. As with users, Moodle providers such as Hubken can offer a lot more room to breathe when it comes to storage.

Plugins
One of the big reasons for Moodle's worldwide popularity is its flexibility. You can get a Moodle site to do a lot of different things and a lot of that flexibility comes from plugins.
These plugins add functionality and because Moodle is open-source, more plugins are constantly being developed and perfected.
Unfortunately, Moodle Cloud doesn't allow for the use of additional plugins over and above the ones that come with the basic site.
That means you're missing out on a lot of additional functionality and some really cool features that have been developed by the Moodle community such as Zoom and Microsoft Teams video integration for seamless communication with your users.
Hubken can offer a wide range of additional plugins to help you get the most out of your site, advising you on what's available installing them for you.

Why Hubken should be your Moodle provider
I've already touched on some of the benefits of using a Moodle provider like Hubken when you think you've outgrown your Moodle Cloud site, but here's a quick reminder:
Decades of expertise

– we've been Moodle aficionados since the beginning.

Unlimited technical support – from highly experienced Moodle LMS experts.

Flexible user and storage options – you'll never outgrow our solutions.

Access to additional plugins – and we'll even install them for you.

In addition to these benefits, there's also the value-add services that can be added to your site. Moodle is a platform with incredible potential and the e-learning possibilities it offers are endless. It makes sense then to want to get the most out of it.

Hubken can help you unlock a lot of those opportunities. Here are some of the things Hubken offers to optimise your Moodle site:

Benefits of a Hubken Moodle LMS solution
Now you're aware of what Hubken can offer to enhance your Moodle site, you might be wondering what would be in store for you if you were to choose Hubken for your Moodle LMS solution.
Here are some of the key things that all Hubken clients are guaranteed:
Simplicity – we'll take care of all the technical stuff


Unlimited support – we're there whenever you need us


Value-add services – get more from your e-learning


Cost-effectiveness – powerful functionality that's affordable


Assurance – leaders in e-learning success since 2004


Transparency – expect honesty, friendliness and openness
We're enablers, taking care of your every need so your Moodle site can become the very best it can be. That leaves you to take care of your learners and aid them in achieving all their e-learning successes.
Are you ready to break out of the Moodle Cloud cocoon and fly off into the pastel sky of e-learning as a fully-fledged Moodle butterfly? Get in touch with Hubken.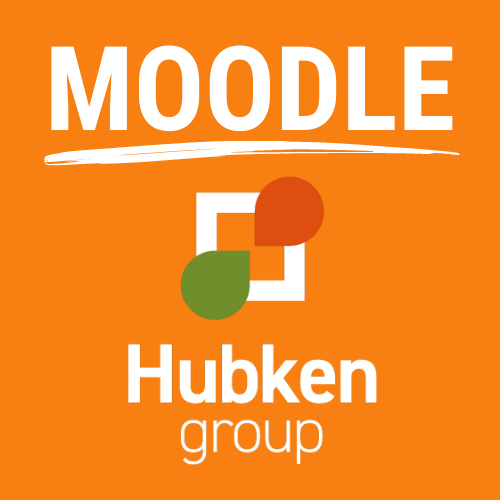 Discover why Hubken is the Moodle expert you can trust
We are much more than a Moodle provider - learn about our extensive experience creating Moodle solutions for the UK's leading businesses.