When it comes to developing interactive content for eLearning, H5P is fast becoming one of the most exciting open-source solutions.
So whether you're new to H5P or you've recently started to use the tools – here's how to use and create H5P content.
What is H5P?
H5P is a free, content authoring plugin that we've integrated with our Moodle LMS and Totara Learn solutions. It lets you easily create and share rich, HTML5 interactive content, such as videos, quizzes, games and presentations – for learning activities, enrichment, recall testing and gamification.
And the best bit! We now install H5P as standard to all new sites and existing hosting clients can request H5P to be installed for free! So initial installation is hassle-free.
Why is H5P useful?
The user-friendly tool allows you to create interactive content for your learners that's ideal whether you're looking to freshen up your course materials using the 'Impressive Presentation' or 'Timeline' content types, or you want to inject some fun and engaging activities into your courses using 'Flashcards', 'Find the Hotspot' or 'Branching Scenarios'.
Once made, all H5P content is fully responsive and mobile-friendly, allowing learners to access interactive resources on any type of device at any time.
There are also no technical skills required and all content can be reused, shared and adapted.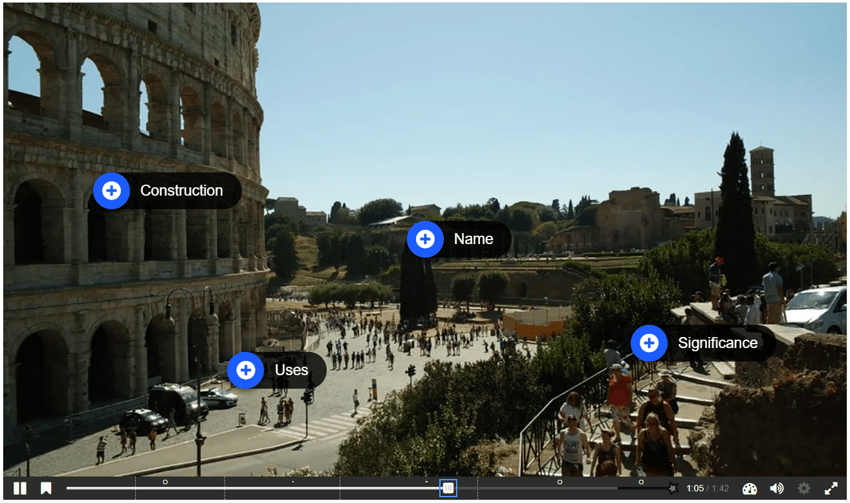 Choosing the right content type
When creating interactive H5P content from scratch, the solution makes it easy by providing a range of content types.
Below are some of them and how they can be used:
1. Interactive Video
Perfect if you already have a video (maybe a tutorial or documentary) that you want to enrich with interactive elements.
Using this tool, you can easily add different types of overlay interactions, such as images, elaborating text, links and quizzes, at chosen stages during the video playback.
Interactions can be selected to appear directly or as a button that learners can choose to click to reveal, and all question types may be adaptive – meaning that the learner's answer can determine where the learner is sent after the answer is given.
Learn how to make Interactive Videos in this step-by-step tutorial.
2. Course Presentation
Useful when you want to present a topic (whether face-to-face or online) through a rich multimedia learning experience.
With this tool you can combine information slides with images, audio, and many types of interactions like interactive summaries, multiple choice questions and interactive videos, wherever you want within a standard presentation structure.
Just like Interactive Video, you can replace usual navigation with navigation buttons on top of the presentation slides to let the leaner make choices and see the consequences of their choices.
Learn how to make Course Presentations in this step-by-step tutorial.
3. Flashcards
Ideal to test learner knowledge quickly and visually in a 'quiz like' format, with images, questions and supporting text.
Using this tool, you can create intuitive flashcard sets that have images paired with questions and answer fields. By filling in answer, the learner can check the correctness and move to the next card.
Learn how to make Flashcards in this step-by-step tutorial.
Creating new content
To create new H5P content in Moodle and Totara Learn, follow these simple steps:
1. Log in as an administrator or a user that has the permission
2. Go to the course you wish to add the H5P content
3. Press "Add an activity or resource"
4. Select "Interactive Content" and click "Add"
5. Click "Select Content Type" to open the H5P Hub. Within the H5P Hub you can view all the available content types
6. Click "Get" next to the content type you want to add
7. On this page you can read the content type details. Click "Install" to install the selected content type
8. After installing, the content type is ready to use. Click "Use" to open the editor

To see all the content types you have installed, click "My Content Types" in the H5P Hub.
Need more help?
Why not read more about the benefits of Interactive Video for eLearning or if you'd like further support using Moodle or Totara Learn our platform experts have a wealth of experience to help you and your team with specific training requirements.
About Hubken Group
The Hubken Solution comprises powerful, flexible and tailored Learning Management System (LMS) services for organisations of all sizes. Leveraging the power of Moodle or Totara Learn platforms we provide you with the tools to achieve outstanding eLearning outcomes, supporting you in areas including LMS hosting, installation, user training, content development, reporting and more.