For most businesses, there's a common challenge of getting new staff up-and-running and contributing to the organisation in a quick, efficient and cost-effective manner; the sooner that a new employee is competent, the sooner they can be generating revenue for your business.
Face-to-face induction can be difficult to schedule, time consuming and potentially costly if travel and accommodation needs must also be factored in.
Using Totara Learn, your onboarding process can be delivered quickly, conveniently and in a clear and consistent fashion so that your new starters can be productive as soon as possible.
So just how does Totara Learn assist in addressing these challenges?
Convenient and available 24/7
There may be some essential elements of onboarding which need to be done Face-to-Face, for example, practical demonstrations; generally, however, much of induction training can be delivered online using a variety of web-based resources and activities, allowing learners access at any time convenient to them rather than relying on a scheduled classroom-based session.
And with a responsive user interface, the learners can access it from any device whether it be a desktop, tablet or mobile device.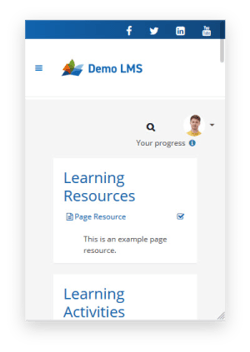 Whilst the learning may be taking place away from a traditional classroom, use of various Totara Learn course activities such as online forums and collaborative wikis mean that your new staff do not have to be working in isolation but can be interacting online with other new starters too, sharing challenges, experiences and solutions for an even richer online experience.
Clear learning pathway
Totara Learn's Programs feature enables you to easily collate together a set of induction courses into one neat bundle and assign this to new starters.
It's possible to control the order in which courses within the Program are completed and define appropriate time limits to set clear expectations for your learners as to how much time is required to help them plan their learning appropriately.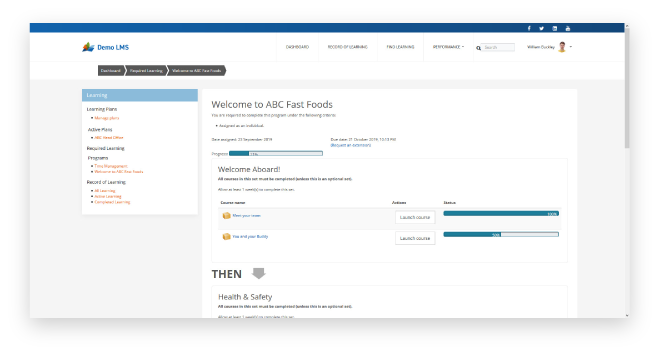 Clear access to the learning is provided from a learner's personalised Dashboard which can also display current progress.
With all new starters participating in the same courses and potentially being assessed in the same way, you can also be confident that there is a consistent learning experience and assessment of understanding.
Deadlines and notifications
Having deadlines keeps the learner informed and on-track with completing their learning but also allows you to plan for when your learners are scheduled to complete the appropriate training and therefore ready to be fully productive.
Deadlines can be set for different parts of a Program rather than just a final deadline; the benefit of this is that the learner can self-manage their learning to ensure that they are on-track, and their line-manager can also keep an eye on progress.
Notification messages can be sent to learners to remind them of any upcoming deadlines to help them manage their learning. Messages can also be sent to a learner's manager to keep them updated or perhaps to alert a manager to a learner slipping behind – an intervention can then be made to address any issues as soon as possible to minimise the impact on future planning for that learner.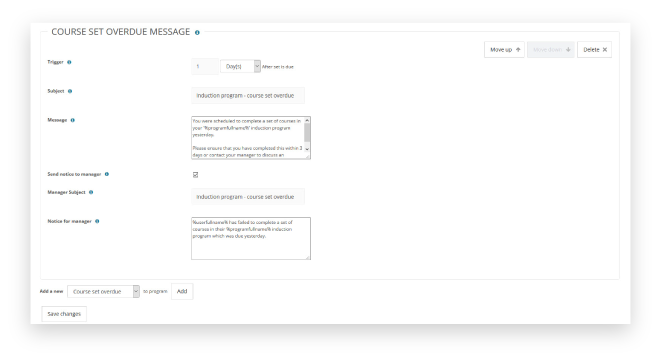 Reporting
In addition to notifications, Totara Learn's flexible Report Builder allow reports to be easily configured to keep relevant stakeholders informed of progress - this can display learners' progress through a Program in high or low-level detail. Reports can even be scheduled to be emailed to any stakeholder's inbox at a pre-defined frequency.
With all the above configuration options, Totara Learn can really help to structure, deliver and manage training for any new starters.
Being available 24/7, the learning can flexibly fit around other things that you might have planned for your new starters outside of the standard induction training, and with clear deadlines and progress markers, you can be confident that your new starters will be adding value to your organisation in next to no time!
Our friendly team of experts are only a call or email away. Get in touch today to discuss how we'll turn your requirements into a great project!