In the rapidly developing world of Totara, it's easy to miss new updates and additions
– especially if they're not flagship features. One of the more recent additions from last year's 2.9 release was the Report Table block, which, alongside the Report Manager and Report Graph blocks, could easily be overlooked. But this new block is a really flexible and powerful new addition.
The Report Table block enables you to present tabular data generated from a report created in Report Builder. It allows you to specify which report should be presented, as well as giving you the option to display a saved filtered search of that report – allowing you to present specific and targeted data to your users. You also get to choose whether the block is displayed if there is no available data to show.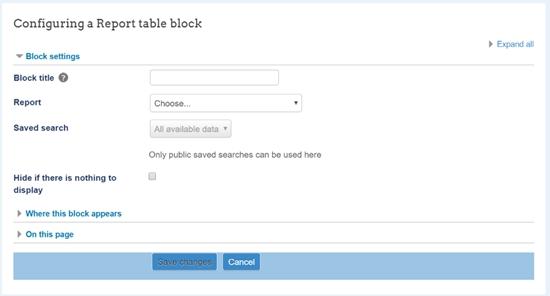 I can hear you saying, "Ok I can show a course completion report, what's so special about this?", and you'd be forgiven for thinking this isn't particularly exciting. However, one of the great things of Totara LMS is that most data presented to you on the site is actually a pre-built "embedded" report, and although the block can't use embedded reports as a source, you can fake it by replicating them in Report Builder and showing the data yourself.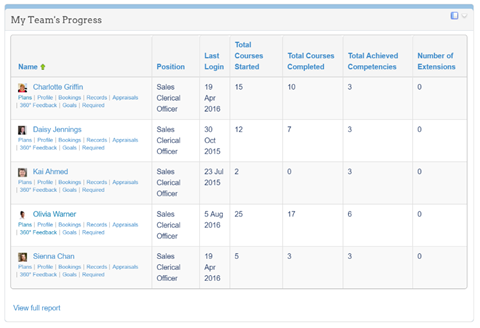 This means that the possibilities for the block are huge, especially if used for creating personalised role-specific dashboards... You could show a manager their team's progress from My Team, or present to a learner their progress from their Record of Learning, or their upcoming face-to-face bookings, and a declared interest face-to-face report for the Trainer/Administrator of a course.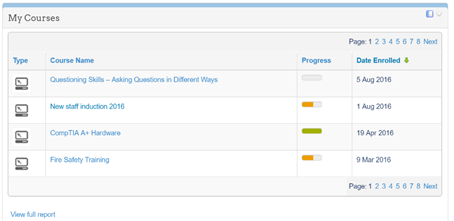 The potential for creating targeted, personalised dashboards opens up with the addition of this block; get creative with your reports, and use the different aggregation methods to display learner leader boards and top popular courses. The only limit is your reporting imagination…