Totara 15 and 16 introduces many improvements to the entire Totara Talent Experience Platform (TXP), notably the introduction of LinkedIn Learning and notification enhancements. This is an important update for any users wishing to make the most of their online learning, employee engagement, and performance management experience.
Here we will explore, the new features and improvements that you can implement within your organisation!

While there have been numerous new features and improvements, in this article we have picked out those features that we believe will have the biggest impact on how you and your learners engage with Totara 15 and 16:
Totara
Centralised System Notifications:
Additional centralised system notifications have been added, which now include:

- Workspaces
- Course activities
- Course
- Seminar

This now enables you as a Site Admin to control, edit, and create new notifications throughout your site for all different elements on Learn, Perform and Engage.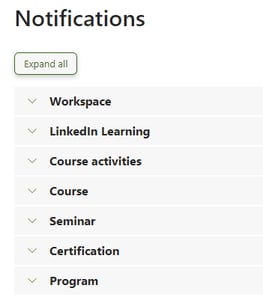 To find out further information regarding Seminar Legacy Notifications please click here.
Totara Learn
There are multiple feature updates to Totara Learn which revolve around notification and message sharing. These include:
Seminar Ad hoc Messages:
Ad hoc one-off messages can instantly be sent to users associated with a seminar activity. This could be a notification in relation to 'a quick reminder/update' that requires a message to be sent to delegates that 'are booked to attend an upcoming event'. The message will instantly be sent according to the recipients booking status/attendance status selected. Managers can also receive a copy of the notification.

Course Due Dates:
A due date can be set within the 'completion tracking' of a course, meaning delegates can now be sent notifications in relation to the due date from the 'System Centralised Notifications' via the 'Course Notifications'. This keeps delegates on track and engaged and will improve the compliance completion rates within your organisation.

Please, note that there are no default notifications for 'Course Due Date'.

LinkedIn Learning:

Please note you must have Totara 15 and above and a subscription to a Professional Linked-In Subscription

LinkedIn Learning can be imported to Totara and can now be added to courses to complement other activities rather than only the 'Single Activity Format'

Enrolment Workflow:
When users access a course page (for example as a 'Guest') users will receive a message stating that they are accessing the course as a 'Guest' and their progress will not be saved. This helps users identify the role they are accessing the course as and that they will require to be enrolled to complete the course.

Program Exception Reports:
When reviewing 'Program Exceptions', instead of 'unassign', this has been changed to 'dismiss the exception', giving a clearer explanation for 'Administrators'
Totara Perform
Totara Perform has been updated to bring in a range of new automated improvements, such as:
Close activities for suspended users:
Once this setting has been enabled, all open performance activities for 'Subject' and 'Participant' instances for a suspended user will be closed. This setting will help 'Site Admins' when reviewing and filtering on reports.

Close and hide suspended users' activities:
If 'close and hide suspended users' is enabled, this will close and hide all open performance activity 'Subject' and 'Participant' instances for a suspended user. This setting will help 'Site Admins' when reviewing and filtering on reports.
These two settings give you greater control of how activities for suspended users are managed.

Role change participant instance creation:
When a new 'Participant' enters an existing activity (such as a new manager), a new instance is automatically created for the new manager to participate in the activity instance. This saves time for admins as this process is now automated, when a new 'Participant' enters the activity. This setting can also be overridden at the activity level.

Enable role change participant instance closure:
When a 'Participant' leaves an existing activity such as a manager, the instance is closed for the previous manager, who is no longer part of the relationship for the activity. This saves time for admins being automated, when a 'Participant' leaves the activity, and the instance requires to be closed. This setting can also be overridden at the activity level.

Hide incomplete responses for closed instances:
This feature hides incomplete responses for 'Participants' who have not provided any response to any question on a closed instance.

Bulk close performance activities:
Performance activity instances can be closed by selecting 'Close all instances' from within the 'Manage Participation' report. This allows admins to close all instances at once, rather than closing instances manually.

How to manage a performance activity actions:
The actions relating to how to manage a performance activity, are shown below:
Please note the view has changed and single activity instances can also be deleted.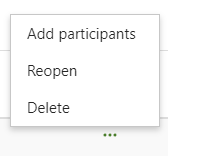 Automatic closure:
Instances can be set to automatically close if a 'due date' has been set within the 'instance creation tab'. Notifications can be sent in relation to the 'due date' specified. This will also help when reviewing reports, as instances will close when meeting the due date. For example, if your base creation of a new instance on completion of a previous instance, setting automatic closure based on due date ensures that these dates don't drift out over time.
Assign a performance activity to an individual:
Performance Activities can be assigned to Individuals as well as alongside assigning them to an Audience, Organisation and Position. This enables you as a 'Site Admin' to add individuals as required who require to be part of a 'Performance Activity'.
'Direct Report' can be added as a new participant selection:
A 'Direct Report' can be added as responding participant to a Performance Activity and the 'Direct Reports' will also receive instances in relation to the subject (manager). This is effective when using the 'Feedback activity', as all direct reports will receive an instance relating to their manager.
Review items:
The review items within Perform now also include Learning and Evidence alongside Goals and Competencies. Reviewing Learning allows a user or a manager to pull through Learning in order to review progress and to review any Evidence as part of a Check-In or Appraisal as part of an all-round Performance Review.

Activities grouped by role:
When accessing the Performance activities tab as a Participant, instead of viewing these instances within the 'activities about others' you will see tabs relating to the role you are participating as (for example, 'Manager'). This interface will help end users to navigate and clearly see the roles in which they are participating within Activities.


Activities card view:
When accessing the Performance activities, you will now see 'Priority cards' for these Performance activities. These will be shown in order of priority as to when each of the activities is required to be completed. This enables users to easily identify which activities need to be completed first and enables them to prioritise.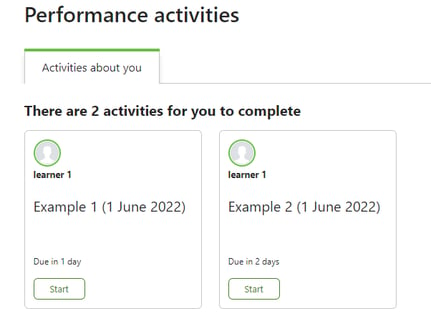 Enhanced sorting and filtering:
There are further options to filter and sort Performance activities, such as allowing users to search by type of activity, progress, sorting filter, and search fields as well as the option to exclude completed activities. This will enable users to filter or focus on activities which have not been completed.


Changes to multiple choice multi-select element:
The multiple-choice question allows you to set a 'single option' only

Description for rating scales:
Users are able to view a description in relation to the rating scale being completed, which can then be used to describe to users the different values within the rating scale to ensure that users understand the values within the scale. For example, Rating value 1 is inadequate.


Totara Engage
As is central to the Totara Engage ethos, new features governing user interaction and requests have been added:
Users can request to join a Workspace and can specify the reason for requesting access:
Users are now able to request access to a workspace and are able to add a reason as to why they would like to join - for example, 'to gain further knowledge about a specific piece of work'. This will provide 'Workspace Owners' with greater amounts of detail to review the user request.

Workspace owners can specify a reason for declining accessing to a workspace:
Owners of a Workspace can specify a reason if they are declining a Workspace request, immediately informing the user why their request has been declined.

Audiences now sync with workspaces:
When an Audience is added to a 'Workspace' it now Syncs. This means that when an Audience is added and a user is removed from the Audience, they are then automatically removed from the 'Workspace'. Therefore, Workspace Owners will not be required to manually remove users or remember to remove them. Content added by a user who has been removed is still accessible.



Conclusion
This latest release from Totara gives organisations even more control to deliver effective learning and performance programs across the whole Talent Experience Platform.
We are a Platinum Alliance Partner with Totara, backed by more than 20 years of experience in the e-learning sector, and trusted by many leading UK organisations. Our highly professional team consistently deliver excellent service and are dedicated to helping you implement innovative solutions for all your e-learning projects.
If you're looking to transform the way you learn, engage and track the performance of your learners, book a consultation with one of our e-learning experts.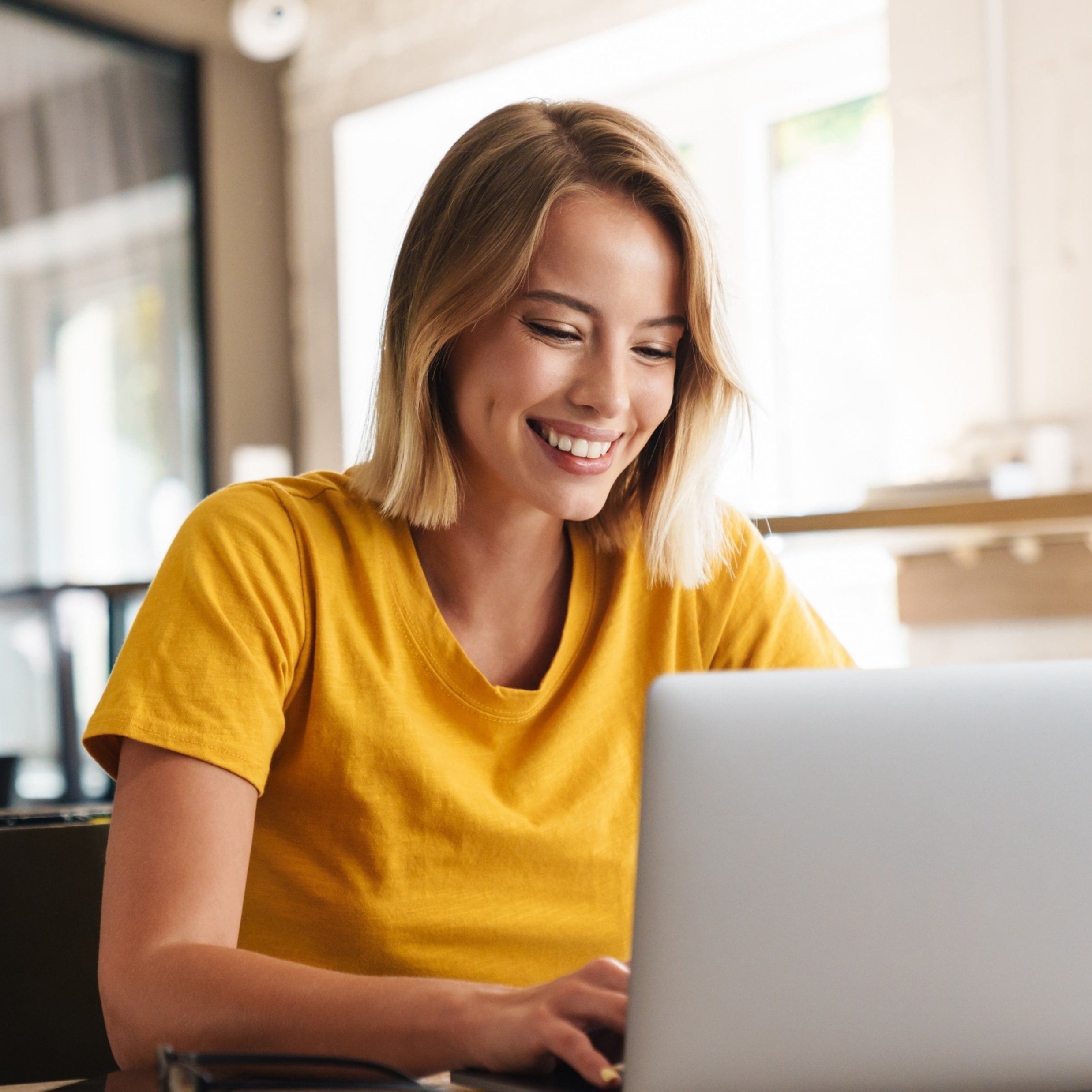 Explore HubkenCore – our unique SaaS LMS offering
Ready to see how our new LMS bundled solution is revolutionising how you purchase an e-learning solution?