If you've visited our website or social channels today, you might think we've gone through a little transformation. But the truth is, we're staying exactly the same.
We've changed our name. But that's all we've changed.
Well, actually, we've already changed. Back in January, we changed our legal name. And this month, we have brought that new name out into the big wide world.
Starting today (October 1st 2019), we leave our HowToMoodle name behind and become Hubken Group. (But our friends can call us Hubken.)


Hubken cupcakes at our celebration party
"Why are you changing it?"
You know us as HowToMoodle. And we've been helping businesses with their eLearning journeys under that name for 15 years.
When we started back in 2004, that name was a perfect fit. We taught businesses how to Moodle.
Simple, right?
But since then, we've become so much more than just Moodle! We've partnered with Totara and started working with companies like Go1, IntelliBoard, and more. Today, we create tailored learning content and custom learning systems – and we even develop our own plugins.
So to be honest: a name like HowToMoodle just doesn't do us justice any more.
(It also didn't help when some people got us confused with Moodle themselves. We love those guys, but they're not us!)
And after 15 years of working in this industry, it just feels right to have a change.
We've been legally registered with our new name for almost a year now. And since we're always talking about how businesses need to embrace change, we'd feel silly if we resisted a positive change of our own.
"But what does it mean?"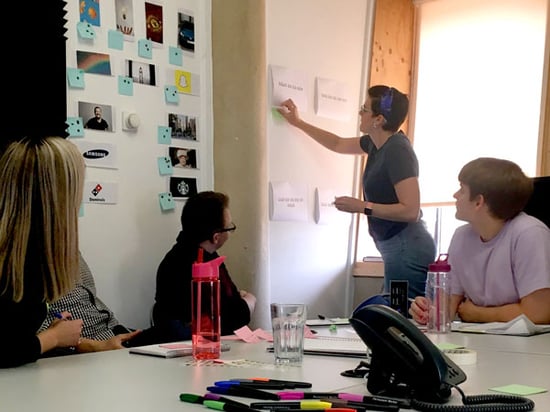 Some of the team at our brand workshop
We're not going to bore you with all the deliberations we went through when choosing a name.
If we're being honest, it's a name we made up for ourselves. But there's a little bit of logic behind it:
Ken means knowledge. It means understanding, cognizance, and mental perception. (Yes, we used a dictionary.)
And Hub means – well, a hub. You know what that means.
So when we deliver learning solutions to our clients, those solutions become the hub of their knowledge.
And for us, the name Hubken is the perfect fit for everything we do as a company.
"Does this mean you're changing?"
Absolutely not.
We haven't been bought out. We're not going through a radical transformation. We're the same legal entity we've been for the past 15 years.
We aren't changing what we do. And we aren't changing how we help businesses like yours.
We're still the same helpful team of knowledgeable people, giving you the same expert service and the same support you need to help your business grow and succeed.
We've just had a little makeover. And Hubken is the next evolution of who we are!