For any successful business, developing and selling a good product is only half the battle. Providing excellent customer support, both during the purchasing journey and after the sale has been made, is equally, if not more, important. Client feedback is of the utmost importance to us at Hubken. We love hearing what our clients have to say which is why we conduct quarterly client surveys. In this blog, we'd like to share some of the wonderful feedback we have had from our clients in our most recent survey.
Net Promoter Score (NPS)
One of the questions we always ask in our survey is 'On a scale of 0 to 10, how likely is it that you would recommend Hubken to a friend or colleague?'. Why do we always include this question? This particular survey question provides us with something called a Net Promoter Score (NPS).
If you're not familiar with the definition of an NPS, it is the popular method of gauging customer satisfaction and loyalty. Responses are made up from scores ranging from 1 to 10 which are then placed into the following three categories: Promoters (scores of 9 or 10), Passives (scores of 7 or 8) or Detractors (scores of 0 to 6).
Why do we use this method at Hubken? We use it to see how we are performing as a business - if we receive an abundance of scores of 9 or 10 this indicates that we are performing so well that our clients feel confident in recommending our services to others. If we receive any Detractor scores, we make sure to investigate why we have received a lower score and how we can improve.
But our surveys also include questions beyond the standard NPS question. For example, we also ask clients to give us additional feedback on areas such as any standout LMS features, the benefits of working with Hubken or any reasons they enjoy working with us.
The results: Hubken is the ideal LMS Partner
We were thrilled with the fantastic responses we received in our latest autumn survey. We've put together the following word cloud that highlights the wonderful words and phrases our customers shared about how they feel working with us as their LMS partner.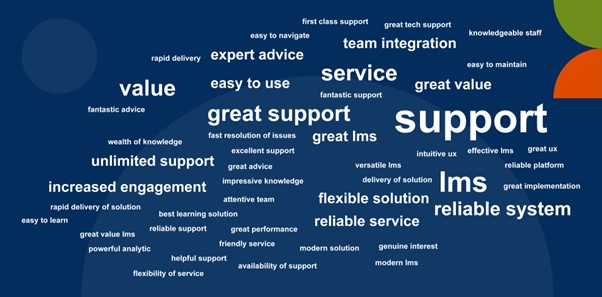 Top 5 reasons why customers love us:
Unlimited LMS support
We were really pleased to see that one of the most common pieces of outstanding feedback we received from our clients was regarding the support we offer. In fact, when we asked clients which of our features they valued most, one of the top answers was our support team.
With any Hubken solution, you'll receive unlimited friendly support right from your initial discussions with our team of experts – all of whom have years of e-learning knowledge and experience. We work closely with clients right from the beginning to ensure that they get their perfect LMS solution, with full support through implementation, training and beyond. Chris Glynn from Nobia UK echoed this as he noted that the Hubken team were "very supportive and open with us from day one. We have a collaborative relationship and that vital concept of being able to work together came across from the beginning."
Many of our customers also commented on our fast response times, which meant that any issues are resolved quickly and efficiently. For example, Distance Learning Centre praised us for "first class support that is very responsive", adding that Hubken "have always helped very quickly in every issue or question raised."
Cost-effective
LMS
Another common theme that came out quite clearly is the positive view that our clients had around the cost-effectiveness of a Hubken LMS solution and how it offers better value for money when compared to others on the market. Naturally, any business or organisation will be looking to implement a great value learning management system (LMS) which still delivers a comprehensive learning and development solution. And, in today's cost-conscience times, they will want an LMS that delivers a strong ROI. We're pleased to know that our e-learning solutions deliver on both those objectives.
When Holland and Barret switched to a Hubken Totara Learn solution, they not only saw the benefits of using our user-friendly, feature rich and intuitive LMS but also saved £90k per year.
We understand that every business or organisation will have a different budget they need to stay within, so when we work with clients, we make sure to do everything we can to meet their needs within their budget. St Helens Council, for example, highlighted that our "extensive provision of services, all met with [their] budget requirements."
At Hubken, we are very transparent about pricing. If you're looking for more information on LMS pricing, you can visit our pricing page here or read some useful pricing guides on both Moodle and Totara.
Personal approach
One word that continuously popped up in the survey responses was 'personal.' Clients love our 'personal approach' and the 'personal assistance' we provide. In fact, lots of our survey feedback referred to our Hubken team members by name, reiterating the fact that we deliver a truly personal service. We are real human beings, and we love working with our clients to ensure that they continually are getting the most from their LMS!
How do we build such strong client relationships? All our clients have a dedicated, friendly, approachable and knowledgeable account manager who is committed to building a lasting relationship with each client. Our account managers are there to answer questions, offer training and help resolve any issues.
And our commitment to customer care shows. All Hubken team members were praised in our latest survey for being highly responsive, friendly and accessible. In fact, Electra Learning has said that "perhaps the biggest benefit of working with Hubken is that when I call them, I speak with a friendly expert."
Reliable LMS Hosting
With our HubkenCore package, your e-learning solution will be 100% cloud-based, fully hosted with high-level security. There are a number of benefits when it comes to opting for a fully hosted LMS. It takes the burden away from a business or organisation, it means faster deployment, it's scalable and much more. One of the biggest benefits of a fully hosted platform, particularly for the public sector, is enhanced data security. This was true for St. Helens Council when they appointed us to deliver a learning system to meet their objectives, we recommended Totara Learn in a fully managed ISO 27001 certified hosting environment.
Feedback from our survey praised our hosting with lots of positive comments on the fact that our LMS environment was extremely reliable. When the system was inaccessible due to upgrades or updates being carried out, any disruption was kept to a minimum and that we are always transparent and communicated well.
Perfect LMS solution
Much of the feedback from our survey consisted of positive comments on our Totara and Moodle platforms. Clients referred to our platforms as robust, reliable, easy to use and listed some of their favourite features such as certifications, the course catalogue, the ability to include appraisals and the Microsoft Teams integrations. When we carried out a case study with Nobia UK, the specific aspects of Totara Learn that were of exceptional benefit to them included Hierarchies, programs, reporting and dashboards due to their targeting, management, admin and organisational benefits.
Maintaining a high standard of service, support and hosting as e-learning software providers is important to us, but we also want to ensure that the platforms we are providing continue to provide their intended purpose and are helping our clients achieve their L&D goals. We're thrilled to hear that our platforms are doing just that, and more!
If you're not familiar with the wide range of functions, features and benefits of using one of our e-learning platforms, we put together comprehensive guides on our Moodle and Totara solutions. Read them here:
What is Moodle? The ultimate guide to Moodle LMS
What is Totara? The ultimate guide to a Totara LMS
Would you like to hear more about what our clients have to say about us?
Your LMS success is our business. Whatever your LMS goals, Hubken is here to support you every step of the way. An extension of your team, Hubken's team of experts is there to deliver the ideal LMS for your organisation. We work with our clients to build lasting, collaborative and trusted relationships – so if you're looking for a new LMS partner, read more of our client stories here.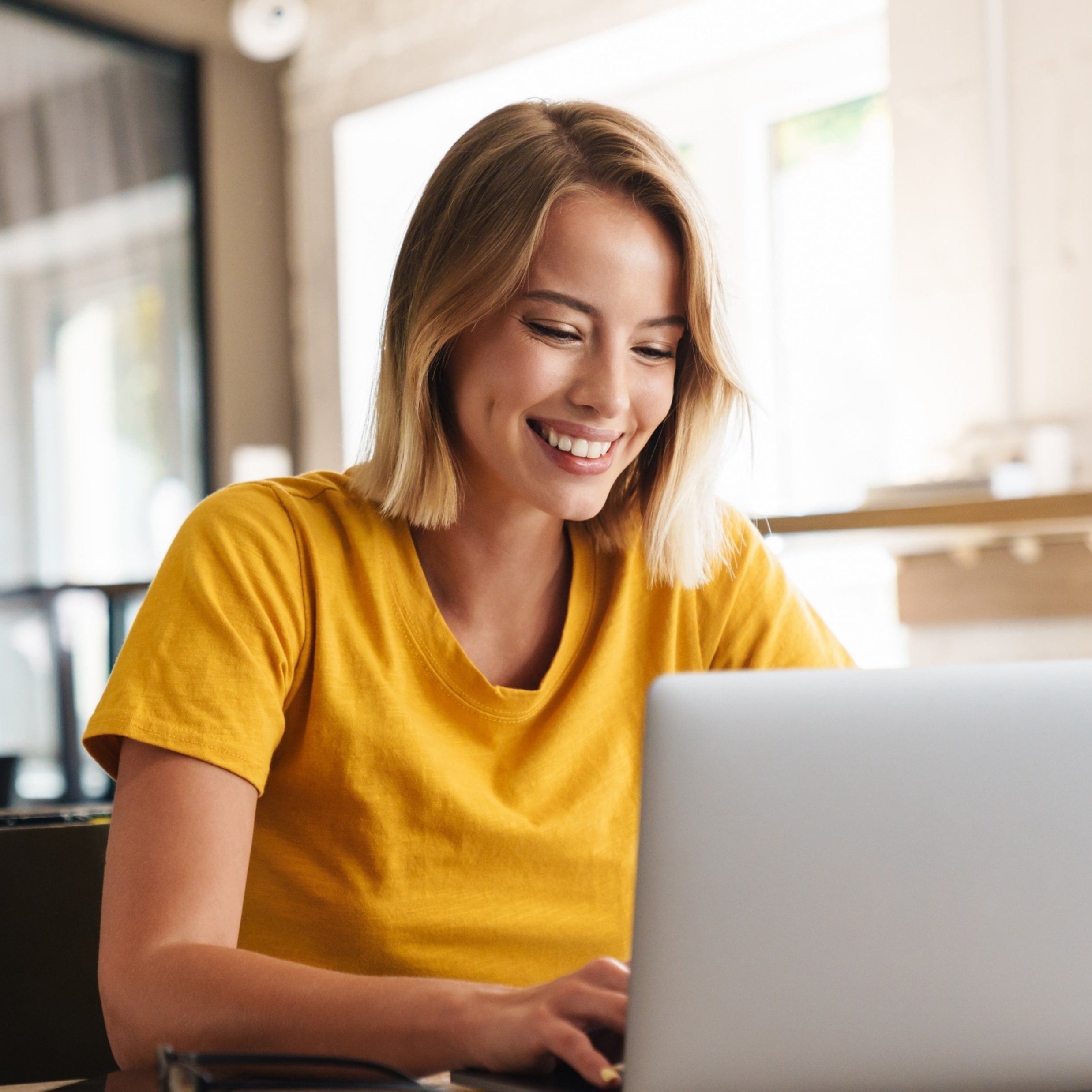 Explore HubkenCore – our unique SaaS LMS offering
Ready to see how our new LMS bundled solution is revolutionising how you purchase an e-learning solution?