Having problems with your learners forgetting to give feedback for online learning? We have just the thing to help you solve this problem, allowing you to use learners' comments to tweak and improve the online experience for future learners.
It's well documented that feedback plays a vital role in improving future experiences for people. As online learning is often replacing a more traditional classroom-based delivery, how can you be confident that the learners are finding the course easy to navigate and the course activities engaging and relevant?
The Feedback activity provides learners with the opportunity to give feedback in a course, but an all-too-regular observation from our clients is that it's difficult to get people to complete a feedback activity.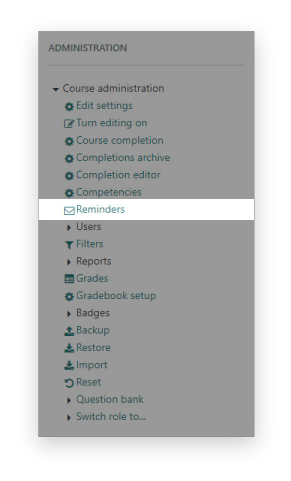 Our Totara Learn solution provides you with a way to prompt learners and subsequently remind them to give feedback using its Feedback Reminders feature. It's often-overlooked as it only appears in the administration menu once you've added a Feedback activity to a course.
Here's more of a detailed look at the features and benefits:
Features
Three tiers for reminders
There are three levels for Feedback reminder: Invitation, Reminder and Escalation.
You're able to firstly invite a learner to give feedback, remind them if they forget to give feedback and then escalate if they fail to complete the feedback after the reminder.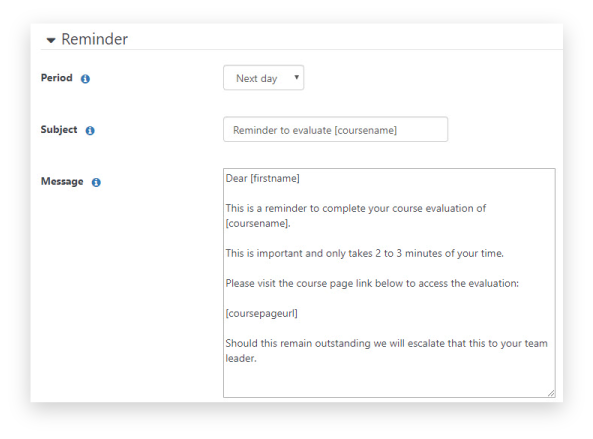 Set dependency for sending reminder
For most of our clients, Feedback Reminders are typically sent after the completion of a course, but this doesn't have to be the case. Reminders can also be sent to prompt for Feedback after the completion of any single activity within a course.
Customisable email
Each feedback reminder can be customised, and there are many placeholders available, including 'the link to the course', 'number of days since completion' and 'number of days until deadline', which all help to convey a clear and personalised message within the reminder email.
Configurable time-based triggers
For the invitation email, you can decide how long after the specific activity or course completion that the email should be sent; you can then decide how long after the initial invitation was sent that the reminder email is sent.
Escalation options
If the learner fails to give feedback after reminders, a customised email can be sent to a learner's manager – this option can be turned off if not required.
To find out more about Totara Learn, click below to download our overview:
Benefits
In a traditional classroom delivery, we can gather feedback informally through observing behaviour in the classroom, and formally by requesting written feedback from the learners; for an online learning experience without the visual clues, this documented feedback is even more important. The Feedback Reminders feature helps to ensure that feedback is completed by the learners.
The feature is often linked to course evaluation but we've seen this feature used to great effect by some of our clients to help identify ways to improve a specific learning activity in their courses. By simply configuring Feedback Reminders to be triggered on completion of a SCORM activity in a course to gather feedback from learners you can then make educated improvements to that activity.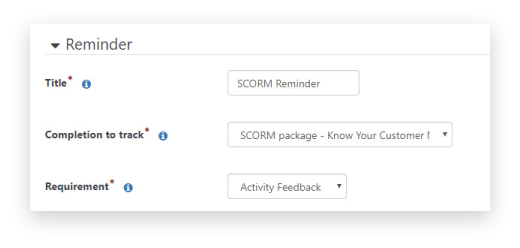 With the amount of configuration and customisation options available, our clients have reaped the benefits of receiving significantly more feedback from learners than they could have previously.
So, if you're having problems obtaining feedback from learners in existing online courses or are just starting out with your online learning and want to ensure a good return of feedback then don't forget to take advantage of the Feedback Reminders feature!
Our friendly team of experts are only a call or email away. Get in touch today to discuss how we'll turn your requirements into a great project!