H5P is fast becoming the most sought-after open source solution for developing interactive eLearning content.
It offers such a variety of engaging and visually appealing content types, that it's hard to do H5P justice in a single article, so I'm going to explore what all the buzz is about by focusing on just one of its content types: Interactive Video.
What is H5P?
H5P is a content authoring tool that we've integrated with our Moodle and Totara Learn solutions to enable you to create and share rich, mobile-responsive, HTML5 content.
You can create interactive content for your learners that's ideal whether you're looking to freshen up your course materials using the 'Impressive Presentation' or 'Timeline' content types, or you want to inject some fun and engaging activities into your courses using 'Flashcards', 'Find the Hotspot' or 'Branching Scenarios' – H5P offers something for everyone.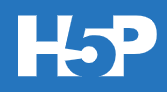 Interactive Video
H5P's Interactive Video content type enables video content to be overlaid with a range of interactive elements at pre-defined points of the video, including:
Text labels

Positioned hotspots– on clicking, additional information (text, images, hyperlinks) is presented

Questions: Multiple choice, Drag-and-drop and Fill-in-the-blanks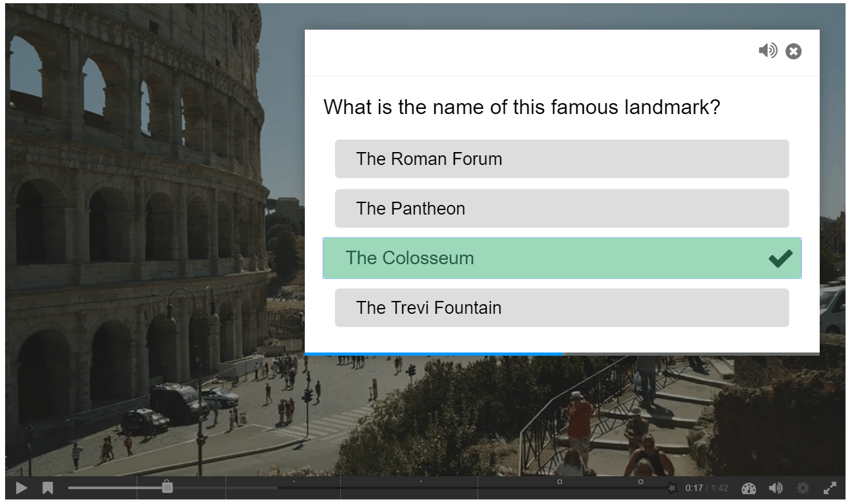 Key Benefits
1. Add further engagement to a proven learning medium:
There are recognised benefits in using video to communicate ideas and learning concepts. The format satisfies a broad range of preferred learning styles through the inclusion of images, sound and text.
H5P's interactive elements to videos - such as questions, hotspots and drag-and-drop exercises – build upon this to further promote engagement from your learners as well as a way to assess the comprehension of the learning content.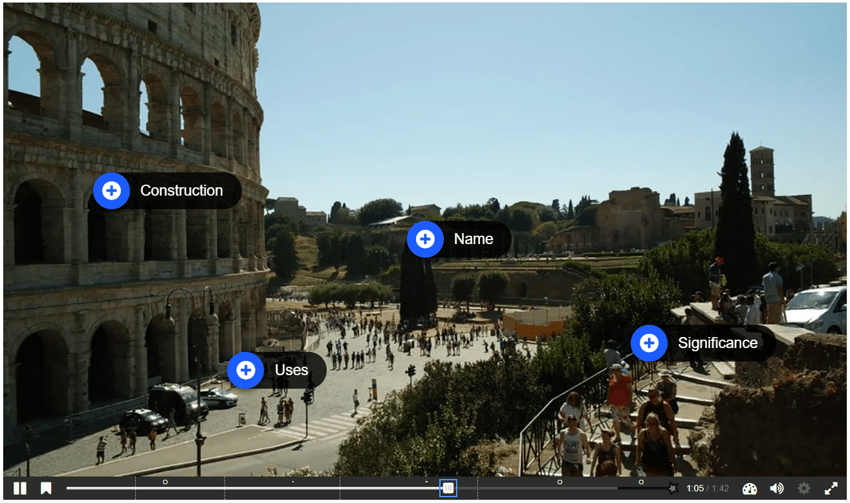 2. Encourage learners to find answers for themselves:
One of the features that I really like is the ability to provide direct navigation to specific time-frames in the video to review where a concept covered in that segment perhaps hasn't been clearly understood.
By prompting the learner with questions at key points in the video, a wrong answer can then offer to redirect the learner back to a specific segment in the video so that the concept can be watched again.
So, rather than simply presenting the learner with the correct answer to the question, the learner is encouraged to watch and listen again to discover the answer for themselves.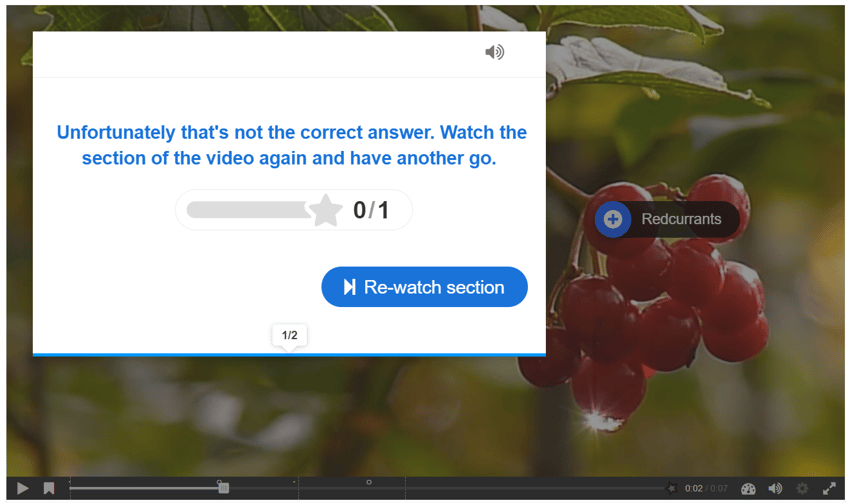 Uses
Further embed the learning by presenting a summary of the key points during the video using labels;




Display added value information during the video via hotspots. Learners can click on the hotspots to read the content (the video is paused), or simply ignore and continue to watch the video. This information could include drawing out the salient points from the current part of the video or perhaps supplementary information related to something referenced in the video;




Ask questions at key points during the video to check comprehension and give instant feedback. I like that, during a recorded role-play, the video could be paused, and learners prompted to answer how they would respond in that situation - feedback could then include appropriate guidance;




Enable a learner to jump to specific parts of the video by defining bookmarks.
As you can see, H5P's Interactive Video content type offers some exciting features to help you go to the next level with any video in a course to both engage and assess your learners.