Before explaining the improvements to restrictive access that have occurred in 2.7, I am beginning this post with a brief description of what conditional access is so if there is anyone still using 1.9, you can find out what you are missing out on!

Conditional access was first introduced in Moodle 2.0 after being one of the most requested and voted for features in the Moodle 2.0 development list. At last, course developers have the power to ensure course participants meet criteria or set of criteria (by date, grade or activity completion - another great Moodle 2.0 addition) before they are able access a certain activity in their course.


Since conditional access was introduced, there has been gradual improvement in the functionality. First was to restrict access to sections and then that conditions could be based on data in participants' profile fields thus allowing course developers to provide activities for specific students, e.g. from a particular department.

So, what are the latest improvements? Until now you could only combine restrictions by adding them together - participants had to do one thing AND then another, e.g. viewing a Page resource AND adding a Forum post. In the latest version the OR operator can now be used and you can create more complex sets of conditions by nesting restrictions (having one condition within another). The diagram below shows what a complex set of conditions can now be created before access is granted.




Figure 1 - Scenario of conditions
In this example, for participants to satisfy this more complex set of conditions, they must satisfy the following conditions;
Condition 1 - Condition 2 - Condition 3
Condition 1 - Condition 2 - Condition 4
Condition 1 - Condition 5 - Condition 6
As well as this new functionality, the interface has been redesigned. Instead of all the Restrict access controls being available as soon as the section is expanded, there is now a button that allows you to add restrictions to your activity one at a time.

Figure 2 - Adding a restriction
Within the settings for the activity or resource you want to restrict access to, first click the Add restriction button. A dialogue box appears allowing you to select the type of restriction you wish to apply to the current activity, resource or section.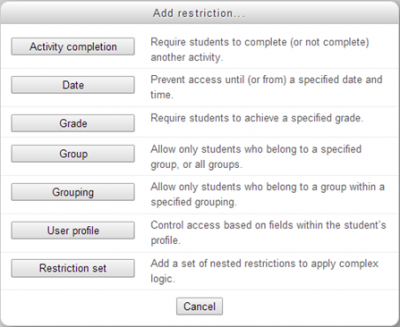 Figure 3 - Adding the restriction type
Having chosen the restriction type, you can then define the specifics of the restriction. In the case of the example below, participants have to complete the Holidays quiz.

Figure 4 - Setting the specifics of the access condition
Once one restriction has been defined, you can then add more restrictions and set whether the course participants must or must not match any or all of the restrictions which adds either an "or" or an "and" operator.

Figure 5 - Setting the operator
Using this method, you can set up complex sets of restrictions that will allow you to differentiate content in your courses dependent on all manner of things like where participants are from and/or what department they currently work in.
You may have noticed in Figure 3 that you can also restrict access to users of specific groups. This makes it even easier for course developers to differentiate course content.
All in all, the improvements have made Restrictive access clean and easy to use. With the addition of the OR operator, the group restrictions plus and the ability to nest conditions, if you haven't upgraded to 1.9 yet, you must now be questioning why not? Surely! For those on Moodle 2.x, this feature alone is worth the downtime required to do the upgrade as it will allow you to make courses more personalised than ever which has to be a good thing.
We should mention that all credit must go to Sam Marshall from the Open University for the great work he has done with this. It is a more than worthy addition to Moodle that a lot of course developers have been crying out for. Nice job Sam!