As part of our recent visit from Martin Dougiamas, the founder of Moodle, we recorded an #EssentialElearning Podcast; "An interview with Martin Dougiamas",in which Martin discussed his vision for the future of Moodle, explained why Moodle is great for different sectors, and answered some questions put to him by listeners.
But we didn't stop there! We thought we'd take the unique opportunity to ask him some more light-hearted questions to find out a bit more about the man behind Moodle.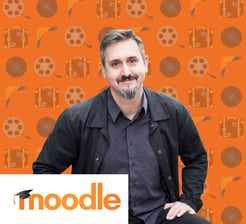 Our 'Quick-fire' questions to Martin:
Ray: So, what inspired you to do what you do?
Martin:

Scratching itches, solving problems. I hate seeing educators struggling, you know, I wanted to help them.
Ray: Okay, great. What's the best advice you've been given?
Martin:

The best advice is to usually wait a bit.
Ray: Okay, what do you dislike?
Martin:

I dislike people who don't care about the world.
Ray: And what do you like?
Martin:

Well, the opposite of that! I love being with people who really like being on this planet and working to make it a better place.
Ray: Brilliant. What's your best new learning tip?
Martin:

Start simple, very simple, keep it simple, that way people can get into it a little bit, and then build up from there.
Ray: Great. What's the one thing that really baffles you?
Martin:

Baffles me? … that question apparently!
Ray: Okay. Well, I'll move on then! What did you get up to at the weekend?
Martin:
I was in Berlin and I went to a couple of dance clubs and explored the night life of Berlin.
Ray: Wow! That sort of leads on to the question...I'm going to skip one because I'm going straight to this one: Do you have a party trick?
Martin:

I can make a pretty good donkey noise and I've got a couple of jokes that might be a little off colour that are my favourite jokes that I love to tell.
Ray: We wouldn't want you to bring shame upon your family, so we'll move on from that one...!
Martin:

I do like to dance, if you let me go at the dancing, watch out!
Ray: Favourite film, and what is it, and why?
Martin:

Generally really in-depth science fiction sort of stuff. So the first thing that came to my head would have been The Matrix or Brazil, or Black Mirror is pretty good right now, the Black Mirror TV series. Anything like that, things that really make you think about the future or how technology will affect us.
Ray: Brill, okay. Do you have a guilty pleasure, and if so, what is it?
Martin:

No, I pretty much like all my pleasures, I'm not guilty about any of them!
Ray: Okay, brilliant! Last one, one random fact about you that people just may not know.
Martin:

I like to make boomerangs and throw them and catch them....Because I grew up in the middle of Australia with Aboriginals, and making boomerangs is really amazing, because it's a lovely balance between art and physics. Yeah, it's great.
Ray: Okay, so that's one random fact that I certainly didn't know. That's it, we're out of time. So, Martin, thanks for our quickfire fun questions session. Thanks, and we'll catch up again soon.
Martin: Thanks, Ray, pleasure.
Missed our Podcast on 'An interview with Martin Dougiamas'? Listen here