Whether you're a long-term LMS user or an e-learning novice, getting to grips with the world of e-learning and its huge range of platform types, L&D functionality and technical jargon can seem overwhelming. If you're looking for a new platform but aren't sure where to start, three of the key L&D platforms that organisations of all sectors and sizes are using are LMSs, LXPs and TXPs. What sets them apart from each other? We've put together a handy infographic highlighting the key differences between these platforms including their principal features.

What is an LMS?
A learning management system (LMS) platform is a digital application used to manage and measure e-learning and online training. Bringing together all aspects of learning and development – from course content creation, to delivery, assessment, and reporting – an LMS streamlines the learner development journey within a single digital environment.
Contemporary learning management systems are hosted on the cloud, meaning they exist entirely online. This makes LMS software ideal for delivering training to multiple office locations and remote workers as it can be accessed via any device with an internet connection and the relevant login attributes.
Features
There is no shortage of LMS features, primarily due to the platform's inherent open-source flexibility and potential for compatibility with other systems. Our most powerful LMS, Totara Learn, for example, is conversant with a host of LMS integrations aimed at improving the user experience and optimising administrative processes. Below are the key features you should expect from an effective LMS platform:
Assignable learning pathways – The best LMS systems enable admins to create and assign learning pathways specific to each employee. Training, compliance, soft skills – no matter what learning is important to your organisation, it can be delivered through a robust LMS platform. Whether based on job role, experience, skillset, department, or organisation-spanning goals, the means to easily assign the most relevant learning to specific users increases engagement and delivers better results.
Content curation tools – An LMS provides a means of curating or uploading content and courses tailored to your learners. The most versatile LMS software, such as Totara Learn, is fully SCORM compliant, allowing admins to create/purchase and upload interactive learning courses to the platform for instant use.
Assessment capability – Regular and varied assessments are a vital part of learning, and an effective LMS will provide a range of assessment tools, including but not limited to formal assignments and test formats, informal quizzes, and multiple-choice assessment options. Furthermore, dynamic goal-focused user dashboards display learning progress, test score accuracy, and due dates in one place so both managers and users are fully aware of what they need to do to succeed.
Clear progress reporting – The ability to instantly view and analyse user progress is an important LMS feature. To ensure you're getting the best ROI from your LMS software, you need to be able to identify training effectiveness, user progress, and skill gaps throughout the learning journey. With a comprehensive reporting tool suite, your ideal LMS should be able to easily report progress from an individual to an organisational level quickly – and easily assign additional courses and training as necessary.
SSO and fully mobile – As with any digital solution, the best LMS systems make it easier for users to access their services. With single sign-on support, LMS platforms such as Totara Learn can be accessed via multiple devices and websites. For ultimate convenience, your LMS platform of choice needs to be available as a mobile app – meaning that users can learn on the go.
Blended Learning functionality – Although there's no denying the power of cloud-based e-learning, retaining a human touch is crucial, which is why your LMS platform needs to facilitate both face-to-face and virtual learning sessions, automatically being able to schedule within digital learning pathways and calendars. These events can then be set to send automatic notifications to users, thereby increasing attendance and completion rates.
Multi-tenancy – a multi-tenant learning management system is an LMS that can serve multiple user groups within a single platform. With a multi-tenant LMS, an L&D team can cater for multiple learner groups whether they are internal employees, part of an extended enterprise or completely separate groups.
The beauty of multi-tenancy is that each of these groups can enjoy a platform with its unique branding, custom permissions and personalised training objectives, etc. You can also assign different workflows and learning plans to each tenant.
A multi-tenancy solution is therefore ideal for organisations with numerous departments, related companies or external userbases. While this function is available with Totara Learn, 'soft' multi-tenancy workarounds are also available with Moodle.
Hierarchies – LMS Hierarchies need to be designed to meet today's organisational structures. Many LMSs only support person-to-person relationships. But an LMS hierarchy suited for modern organisational structures needs to be flexible enough to support person-to-person, organisation unit-to-person, and person-to-organisation unit relationships. This enables you to provide hyper-focused levels of communication, learning content, information sharing, reporting, and much more.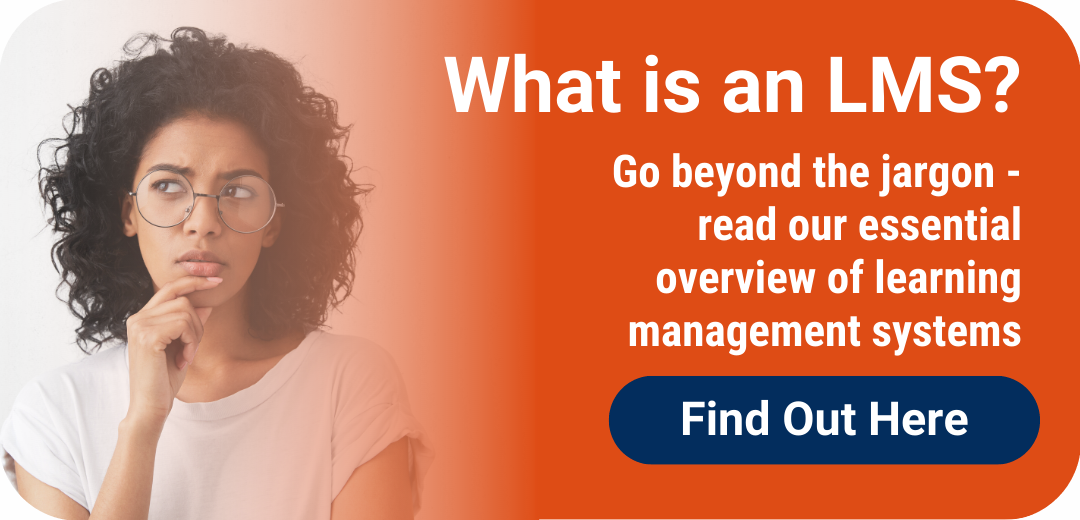 What is an LXP?
A learning experience platform (LXP) offers a more informal, collaborative and social approach to online learning when compared to an LMS. Where an LMS focuses on learners following a set learning path that a business or organisation has created, an LXP gives the learner the opportunity to create their own independent learning pathway.
Whilst an LXP still allows L&D administrators to create and administer e-learning content that is typically found in an LMS, it offers the additional functionality to allow for user-created content. Users of your LXP will have the opportunity to engage in peer-to-peer learning as they create, curate and share content with each other.
LXPs were developed to meet the increasing demand for a more user-centric learning approach and as social media platforms grew in popularity, it made sense for the learning experience to reflect the changes in the way we consume media and interact with each other. The same social features that you expect to find on your favourite social media platforms can be found in an LXP, such as the ability to like, comment, share, chat and interact with each other.
Features
Much like an LMS, an LXP can be enhanced with a whole host of powerful integrations to improve the user experience. To get an idea of what a robust LXP will typically be capable of without integrations, here are some of the key features you should expect.
User-generated content – As mentioned above, one of the key features that make an LXP stand out from other online learning platforms is the ability to allow users to create and curate their own e-learning content.
Your chosen LXP will feature a library of content created by admins, trainers and learners. Users can also collaborate on content together, making group learning and teamwork even easier. Online training materials available to your learners will be a diverse array of formal learning created by educators and articles, blogs, podcasts or even videos created by anyone who wishes to contribute to the content library.
Customised playlists – LXPs are designed so that they can be personalised to suit the learning requirements and preferences of each individual user. One of the ways this can be achieved is through the use of playlists in your LXP. Users can build their own playlists of online materials by saving content from the library, content that was shared with them or by uploading/creating their own content and saving it in their playlist. This makes course materials easily accessible and allows learners to focus on content that is not only relevant to their learning programme but also the type of content that they enjoy or find easier to consume and retain.
Workspaces – Most LXPs will feature dedicated areas where collaborative learning and communication can easily take place. With an LXP such as Totara Engage, these areas are referred to as workspaces. These workspaces serve various purposes and can be created to cater for specific groups, such as different departments within a company, various skill levels or subject matter. Within these workspaces learners can share knowledge, discuss the subject matter of their courses and work together on projects. You can make the user experience even more personal by creating workspaces for general discussion, where users can get to know each other on a more personal level outside of work/education, which is particularly beneficial for remote or dispersed workforces.
Content recommendation – In addition to the user-led content recommendation that will take place within an LXP, such as sharing content, liking/rating courses and sharing thoughts in discussion boards, a good LXP uses AI to automatically recommend content to learners. Data is collected by looking at sources of information such as content that has seen a lot of engagement or courses that learners have previously completed. An LXP will then use this information to recommend content that is likely to be of interest to users.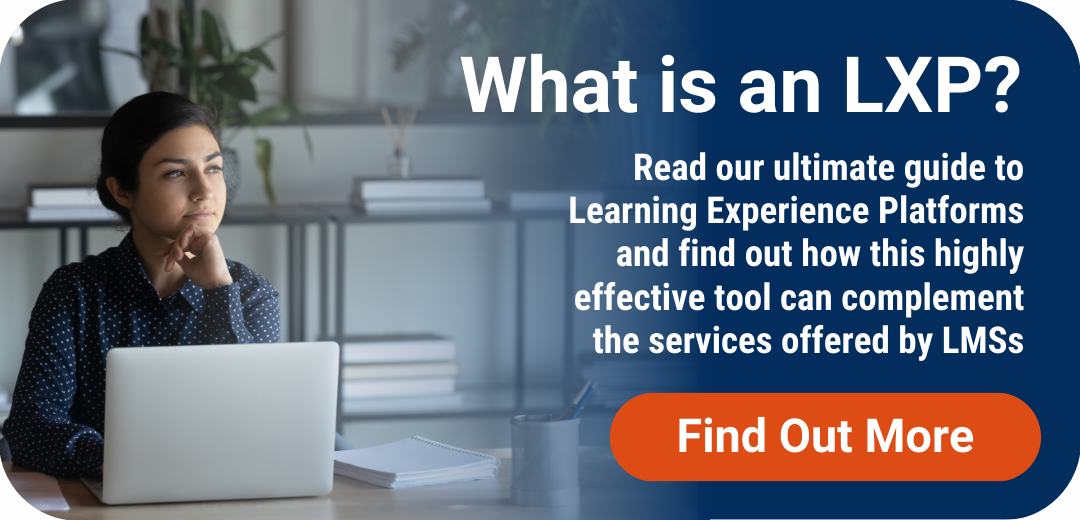 What is a TXP?
TXP stands for Talent Experience Platform. With the power of multiple platforms in one, bringing together the LMS, the LXP and a Performance Management solution into a unified employee management platform, it's the most complete L&D solution. With a TXP you can successfully deliver online lessons and facilitate collaborative learning whilst delivering high-level performance management. Essentially, it is a platform that provides businesses or organisations with the full range of functionality needed to create the ideal virtual learning environment.
With virtual L&D growing in popularity, TXPs were developed to serve the growing needs of L&D managers, educators and HR managers. As the e-learning market has evolved, there is now a demand for an 'all in one' system which can teach/train, manage and develop employees whilst simultaneously creating a virtual community of learners. A platform such as Totara TXP aligns all of these requirements in one integrated platform by incorporating Totara Learn (LMS), Totara Engage (LXP) and Totara Perform (performance management system). Combining these platforms creates an endless cycle of employee development, ensuring your employees are always growing, supported and nurtured so that they will deliver high-level job performance. This makes a TXP a worthwhile investment with a strong ROI. Read more about the Totara TXP package in our ultimate guide to Totara.
Features
The features that comprise an LMS and LXP, explored above, are all included in a TXP as the talent experience platform encompasses both platforms. Additionally, users of a TXP will benefit from the features found in a performance management system.
Performance management tools –A performance management system provides managers with the tools to deliver organisational performance growth by offering employees a holistic 'people growth' experience. Using a TXP means data can be collected across all unified e-learning platforms, providing more comprehensive performance insights by looking at a broader number of L&D variables such as completion rates of e-learning courses in your LMS or results from informal lessons in your LXP. You can also manually input additional information such as notes taken in offline meetings or offline progress reports, and record this on your performance management system – now captured within the TXP, in a way that you wouldn't have been able to do with a stand-alone LMS.
Having all the necessary evidence of employee progression, career growth and development on one platform ensures full visibility for both employees and managers across all the platforms. This information can be used to feed into performance one-to-ones. Individual goals can be created for employees and with the tools taken from a robust system like Totara Perform, these can then be displayed via employee dashboards with reminders and due dates to ensure completion. With the tools of a performance management system, continuous employee development is clear, structured, consistent and regulated under one streamlined system.
Skill tracking – Using performance review tools in a TXP, skill gaps can easily be identified, and competency evaluations carried out instantly. Where skill gaps have been identified, managers can rely on the functionality of an LMS within the TXP to create specific learning plans. Marrying the functionality of a performance management system and an LMS makes skill development an effortless process.
Employee feedback – To deliver an effective performance management strategy, a business should not only utilise the employee development tools available in a performance management system but should also rely on employee feedback. Listening to employees is hugely important, reassuring employees that their opinion is valued, and any problems identified are able to be addressed before they may become an issue.
A great way to collect feedback or suggestions from employees is to create discussion boards, forums or polls using the collaborative tools in the LXP within a TXP. Additionally, you can utilise your performance management system within the TXP to gather employee feedback on a more personal level through one-to-one sessions.
How do I know which platform is right for me?
Having read through the definitions and list of features that differentiate an LMS from an LXP to a TXP, now is the time to decide which platforms best suit your L&D requirements. For further guidance on these three key platforms, including more information on what they are used for, read our full breakdown to find out which L&D platform will best serve your business or organisation here.
If you've chosen a platform or you'd like to find out more by seeing first-hand what these powerful e-learning solutions are capable of - book a demo with one of our e-learning experts today.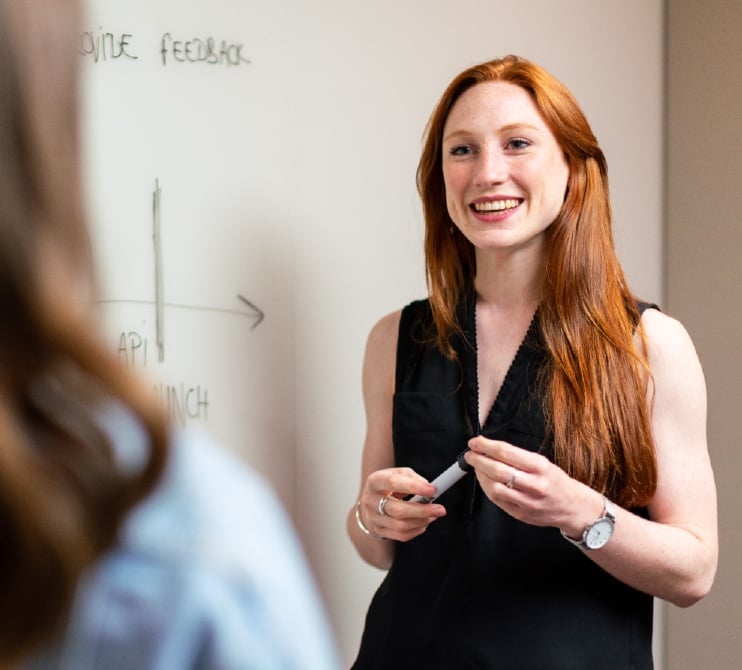 Book a free LMS, LXP or TXP demo
Book a demo with one of our e-learning experts and learn first-hand how our Totara or Moodle platforms could enhance your L&D strategy on an impressive scale