The Hubken Video Library offers an extensive library of 'how-to' video tutorials, providing invaluable bite-sized tips and tutorials. These videos cover a wide range of Totara and Moodle topics, ranging from typical site admin queries through to more complicated queries such as course creation.
Our e-learning video library covers all of the main categories a successful company needs to ensure that you are maximising the investment that has been made in purchasing an e-learning solution from Hubken.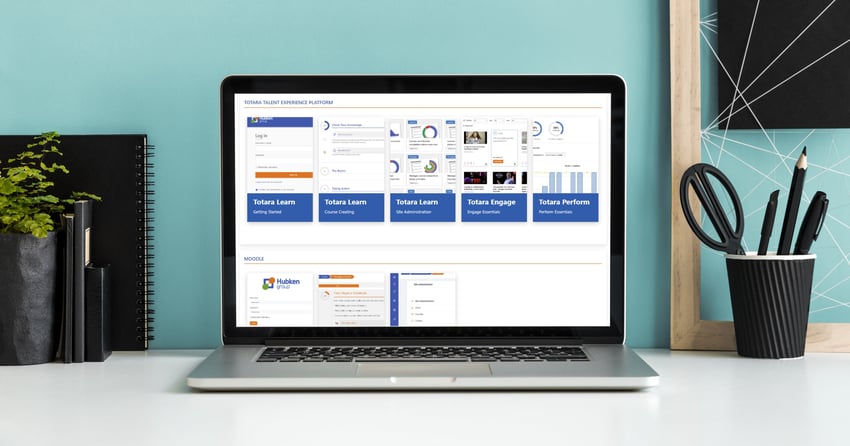 All of our 'how-to' video tutorials have been put together by our inhouse team of experts focused on creating content that is relevant and engaging, empowering your LMS users to develop the right skills to use the system. Featuring up-to-date content, our extensive tutorials within the video library empowers teams to fully navigate your LMS solution's capabilities.

Key topic areas in the library
Essential Administration Videos:

Course Activities Videos:

✓ Adding users

✓ Setting system roles

✓ Course categories

✓ Custom fields

✓ Backup and restore

✓ And so much more...

✓ Interactive content

✓ Certifications

✓ Feedback

✓ Enrolment

✓ Quiz's and assignments

✓ And so much more...
What you get included
Unlimited number of users for a single low price

Continually updated with new video content

Bite-sized learning (videos typically between 5-10min)
Typically, our video library is used by our clients for...
As a resource for learning 'in the flow of work'

For managers and team leaders to use with their staff

For use in self-directed learning

For reinforcing best practices for the LMS

To use alongside internal processes such as onboarding new staff members

For use in pre and post workshop training activities
When it comes to keeping your workforce armed with the information and skills they need to make the most out of your Hubken LMS, our video library offers a great source of training and knowledge resources.
Our goal is to provide your users with the tools they need to realise the full value of your LMS investment.
For more information about subscribing to the Hubken Video Library please contact us today.