If you've been considering Moodle as a Learning Management System (LMS) to deliver e-learning you may have also noticed Moodle Cloud which is designed as a starter option for a basic, hosted Moodle site.

So how does Moodle Cloud compare with a supported LMS service? Here's a brief insight into what Moodle Cloud can and can't do.

What is Moodle Cloud?
Moodle is the world's most popular LMS and Moodle Cloud is a Moodle site hosting service offered direct to customers by Moodle.

Who is Moodle Cloud for?
Moodle Cloud is for beginners and small organisations with the most basic need for an LMS.

How does Moodle Cloud compare to Hubken's Moodle LMS Solution?
The table below outlines the main features of Moodle Cloud and what a Hubken's Moodle LMS Solution can offer in comparison.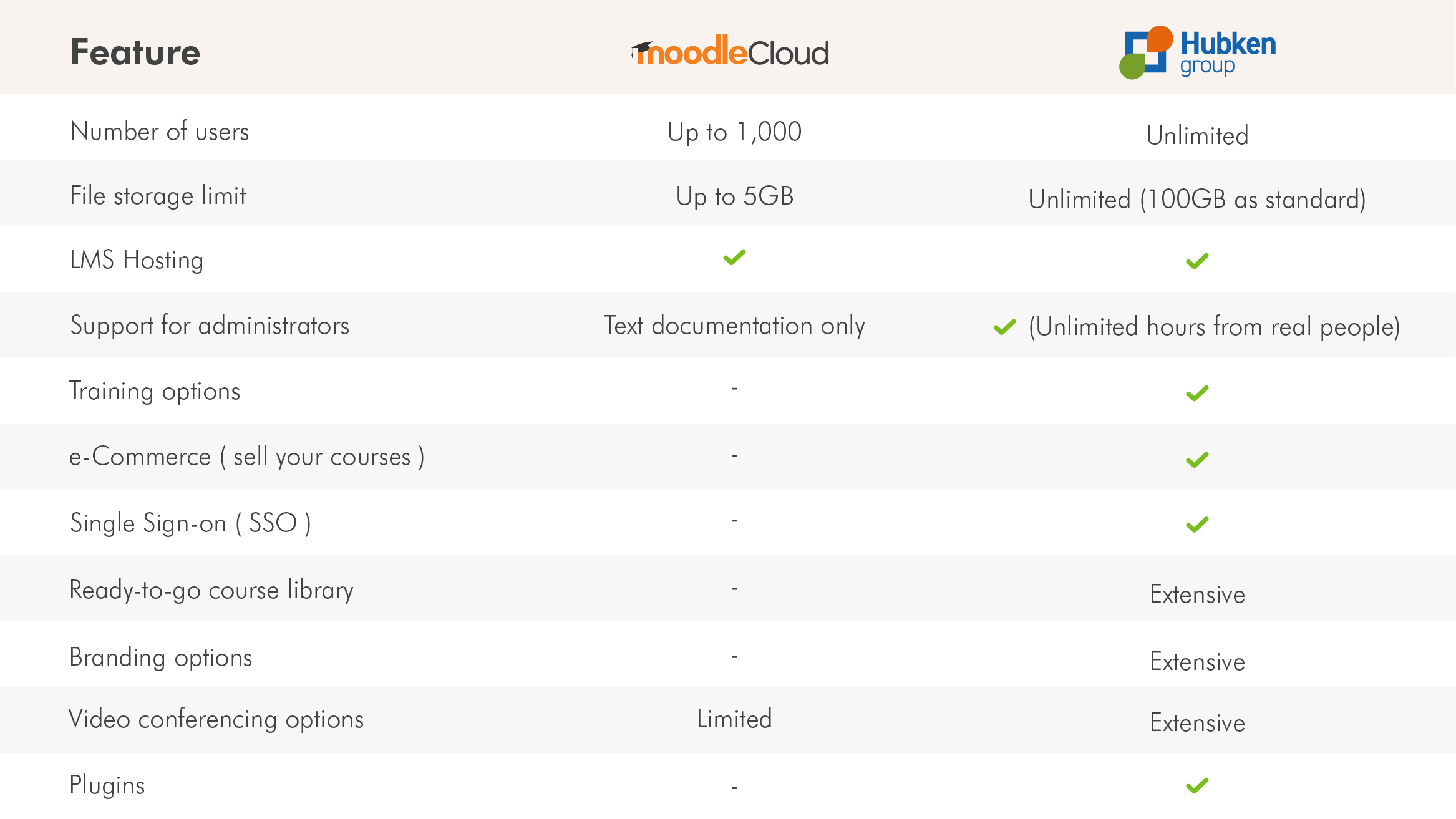 Why use Hubken's Moodle LMS Solution?
Hubken's Moodle LMS Solution is a full-service offering. Here are a few ways in which it differs from Moodle Cloud:

Users
- Hubken caters for organisations from the very smallest to those with hundreds of thousands of users.
- Moodle Cloud is capped at much smaller thresholds.

Storage for your data
- All Hubken clients get 100GB included and if you need more just ask and we'll arrange it.
- Moodle Cloud is a maximum of 5GB - you'll have to move your site to a Moodle hosting provider to get more.

Support for administrators
- All Hubken clients get unlimited hours of administrator support from real people with a contractual service level agreement.
- Moodle Cloud offers text-based documentation only, which can be frustrating when what you really want is to ask a question or get help from a real person.

Training options
- Hubken have been training people like you to use Moodle successfully since 2004.
- Moodle Cloud does not offer training options.

Branding options
- Hubken has branding options to cater for all budgets to ensure the look and feel of your LMS matches your company brand and feels familiar to your learners
- Moodle Cloud offers only the most basic and limited branding options.

Plugins options
- Hubken has a straightforward policy that allows third-party plugins.
- Moodle Cloud has a policy – no third-party plugins.

And more...
Hubken is a full-service solution so we could go on – eCommerce, Single Sign-on, integrations, ready-to-go course library, configuration services etc.

Looking for a cost-effective Moodle solution that offers the support and flexibility that Moodle Cloud doesn't?
Get in touch with Hubken...