Home Bargains is the top discount retailer in the UK, with 24,000 employees, over 500 stores and 40 years of retail experience.
They're currently opening 40 new stores per year, with 200 new staff members joining them every week.
The challenge
As a leading high-street retailer, Home Bargains was a company that had plenty of paperwork to keep up with. And in essence, that was their biggest problem: all of their training was done on paper.
This paper-based system was creating a huge bottleneck for their training. And as their business kept growing, it was becoming harder to make sure that every employee was fully up-to-date on compliance.
"We just weren't able to get a real idea of our completion rates," said Laura Whyte, Head of Training at Home Bargains. "And we were only able to deliver a fraction of the training that we wanted or needed to deliver."
They needed a learning management system that could:
Help them achieve a 100% Compliance Rate (and have the records to back it up)
Drastically reduce the time and money they were spending on administrative tasks
And give them the flexibility to tweak and adjust their learning to create the best possible experience for their users.
The solution
After looking through their options (from off-the-shelf packages to building their own platform from scratch) Home Bargains chose Totara Partner Hubken Group to guide them in the creation of their new Totara learning system, TED (Train Engage Discover).

Totara Learn gave them the flexibility that the more rigid off-the-shelf products couldn't provide – as well as helping them to avoid the massive time investment that comes with building something in-house.
"From the very beginning, we were big fans of the open-source approach," said Laura.
"With our new LMS, we've been able to tweak the UX based on our users' behaviour, giving us the freedom to create a tailored learning experience for our staff."
Through Totara Learn and TED – and with the expertise of Hubken Group – Home Bargains were able to hit the record levels of compliance that they were looking for.
With the help of Hubken Group, they've also made TED the central home of their Apprenticeship programme. Shifting away from a sole focus on compliance – instead widening the focus to creating engaging content that improves retention and creates long-term value for their learners.
But what they weren't expecting from their new LMS was the huge positive effect it had on their business outside of their training:
Nearly 24,000 employees have registered with their existing intranet (up from just 8,000 before the launch of TED). And now that so many of their employees are signed up and comfortable using the system, they're using all of the online features they were previously missing out on: checking their payslips, viewing their store's KPIs and sales records, and keeping up to date with staff events.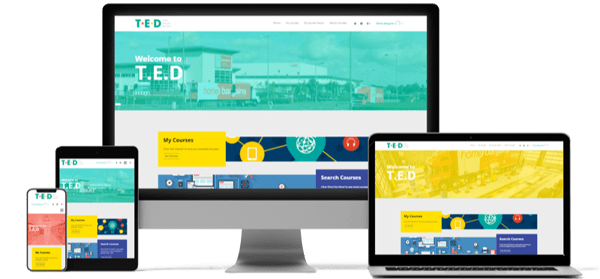 And through their new TED platform, their employees now have a social place to connect online – bringing their learners together from all over the UK so they can chat, discuss, and grow together.
"Totara has given us something that we've never been able do," said Laura.
"And that's using our network to join our people together to share ideas and connect socially, wherever they are in the country."
The results
Since the launch of TED through Totara Learn, Home Bargains has been delighted with the massive improvements they've seen.
Their completion rates for compliance are up to 95% (and with 5% of their staff on long-term leave, that's effectively 100%). In their previous, paper-based system they had no concrete figures, but estimates place staff compliance around 40%.
By making TED the hub of their Apprenticeship programme, they were able to cut down the travel time of their dedicated training coaches by 20% – and they expect their coaches to now be able to take on 25% more work.
And most importantly: they've had zero friction from their users. Every one of their 24,000 employees has been able to log on and get started from day one – with no obstacles, no hiccups, and no technical complaints.
"Since the first conversations, Hubken Group was an instantly likeable partner, and their being on board for this project is a massive reason for its success." said Tom Morris, Head of Digital at Home Bargains.
Want to find out what kind of benefits an LMS project could have for your business?
We've helped all kinds of businesses in the retail sector get up and running with a smooth transition into a flexible new LMS – from top national chains like Holland & Barrett to dozens of smaller companies and individual SMEs.