CVS Group is the largest provider of integrated vet services in the UK, with over 500 vet surgeries across the UK, the Netherlands, and the Republic of Ireland.

They're also one of the biggest employers of veterinary workers around – with an international team of more than 1,800 vets and over 2,300 nurses.
With so many skilled workers operating across multiple countries, they had a huge ongoing demand for learning – from compliance and clinical training to student placements and professional development.
The challenge
CVS Group is a huge company with a wide reach. And that meant they had a broad range of different types of learning (and learners!) to manage.
Far from having a single set of employees all following the same linear development path CVS Group had diverse audiences with widely differing training needs. The types of training they needed to deliver included:
Continuing Professional Development (CPD), both clinical and non-clinical topics

Staff compliance training

Nursing school curriculum

Student placement bookings
And to make matters even more complex, each one of these areas came with its own distinct curriculum – and its own unique demands for their learners' user experience.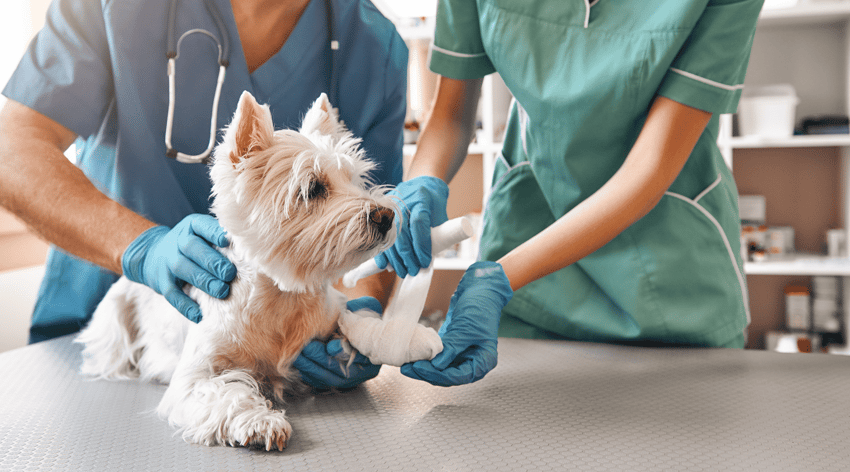 Before teaming up with us at Hubken, CVS Group was delivering its learning through a mix of health and safety e-learning and an outdated version of Moodle.
They needed a learning management system and a virtual learning platform that could help them:
Deliver their training from a single, centralised platform
Hit their compliance targets to meet government regulations in GDPR and Health and Safety
Manage their renewable certifications
Streamline and standardise their learner data across hundreds of unique branches
And put role-specific rules in place to grant permissions and restrictions to their diverse sets of audiences.
But above all, CVS Group needed the ability to create modern learning content that was engaging and interactive – giving their thousands of workers the motivation and drive to learn, grow, and continually improve in their fields.
"We didn't want to just have a platform that was webinar-based where people only came and watched," said Peter Nunn, Head of eLearning at CVS Group.
"We wanted people to come and interact with their learning – not just to passively absorb materials."
The solution
After looking at the different options available (from an off-the-shelf learning solution to an in-house self-built platform) CVS Group chose Totara Partner Hubken Group to guide them on their journey to their new learning management system.
With a comprehensive Hubken Totara Learn Solution, they were able to make a smooth transition away from their outdated Moodle site – and into a single, centralised Totara Learn platform that helped them to standardise their data across all of their 500 veterinary practices.
"Each of our veterinary practices has its own brand and identity, and that meant we often had over 30 different names for the same job role," said Peter.
"Moving to Totara Learn encouraged us to make our data more efficient, so our HR systems could talk directly to our learning platform."
CVS Group was able to use Totara Learn to manage their employees' renewable certifications (a feature that wasn't available on their previous system).
They were able to ditch their old manual booking system for face-to-face training (a cumbersome process of email requests and spreadsheet allocation) – and instead create a streamlined, automated booking process with manager approval.
And they've already started to move away from their passive webinar-based content – taking the expert lessons recorded by their specialists, and dividing them into bite-sized chunks of accessible interactive learning content that can engage and inspire their 6,000 employees.
With the powerful features and smooth integrations of a modern platform like Totara (as well as the guiding expertise of a partner like Hubken), CVS Group had the tools and the knowledge to successfully roll out their new learning management system to their 500 vet practices across the UK, the Netherlands, and the Republic of Ireland.
"One of the biggest strengths of the Totara system is the connection between the managers and their team," said Peter.
"Being able to see who's done what and managing their learning processes as you go."
The results
CVS Group went live with their new Hubken Totara Learn Solution at the end of 2019. And they're already seeing huge improvements over their previous system – with ongoing positive reports flooding in from their employees:
Their new streamlined booking process is cutting down on admin time – giving their teams more time to focus on their learning and development.
Their employees love the new Single Sign-On (SSO) feature – with fast and simple access to the learning services and content they need.
Their managers are reporting improved workflows, more in-depth controls, and a greatly improved user experience for their learners.
And Totara has given them the tools to create timely new content to keep up with a fast-changing environment – like their new Health and Safety courses in response to the Covid-19 pandemic.
"Everybody at Hubken has been really pleasurable to work with," said Peter.
"They were always quick with responses to my questions, and it's been a really good experience. I know that some of my requests were a little bit complex – and probably not 'out of the box' – but they were all dealt with in a good way."
Ready to see what a Hubken's Totara can do for you?
We work with hundreds of organisations, large and small – from veterinary clients like CVS Group and Vets Now to national retailers and local UK councils.
We're not here to sell you software – and we're not here to push you into choosing a particular solution.
We're here to become your partner: giving you the guidance, advice, and technical expertise that can help you on your journey to a new and improved learning platform for your company.
So if you want to learn more about how to get started, get help from Hubken today – and we'll show you everything a modern learning management system has to offer.