We helped Yellow Room Learning to create a multi-tenancy effect to present different content and unique styling to each of their clients.
What we did
For Yellow Room Learning we worked with them to develop three new concepts, using our LMS branding creation service. These branding designs were initially presented to the company and evolved into a final outcome, which were fully customised and had a unique design to help make them stand out from the competition.
The Totara Learn site interface needed to be user friendly for all and highly responsive for those accessing on mobile phones and tablets. To achieve this a visual interactive tile feature was created to separate the different learning approaches and provide a clear navigational structure, allowing site learners to instantly find the right level of courses for them.
Our Multi Branding was also applied to the branding, to enable Yellow Room Learning to create a multi-tenancy effect on their site which allows them to present different content and unique styling to each of their clients.
LMS branding concepts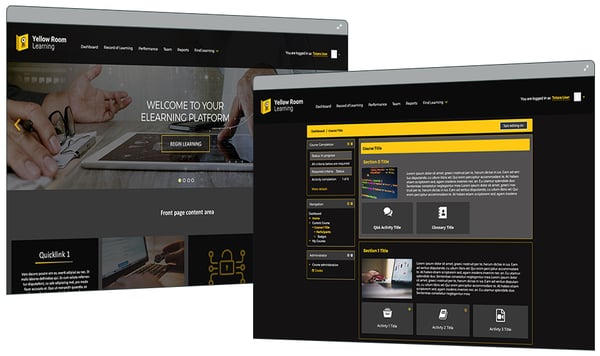 What they said
"Having a fully customised look was a key influence in our decision to use Totara Learn, so we knew that this service was crucial for us. We needed the site to look unique to us, and make us stand out from the competition. We needed it to look great and be easy to use so that we could sell it to our prospective clients. In addition to this, we needed it to be responsive. As we deliver training solutions for mobile workforce we also needed our Totara Learn site to look just as good on mobile phones.

We're really pleased with the design. The fact that it is customised and unique to us is vital – and we can demonstrate a great looking platform, both on the desktop and mobile, to our clients.

From the first contact, everything was straightforward. The design team listened carefully to our requirements and the look and feel that we wanted, and they came back with the design straight away. In fact, there were no revisions to it – it was spot on first time which was great. Implementation was really straightforward."
Why we love this branding
"We enjoyed creating and developing the branding design for Yellow Room Learning. The branding clearly makes the company stand out from the crowd, and the use of the tile feature has made a significant impact on the look of the site, ease of navigation and improved user engagement.
The Multi Branding service has allowed them to display a personalised look with relevant content for each individual client."
All of our themes are designed and built on the latest technology and meet the most up-to-date standards. View our
branding guide
online.