We helped Yellow Room Learning to benefit from a soft multi-tenancy using Totara Learn Hierarchies and Audiences.
Background
Yellow Room Learning (YRL) delivers information security awareness training that empowers employees with the knowledge to recognise and prevent cyber-attacks.
Starting-up in 2015, YRL has clients globally and needed a system that would make them stand out in the information Security Awareness training market.
What were their challenges?
Having previously experimented with Moodle but lacked the time and knowledge to customise it effectively, YRL previously used a basic multi-tenancy LMS that didn't work well with mobile devices.
However, due to continuing growth, client demands and the need for a fully mobile-responsive platform, YRL required new LMS e-learning environment that was visually unique to them when delivering training, easy to use and customisable so that their larger clients could have their own personalised site.
Additional requirements were an Active Directory integration to ensure a shared-login experience for clients as well as a solution which could offer effective reporting to enable different YRL clients to easily track their team's progress.
The solution
On choosing Totara Learn, Yellow Room Learning's site was launched within 6 weeks from the start of implementation. Within this 6-week implementation period we worked with YRL to create their successful e-learning platform and reach their objectives.

This consisted of providing a secure, managed hosting solution, administrator support, a fully customised theme (with a responsive element to work effectively on mobile and tablet devices) and expert site configuration.
Our flexible configuration service was tailored to YRL's requirements, with a blend of both site configuration and knowledge transfer. This enabled YRL to benefit from a soft multi-tenancy using Totara Learn Hierarchies and Audiences to create each client as a separate organisation, with access to their own training on the platform.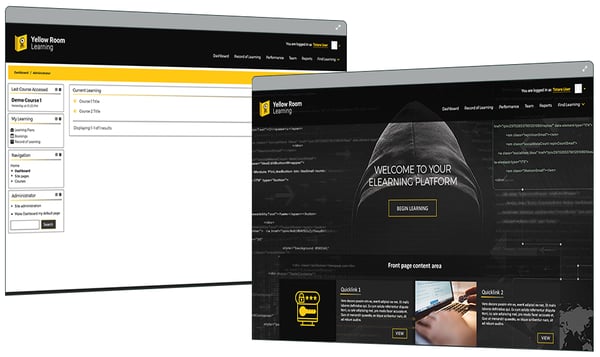 Consultative support continued after the site was live and an online workshop was held to assist YRL in configuring the platform to meet additional specific client needs.
"From the first contact, everything was straightforward. The design team listened carefully to our requirements and the look and feel that we wanted, and they came back with the design straight away. In fact, there were no revisions to it – it was spot on first time which was great. Implementation was really straightforward." said Ben Hancock, Managing Director.
The results
Yellow Room Learning have been using Totara Learn for 12 months and have been extremely impressed with its capabilities and in meeting their objectives. The team have found the solution to be easy to use and was a simple learning curve following their configuration workshops.
While the company manages their own Totara Learn LMS for their smaller clients, they are additionality using the new platform to support sales with larger prospective clients.
"Although we were very pleased with Totara Learn and the features it provides, it was more than just the LMS itself that 'sold it' to us – the service offered was key – with a custom theme, admin support and the technical capabilities, all priced at the right level."
The new LMS e-learning environment has been commended by clients due to the ease of navigation, strong reporting capabilities and visual design, which has increased engagement and allowed learners to instantly find the right course level.
Also, the seamless link to Active Directory enables YRL clients to manage large numbers of learner accounts efficiently.
Want to find out what kind of benefits an LMS project could have for your business?
Fill out our contact form and one of our e-learning specialists will get back to you to understand your goals and explore how we can help. 94% of our clients express happiness with our service.