Stockport Council's School Improvement Team operates as a traded service working with a range of schools, early years settings, education services, external partners, and childminders across the borough.
What we did
As an organisation they are concerned with the professional learning and the continuing professional development (CPD) of educational professionals.
A solution was achieved by Stockport Council taking a unique blended learning approach that includes face-to-face "learning opportunities" and open, online "learning networks" to foster communities of practice for educators within the borough.
What were their challenges?
The School Improvement Team had been using an in-house event booking tool alongside a Moodle platform to provide their blended solution since 2008. With an out-dated, 'clunky and difficult to use' interface and limited support, the team increasingly faced challenges maintaining the system infrastructure and making plans to scale up their offering.
The service was popular with educators and as they extended their provision to schools beyond the maintained sector, the need emerged to allow varying levels of access to the platform. The School Improvement Team decided a single platform was needed, enabling them to facilitate and enhance their two learning environments into one consolidated proposition.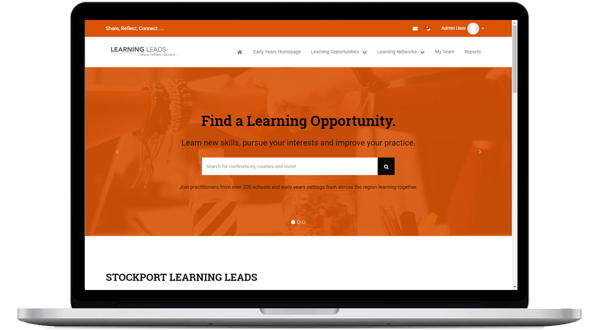 A key requirement was a scalable platform that could grow with their specific goals and commitment to deliver more digital learning opportunities across their borough and beyond.
"The site has a really modern look and feel and as an event administrator I soon felt confident in using the site, guiding new users through the registration process and search functions." said Yvonne Mellor, Event Organiser.
The solution
The School Improvement Team faced a tough challenge: move to a single system, without increasing costs and greatly increase functionality, support, development and scalability. All of this within a short timescale to be ready for launch at the beginning of the school year.
After initially failing to find a system that could satisfactorily manage both sides of their requirements (VLE and online booking), we recommended Totara Learn to bring their vision to life.
After establishing the project's requirements, we developed a highly-configured, bespoke solution within online open learning platform, complete with course event booking, e-learning, web-conferencing, online forums and resource sharing, combined with comprehensive reporting, tailored dashboards and an on-brand design that provided a seamless transition from the old systems.
"Users are very on-board and positive about the new system… they feel more involved with the customised end solution." said Julie Ryan, Leading Leads Co-ordinator.
Transitioning from an in-house, bespoke booking tool meant there were many features and workflows that had to be replicated in the new platform. A small team of event administrators managed the booking for thousands of applications each year, so it was vital the new platform was flexible enough to meet these challenging requirements.
Totara Learn Seminar functionality provided all the features needed for event booking, plus flexible user-registration, event visibility restrictions, custom dashboards and design options, all combining to create the perfect solution.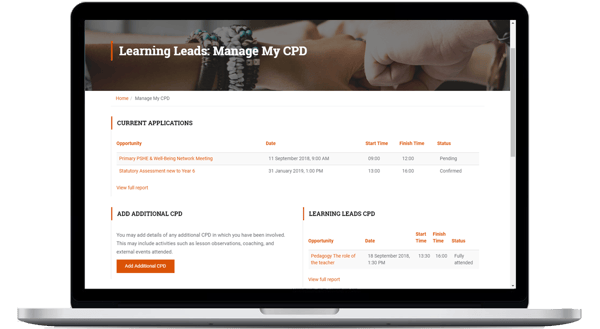 Great visual design and the user-experience (UX) of the platform was of major importance to the School Improvement Team. They needed more than just white-labelling of the system, the design needed to actively help end-users find the events they needed, whilst keeping the transition between the systems as friction-less as possible.
Utilising the power of Totara Learn open-source architecture, we were able to design and deliver exactly what was needed to provide a visually seamless transition and improve the UX, resulting in very positive feedback from end-users and the event administration team.
Although VLEs and online bookings are not new to Stockport Council, we're pleased to have helped to extend that heritage with a modern Totara Learn solution that encompasses the organisational ethos and a tailored, blended learning approach for users.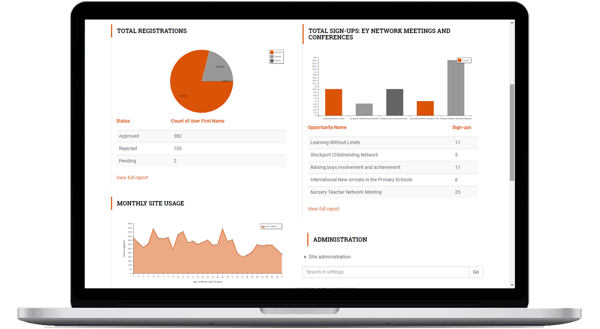 "I am really impressed by the new site. Both myself and the staff have found the new site much easier to navigate and we are definitely using it more as a resource for networking and looking for CPD. The whole feel of the site is "cleaner" and more modern looking. Well done to all concerned!" said Sarah Gower-Jones, Headteacher at Hollywood Park Nursery School.
The results
Totara Learn's flexible customisation and configuration capabilities enabled Stockport Council's School Improvement Team to meet and exceed their initial requirements.
To ensure the new platform was ready for the new academic year, we delivered the entire project in less than 8 weeks over the summer in 2018. Notable facts since launch include:
150+ monthly user registrations

850+ monthly event bookings

Retention of the service's Google SEO ranking
With a much smoother User Experience (UX) users can find tailored information easily, at any time on a device convenient to them.
The transition was phase 1 of the journey for the School Improvement Team. We look forward to supporting the planned expansion for additional projects to cement future growth and income generation with our exclusive eCommerce solution.
"The training and consultancy from Hubken has been excellent: extremely flexible and tailored to our needs." said Julie Ryan, Leading Leads Co-ordinator.
"The trainer was very helpful, patient and approachable with straightforward and clear direction." said Jane Smith, Course Organiser.

"Staff have benefited from the ease of navigation that has come with the new layout." said Amanda Lane, Head of Learning Support Service.
Want to find out what kind of benefits an LMS project could have for your business?
Fill out our contact form and one of our e-learning specialists will get back to you to understand your goals and explore how we can help. 94% of our clients express happiness with our service.