Nobia UK reduces new-starters time-to-competency with our Totara Learn solution; resulting in time savings, revenue generation and staff retention rates.
Background
Nobia UK is the UK's leading kitchen specialist, with well-known brands such as Magnet, Gower and Rixonway. They have over 3,000 members of staff and were keen to help enhance and transform their induction and staff development programmes.

What were their challenges
Magnet Retail is Nobia UK's kitchen retailer with over 200 stores and 2,000 members of staff nationwide. With a high turnover of staff, relying on face-to-face training for their induction programmes was extremely time consuming and resulted in staff being brought in from across the UK and Europe for induction classroom workshops.
Nobia UK found that ensuring consistency of training in-store was challenging as it relied on local experience and knowledge - which not every member of their team had. As well as this, line managers were required to manually print certificates and produce reports on their learners' performance.
Nobia UK's key objectives for their new platform were:
A centralised learning environment to provide users with consistent messaging and support
A structured induction programme that would reach the company's field-based employees
Reduce time to competency for new starters
A clear overview of learners' progress for management
Improve employee retention rates
"One of the things that is great about Totara Learn is being able to introduce a bit at a time, rather than a system that shows everything and then is difficult to understand." said Chris Glynn, Digital Learning Business Partner at Nobia UK
The solution
Due to Nobia UK's specific requirements and challenges which needed to be faced, as well as the large scale of their organisation, we recommended Totara Learn as their new learning management system - due to its feature-rich offering and flexibility and freedom which comes from the open-source software.
The company had a straightforward approach to implementation, and started off slowly - using only they key feature areas needed. They then gradually added more functionality as the solution progressed.

Specific aspects of Totara Learn that have been of exceptional benefit to Nobia UK include Hierarchies, Programs, and Reporting and Dashboards due to the targeting, management, admin and organisational benefits. We supported the Nobia UK team throughout the implementation, through delivering training and configuration to ensure the go-live was a success.
Our design team also created a mobile-friendly, responsive LMS branding for the site which perfectly matches Nobia UK's corporate website.
"Very supportive and open with us from day one. We have a collaborative relationship and that vital concept of being able to work together came across from the beginning." said Chris
The results
Nobia UK have had a fantastic response since implementing Totara Learn from both managers and their team members. From using Totara Learn, the company has achieved and exceeded their objectives within just six months of launch!
Managers now have a clear oversight of learners' progress
They now have a structured induction programme
They have reduced time to competency and additional sales revenue
Employee retention rates have been improved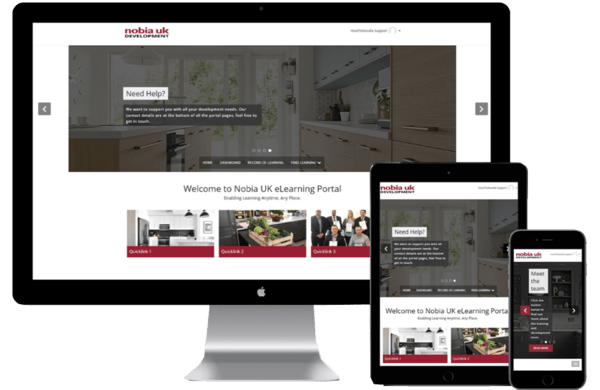 "Since launching Totara Learn, Nobia UK has reduced it's time-to-competency resulting in each employee generating a significant amount of additional revenue."
Want to find out what kind of benefits an LMS project could have for your business?
Fill out our contact form and one of our e-learning specialists will get back to you to understand your goals and explore how we can help. 94% of our clients express happiness with our service.