Totara Learn supports healthcare company Mountain Healthcare in responding effectively to rapid growth opportunities.
Background
Mountain Healthcare is a UK business providing Referral Services and Police Custodial Healthcare. The Mountain Healthcare team has been using Microsoft programs to create workbooks and face-to-face sessions to deliver their governance and compliance training.
This time-consuming process led to difficulties in accurately monitoring training and dependence on the correct manual input of data.
What were their challenges?
Mountain Healthcare often experience rapid periods of expansion when new contracts are won, which could often be a sudden 50% growth, which demands recruitment of a large number of new staff, or the need to relocate internal staff.
The business needed a solution that could support training peaks of new staff for:
The role - if it's new to them
Statutory training requirements
Continuing professional development
Rapid expansion also put pressure on staff responsible for writing course content and helping to deliver the training - especially when those team members have primary roles outside of training.
With no dedicated education team in place, the company needed a system that would centralise training for the learners who were spread across the country and save the trainers time.
The company sought a system that would:
Deliver valuable time savings
Provide an accurate, clear record of learners' training
Support annual re-certifications and its continuous training programmes
Have scope to support management training
Enable them to provide training and support education for those outside of the company, internationally
The solution
Following initial experimentation with Moodle, the company found that Totara Learn was more suited for business use and decided that it was the perfect e-learning solution to meet their needs.
Mountain Healthcare assessed several Totara Learn providers and chose us to help them implement Totara Learn into the organisation. We provided Mountain Healthcare with a managed hosting solution along with a fully designed branding service and in-depth Totara Learn training for key staff. We supported Mountain Healthcare throughout the implementation with mentor sessions and a configuration workshop.
The main benefits which came from their Totara Learn solution include Certifications, Seminar Management, Programs, Open Badges and Reporting since they each helped face and eliminate their original challenges.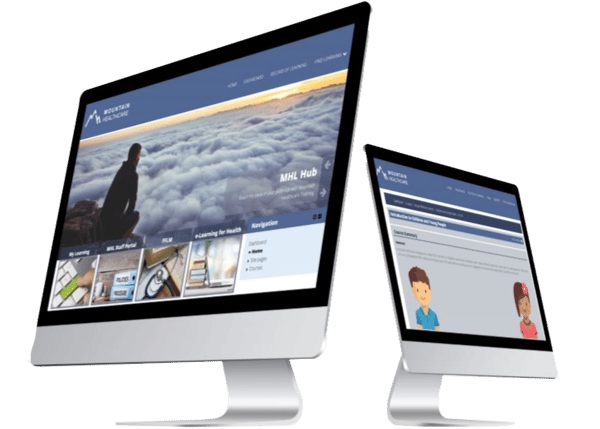 The results
The company has seen significant time savings so far from online bookings. This has saved hours of administrative time that was previously spent juggling with emails and documents. Now, with everything centralised, it is quick and easy for managers to see who has signed up and attended the training.
"They knew what they were talking about and only said 'yes' when they meant 'yes' – there were no empty promises." said Debs Woodcraft, Governance & Education Coordinator at Mountain Healthcare.
Want to find out what kind of benefits an LMS project could have for your business?
Fill out our contact form and one of our e-learning specialists will get back to you to understand your goals and explore how we can help. 94% of our clients express happiness with our service.